Got a question?
Send it to

DECEMBER 2015
Hi Olga J
I would like to ask you if you have any idea to visit Krakow in Poland again?
I miss this great time in Klub Kwadrat in 2013 J
Hope to see you soon here.
Have a good day,
Stan
Hi Stan
No immediate plans to return yet, though we did have a fantastic time in 2013! Poland rocks!
Hope to see you soon!
Cheers
Olga
Hi Olga! It's Stéphanie et Olivier
If it's not too much to ask,  can you write a little message or a photo for our cousin Pascal, who love ( and it's a little word....) the dolls since ............( my god.......) He was in the hospital for an electric heart ( yes it is !!!!  ) . It will make him happy. ( and this is also to test the new equipment !!!!! )
Thanks for all and see you later at the BBC HEROUVILLE in FRANCE for the third ( Or Paris, why not ? )......And with all the family !!!!!
Hi Stéphanie
Very best wisjes to Pascal! GET WELL SOON!
We will be back in France for sure!
Merci!
Olga
I'm a punk rock journalist in Seattle and cover a lot of the punk shows that roll through town. I've never seen you guys and didn't even know you were still around until today when my husband on a whim looked you up and put on a recent vid of you at Psychobilly Meeting 2015. Watching it now and I am blown away. You just must come to Seattle. We have a thriving punk scene here.
Holly
Hi Holly
Thank you!
We would love to get to Seattle at some point! Meantime, enjoy the video!
Olga
WE ALWAYS WAITING THE TOY DOLLS IN BRAZIL.,
CHEERS.
ADEMIR HÉLIO AGOSTINI
Hi ADEMIR HÉLIO AGOSTINI
Our management are in talks for South America in 2016, lets really hope it gets confirmed! We miss You Lot!
Cheers
Olga
Hi Olga!
when are you coming to Israel ???
Love,
Maya
Good question Maya, on a number of occasions Israel has almost got confirmed.
Lets hope it happens soon!
Take care
Olga
Hi Olga!
I am 13 years old and The Toy Dolls are my favourite band  and can I send you money in a letter for the t-shirt because I don'thave paypal?
Cheers from Croatia!
Hi to Croatia!
Thank you.
Unfortunately the webshop only accepts Paypal, maybe a friend or relation can help you order a shirt? Good luck.
Hope to see you at a live show when we get back to your beautiful country.
Olga
Hello Olga.
ivan I am from Barcelona. I wanted to ask you which system mounted on guitar i turn to tumble guitar on the song wipe out?
thank you!!!
Hi Ivan
Ahh, good question, unfortunately it's a secret! And I am not entirely sure how it works anyway!
Greetings to Barcelona!
Olga
Hello, I just recently started listening to your music, and you are hands down one of the best punk bands I've ever heard. I found your music when I decided to revisit Tony Hawk's Pro Skater 4. After hearing Dig That Groove Baby countless times, I decided to look up the song on the internet, and one thing lead to another and I've listened to 2 of your albums just tonight. Gaming is my favorite activity and I wondered if you were offered, would you allow your music to be put in another video game?
Wow, thank you so much!
Yeah, of course we would put our music to another video game!
Enjoy Pro Skater!
Olga
Hi Olga,
I'm Gabriele from Milan, Italy. Do you have any plan of making solo acoustic gigs/tours somewhere in the future?
Ciao!
Gabriele from Milan Hi!
No plans really, I am too nervous to do shows by meself!
I need to hide behind Tommy & Duncan!
Olga
Hi Olga:
I'm Julio, from Spain.
My 12 years son began practicing guitar this year and has his teacher
asked him for a song he wants to learn.
He is thinking in some heavy metal song (yuck!).
Quickly I remembered the toy dolls and I thought "She goes to fino" is
quite easy for someone starting to play guitar and lyrics are quite easy
too.
But .... Which of your songs do you think is the most appropriate for a
guitar beginner?
Nothing more, thanks for your attention. I hope to see you soon in my city.
Julio Hi
Good luck to your son, I reckon She Goes to Finos is perfect for a beginner! You are right!
Let me know how he gets on! He is around the same age as I was, when I started to learn, still am!
Cheers
Olga
Hi there folks! My name's Eric, a musician friend and admiror!
I've always wondered how a Toy Dolls show would be like...
Guess what, that was 2 years ago.
Last year you came here to play and I haven't noticed :(
Please, will there be a last show in Brazil?
Cheers!
Eric
There are plans for Brazil shows in 2016, I really hope it happens, our management are trying to arrange the gigs, fingers crossed!
Many thanks
Olga
Hi Olga:
Me and my dad have been listening to your music for ages now... I'm only 17 he introduced me to you guys when I was pretty young (maybe like 9). One of my favorite songs is I caught it from Camilla.  I was curious as to what guitar picks you use. It almost seems like you use a thumb pick but I'm not quite sure so I thought I would ask you. Also any chance that you guys would come down to California? Can you guys also come out with a guitar and bass tab book? That would be so awesom!!!!
James
Hi James
Thank you, I quite like Camilla also, cheers!
My guitar plectrum is an normal pick, but I have made it into a kind of thumb pick, but the other way round, it sticks on my forefinger, made out of gaffer tape!
Though, on recordings I use a 5 pence (British coin) for solos & highlights.
Not sure about returning to lovely California just yet, maybe when we saved up enough work visa money!
A tab book is a great idea, will ask our record company about it!
Cheers
Olga
Hello Olga! I am Eneko from Spain and I have some questions for you about technical things.
I have a marshall jcm and want to know what the equalization you use on your amp . Do you use the same for both recording and Live?
In the recording studio what microphone you usually use to record your amp , maybe does the shure sm57?
I really like the sound of ten years of Toy Dolls album,the drums sounds cool.Is that album was recorded in 1989 or 1988? And what equipment did you use for this album?
What album of the toy dolls think has been the best selling ?
Sorry for asking too many questions , and thank you! Cheers.
Eneko Hi
I use the same settings live as the studio on a JCM 800 Mark 2, though I do tweak it for various venues,
PRESENCE (0) BASS (4) TREBLE (5) MID (3.5)
MASTER VOL (4) PRE AMP (7)
I really have no idea what microphone the engineer uses in the studio! I know theres one really close mic, and one a few feet away.
At home, for demos, I use an SM58.
I am surprised you like the drum sound on Ten Years of Toys! That was a drum machine, the first and last time we have ever used one!
The best selling Toy Dolls album is Dig that Groove Baby, the first one, albums sold a lot more back in the early 80s!
No problem, there is no such thing as too many questions!
Cheers
Olga
OCTOBER 2015
HI OLGA!
My name is Duck Plunkett
I did this draw for you, I hope you like!
Cheers!
Cheers Duck, your pic is on the main front page!
Nice work, even though I do look older than in reality!
Thank you
Olga
Dear Olga
Will The Toy Dolls be playing in England ?
Hi, no name on this one! But whoevever ya are…
No plans just yet, lets see what happens!
Keep yer eyes peeled!
Cheers
Olga
Hi Olga.
Dean from San Jose CA
You fucking rock!
The last time I saw you was at The Hollywood Palladium with Fear in 1992 - I am no spring chicken.
I remember you jamming while the bassist had you on his back running around - hahahahaha.
I turn all the young bucks on to your music and they love it.
I am dying to see you again and with many newer, young fans.
Were you just in the Bay Area?
Where did you play?
I watch all the venues calendars and did not see your show.
Please come back soon!
Pretty please with sugar on top.
Your eternal fan Deano
Deano Hi
Thank you!
I remember the Hollywood Palladium, even tough I am a spring chicken! Ha
Yeah, we play San Francisco last year, a wonderful night, really enjoyed that gig! It was at The Regency.
Not sure about any returns just yet! But thank you anyways!
Cheers
Olga
Hi Olga! 
With the rapidly growing punk scene in the country at the moment, I just have to ask: is there a chance of you guys coming to South Africa any time soon?
Don't be like Kendra! Say that you can!
Josh Hartdegen
Josh Hi
South Africa is one place we would love to visit!
No plans yet, but who knows whats around the corner!
Fingers crossed we will see ya at some point!
Olga
Hi Olga,
I need a new pair of sunglasses so.. how to find real Toy Dolls one :-) ? They would perfectly match the picture on my shirt. 
Alessandro
PS Please come to New England!
Hi Alessandro
New England would be nice!
As for the glasses, ha, we pick them up from various places around the world, as for my latest ones, ha, you will have to search!
Cheers
Olga
SEPTEMBER 2015
I live in Baltimore, Maryland, USA where nobody has ever heard of Toy Dolls, or just don't understand how magical they are ;) Was unexpectedly lucky to end up in both Hollywood and San Fransisco when you guys rolled through!! Anyway, last Sunday I got to see The Dickies for the first time (great show!) and I was wondering if you and Leonard would ever play together again soon? That would be amazing!!!
Riss Anne
Hi Riss Anne!
Thank you! Not sure about magical! But cheers anyway!
Hollywood & San Francisco last year were great fun.
The Dickies are outstanding, especially with this current line up they have.
I am always up for playing with Leonard! Lets see what happens!
Cheers
Olga
Olga: Do you like cats?
JUAN López
Juan hi
I am more of a dog person to be honest! However I do like some cats, especially small bodied ones.
Olga
Hi Olga!
Congratulations for the Cabaret Vert gig. It was too short !
Did you come to the pub during Chemical Brothers show ?
I have had understood on Facebook you would have a drink and I was looking for you with my beautiful "Tour de France 2014" tee-shirt and my big pen…
Cheers !
Olivier
Oliver hi
Thank you, we really enjoy Cabaret Vert festival! Although we only allowed to play for a short time!
Sorry you didn't catch us, there was huge bar back stage, so we stayed there! Of course!
Hope we can back to France soon.
Cheers
Olga
Hi Olga, cheers from France, I'm 48 and I'm a Toy Dolls fan since 1985 (A far out disc) .Can you play one of my favorite song on your guitar lesson … "Modern school of motoring" I like the rhythm and solo. I can play this song but not as well as you (and not so speed  lol ) But one day, I will can do it lol ….. In a one or two weeks, I think to put my MSOM cover on youtube, tell me what you think about...
Do you comeback in France in 2016 ??
Coge
Greetings to France!
Will take note of Modern School of Motoring for the next batch of lessons. I may do it... If I can remember the notes n' stuff!
Hopefully there will be something in France in 2016.
Just working on shows now.
Cheers
Olga
AUGUST 2015
How are you, Olga?. I hope you're enjoying the weather, the food and all the other good things here in Spain, like what we are going to enjoy you concerts. I had the opportunity to see you again in the Psychobilly meeting of Pineda de Mar on July this year and the real pleasure to meet you personally and able to build several photos with you, to sign me instead of the CD "The History of Toy Dolls 1979-1996", dedicated to my nephew Marc 17 years, which was a great joy and thank you, i do not Know if you remember that detail, Olga.
My name is Jordi, i have 48 years and some 25 or 30 of them that i am you follower. I have seen him in concert 8 or 9 times and i'm ready for next September 25 in Fornells de la Selva.
It was four days before that date is yor birthday, so I would anticipate and from here to congratulate you both on my part and my nephew Marc. So nothing would make us the illusion of being able to do personally congratulate you and marc to meet with a contact with you and if i could be with the group in general.
I hope this email has not been any trouble, as i hope to have some kind of response or confirmation. Waiting for another number of years giving joy, good music and specially as authentic. From a small town in Barcelona called Santa Perpetua de Mogoda, a hug from Jordi.
I am fine Jordi, thank you!
Spanish food rocks! Tapas rules!
Oh, my birthday!? Thank you, I had totally forgot! Can't wait to get back to Spain though!
I will be out after the show on 25th September, would be good to say hello!
See you there!
Cheers
Olga
Hi Olga,
I missed your last concert in Essen in July by doing a winter sleep in summer or something like that. Do you know the next gig in our area? It is the industry heart of germany, you know? Essen, Dortmund, Bochum (where I come from. Maybe you know the "Zeche Bochum" or the "Matrix" )
Thank you, Torsten.
Hi Torsten
A winter sleep in the summer! Sorry you missed the Essen show, we had a great time, no plans to play that area just at the moment, but keep checking the tour dates! Gigs can come in at anytime, hopefully see you next time!
Ta, Olga
Olga?
PLEASE PLEASE PLEASE come back to do shows in Austria! Is there the chance of this?
Thank you from Paula
Hi Paula
Yes, there is a chance of club shows in 2016, I really hope it will happen, its been a while! We miss Austria!
Olga
No question, I just want to say how much we enjoyed at Juergas festival and please to come back.
We have many friend and fan for you here.
Jamma
Hi Jamma,
Thank you, Juergas festival was great, just toooooo hot for us northern Europeans! We did have a lovely time however!
Cheers
Olga
JULY 2015
Hi,
No question, but just want to congratulate you on these tracks you call from the start with so much energy, geniales singing melodies as well as instruments. Congratulations. I regret not being able to see you in Rouen when you came there. Maybe next time?
Again thank you for your music.
Bye.
Carolina, Rouen in France
Thank you for taking to the time to send this nice message Carolina, I am flattered!
Sorry you missed the Rouen show.
Cheers
Olga
Hi Olga!
Congrats on your acoustic album. It's sounds great! I wonder... what type of acoustic guitar are you playing on this record? I'd like to know 'cause I'm considering buying a guitar that sounds as smashing as yours!
Cheers!
And loads of luck with the new album!
Erik
(from Belgium)
Cheers Erik
I am glad you like the acoustic album! its just a cheap Tanglewood acoustic guitar, nothing special!
Thank you,
Greetings to Belgium.
Olga
Hi Olga,
My name is Aryell. I'm your fan from Jakarta, Indonesia.
Your music is my everyday music. Since my old tape, until now in my phone and Internet TV.
Please come and play to Indonesia.
My country may not one of biggest music market, but we love Punk Rock.
We've been rock by The Exploited, NoFX, No Use, Not Available, The Casualties and Bad Religion.
Our President loves Rock music too. At least he listen to Metallica, Pantera and many Metal band. Also he listen to our great local Punk Rock band, Superman Is Dead.
Please Olga give us your love. We'd love to see you and The Toy Dolls here.
Cheers from Jakarta, Indonesia.
Regards,
Aryell
Aryell Hi
I really hope we can get to Indonesia at some point, fingers crossed it will happen.
Thanks for your loyalty.
Cheers
Olga
Hi Olga,
I just bought a Telecaster for $200, and I am really pleased to start learning guitar from you. I got the tune for Nellie the Elephant. I will compare myself to Doogy Giro.I am 50 and never played for 25 years and quit then cuz I was no good. Now I'm here and you are brightening my life. You understand about feeling the music so strong you get tingles down your back.What you do with the guitar lessons is great,and the internet is the key.
Please play in Seatte.
Nat Greene
Nat Hi
Thank you.
Sounds like you got a good deal on the Telecaster!
Hopefully more of the guitar lessons will help!
Cheers
Olga
Hey Olga!
I love your guitar playing. Who are your favorite guitarists and influences? There seem to be some heavy metal tones on your solos.
And of course (the obligatory) come to my town, Philadelphia! First round is on me.
Andy
Hi Andy
Cheers!
I like many guitarists, Mick Green from the Pirates was the best for me.
I like Paul Weller too, when he was in The Jam.
I like Paul Kossoff too, and loads of others!
Will hold you to that round!
Olga
Hi Olga, cheers from Brazil =)
So, what's the story behind the song Barry Manilow?
Is that a cover? I liked it, it's a nice ballad song.
Why didn't you record it? don't you like it? why?
Thanks, bye =)
Hi to Brazil
The Barry manilow song is an original, we did record it but were not allowed to release it for legal reasons!
I am not that keen on it to be honest anyway!
Cheers
Olga
Olga! you HAVE to visit Belgium (and the Netherlands as well!). How can you do multiple shows in Germany and Spain and skip us drooling, drinking and dancing belgians
We're all becoming lambrusco kids down here
Hi, Belgium rocks! We will be back, its only a small country so there are less shows there, we had a great time at Rat Rock festival a coupla years back, great stuff.
Cheers
Olga
JUNE 2015
Hi Olga, Wienerwald web come in italy Milan ???
I see our in the l'asta tour.
Sorriso for my bad .
I love 77 punk british.
Thanks
Marcello
Hi Marcello
We wouldlove to get back to Milan asap! Nothing is planned for Italy just yet, but hopefully soon!
Cheers
Olga
Any chance of you guys coming back to san Francisco I had tickets to your last show but my boss sent me to Chicago two days before the show or said I was fired and they had to go please please please come back
Oh, so sorry to hear you missed the show.
No plans to come back soon unfortunately, we had a wicked time, a great city too.
Take care
Olga
Hello!
Ola from Sweden speaking.
Thanks a lot for a great gig in Stockholm!
First I would like to express how glad I am the you're still doing this.
It's been eleven years since you relased "Our Last Album?" and you're still going strong.
If The Toy Dolls career is a book…what chapter would you say you were in now?
Hello Ola!
Stockholm rocks, we had a great time, thank you, lovely people.
Mmm, the post last chapter I guess!
Cheers
Olga
Hello …..
Ola here again….
On your latest album theres an Itunes track called "Sunderland Celebrity"
This is a very good song and I'm surprised it was left out of the CD.
This makes me wonder how many outtakes you might have from over the years
Q1: When recording an album, how many tracks would you say ends up in the "bin"?
Q2: Would you ever consider open up the "vault" and release outtakes?
I'm pretty sure there are songs you would consider crap the fans would love.
Hi Ola again!
Thank you, songs are usually scrapped before the recording stage to be honest, though throughout the years there have been 1 or 2 scrapped after recording has taken place, and quite a few more that should have been!
Maybe we will look at any outtakes in the future!
Cheers
Olga
Hey Olga,
I just love you guys, and have done since I borrowed a copy of 'A Far Out Disc' from my Uncle way back in '85... and never gave it back! I'm much more sensible these days - but still (Dad) danced like a looney when I saw you in 2013 at Zeche, Bochum :0)
Anyway, I'm a proper Geordie living in Essen, Germany since 2000, but refuse to give up my British/Northern traditions! So, if you and the lads fancy a proper cuppa tea with some hot, toasty buttered crumpets (or McVities Chocolate Hobnobs if you prefer) when you play here in July - just give us a bell. Would be canny like.
What's best, Jelly Babies or Licorice Allsorts?
Cheers, Mikey
Thank you Mickey,
Bah, J Bs or L As, it's a tough one, hate em' both!
Hope to see you at the festival in Essen this summer!
Cheers
Olga
Hey Olga!
I m 35, the Toy Dolls are 35 too. I am a Spaniard living in London...I saw the band several times in Pamplona, Pusnte la Reina, Tudela, Vitoria...Could it be possible to meet you and have a nice English pint in a London pub?? :-)
Cheers!!
Aritz Jauregi
Hi Aritz
I am on the wagon now, loadsa gigs coming up, so its no alcohol for me just yet!
Enjoy that London beer!
Grasias
Olga
Olga, any plans to tour the U.S.?
Please, please, please tour the east coast. Our maybe at least just New York. You are the last band on my life's bucket list for me to see.
I've been a fan since the mid eighties. I love everything you do.
Anxiously awaiting,
Zac
From Virginia
Hi Zak
Unfortunately there's nothing planned for U.S, we miss you lot.
If we ever save up enough money to pay for work visas we may make it back!
Cheers
Olga
You played on Can't drink your pretty by Ginger Wildheart and was a guest at his birthday gig, how do you know ginger? Also why are you nicknamed olga?
Cheers
Hi, Ginger comes from the same area as me, up in the north east of UK.
Olga is what I was called at school by the bullies, as my name is Algar.
Swines!
Cheers
Olga
MAY 2015
Hey Olga, I've been a huge fan for over 20 years, thanks for all the crackin songs and for influencing idiots like me to make music, I salute and embrace your attitude and skill. Play in Newcastle maybe when that ccccrazy European tour comes to an end?, hope these catch a show in Europe this summer and can't wait for the acoustic Album! What's your favourite crisp?
Fraser (the whippet beans)
Ian Fraser
Fraser Hey!
Thank you for your kind message!
Not sure when the next UK dates are just yet, I get more nervous each time with it being our home country!
Crisps? Ah love all crisps Me!
Cheers
Olga
Hey…Please say you are going to play a gig in London soon!...We love watching you on you tube but have not had the pleasure of seeing you in the flesh.
We are lively fifty somethings  (not yet SAGA ready) in a newly formed wacky band.  We would love to support you.
Cheers! Will check out your vid asap!
It would be good to get back to London, we had wicked time on the last UK tour at the Electric Ballroom.
Olga
We love what you do. Great musicians and the mad funny lyrics.  I (Tina) have a condition called crohns.  It's an auto immune disease that affects my stomach.  During my last near death flare up while in UCLH Hospital, I wrote'crohns and colitis blues' , (CC Blues) I believe humour helps with ailments so I put it in a song and the band recorded it….very roughly!  Next time your sciatica gets you down, try listening to 'crohns and colitis blues' for a bit of distraction – transferring the pain from your back to your ears!
Hope to see you before we reach 60.
Cheers
Tina and Lez
PS….Next time you are in London, you are most welcome to pop round ours for a cuppa and a jam. We're by the canal in Kings Cross ;-)
Thank you Tina & Lez
So sorry to hear about your condition, but yeah, putting it into a song helps for sure, I do it all the time! Will check your link out asap.
Cheers for the invite, I live in London so I may just take you up on that!
Olga
Hi Olga, just wann say THANK YOU so much for the great concert in Winterthur last Wednesday.
My boyfriend is a big Fan since 25 years - former he was a Punk;-) (and I am rather Hippy Girl;-)) this explains why i know your music only recently. Now you have got one more Fan!!! It was wonderful to hear your guys playing - that energy which came from the stage -i will never forget! So I am looking forward to come to the next concert. Its a pity that i know you guys ...only just now!
Big Hug
Eve 
Hi Eve
Thank YOU! For coming, we really enjoyed Winterthur, a bit hot mind ya!
Welcome to The Toy Dolls world!
Cheers
Olga
Hello
When you arrive in Ukraine?
Thank You ?
No plans yet, I hope it will happen at some point however!
Olga
Hi Olga
Been into my music since glam rock in the 70's. I discovered the Our Last Tour video on YouTube about a month ago and have played it every night since. I've tried to stop but Olga I Cannot.
Great riffs and catchy songs.
Hope you do some UK dates soon.
Cheers
Chris
Hi Chris
Thank you!
I love Slade, The Sweet, Suzi Quatro etc… Glam rocks!
Hopefully back in the UK before too long!
Cheers
Olga
Dear Olga,
I hope you're having a very great time! I'm a new fan in the Toy Dolls universe, I'm a shy punk poof (just like Chenky... PS: heeeey, I just adore that guy, don't be so hard on him because poofs like us have feelings and love punk too :) ;) ) queercore boy from Argentina (sorry for my lousy DIY English :( ) who feel immediately delighted by the electricity and passionate slapstick going on in your music (I'm a very hardcore fan from The Young Ones TV series and I think your music is quite the correlative: both are surreal, zany, histrionic, beautiful messes; and both make me feel so happy indeed -and less lonely, for sure; I feel quite related to many of the characters brilliantly depicted in TD universe). I'd like to ask you if there is a chance in the future for a gig in Argentina (it would be flipping marvellous! *sighs*). And I'd like to ask you, if you were a cartoon what would you be? A Chuck Jones' character, or maybe a Bill Plympton creation? Or a John Kricfalusi's creature? Or another? (I work with cartoons as a animator and that's why I fell in love completely with The Toy Dolls energy).
Cheers and love from Argentina!
Morgan  
Morgan Hi
Thank you for that!
We would love to get back to South America, fingers crossed it will happen soon! There are talks about it!
Cartoon, mmm, Mr Magoo
Cheers
Olga
Hi Olga, it was great to say hallo to you in Horten 2012!!
I've invited a German friend to Stockholm 2. May so that he can go to his first Toy Dolls show!
Is there any chance for us to meet you guys backstage or so after the show??
All the best from
Egil, Norway
Hi Egil
Will be out after the show in Stockholm!
Horten was great, I really enjoyed that one, we are hoping it will happen again!
See ya soon
Olga
APRIL 2015
Heya,
I know you get a lot of requests to play shows, but is there any chance you've considered playing in New Zealand? yes, it is at the bottom of f***ing nowhere and the audience will be small, but it would be very much appreciated.
cheers,
Tash
Tash Hi
We would love to play New Zealand, lets hope it does happen at some point!
Sometimes it takes years for us to reach certain countries, like France took about 7 years before we got there! Yet we were playing USA in the very early days! Fingers crossed.
Cheers
Olga
Hey Olga (: My Name is Sarah from East Los Angeles , California. I was wondering by any chance throughout the year will you tour over here ?
Hi Sarah,
No plans at the moment, we had a wicked time there last year, though it does take a while to save up for work visas!
Take care
Olga
Hi Olga, how r u?
I'm fine ... then .... for first, sorry for my english but i'm italian! :-D
We are a gorup of Toy Dolls fans, we will come in Switzerland but we need you in Italy ... We are waitn for you since last year in Bologna!!!
We would like to organize a date for you .... (in this moment toy dolls are more expensive for our association! We've tried to make you play in Venice but we can't afford the cost.... but in next future ...) ... anyway ... do you think that there will be a olgacustic tour? Or, during the Toy Dolls tour, do you think will be possible to make you play in acoustic?
See you lad
Greetings to you in Italy, and thank you for coming to Switzerland.
I am not sure about playing acoustic yet, I don't have the courage to play by myself live!
Cheers
Olga
Hallo Olga, my name is emma and i'm 8 years old. I love your song nelly the elephant. I am from germany and to young for your concert-damned!! Greetings Emma
Hi Emma, thank you!
Maybe you can get to a festival in Germany!
Take care
Olga
Greetings from the colonies Olga!
I don't have a question, I just want to gush about how I love the Toy Dolls!
I saw Toy Dolls in San Diego (California, USA) in 1992. It was by far the best show I've ever seen (and I've seen plenty!). I got there early to get a spot at the front and the bouncer told me he would let me meet the band if I helped keep people off the stage. Sometime during the third song or so I was pushed onto stage and helped you sing for a bit (before being shoved back into the crowd). As much as I would have loved to buy you a pint, I suspect the bouncer was probably full of shit, so no regrets!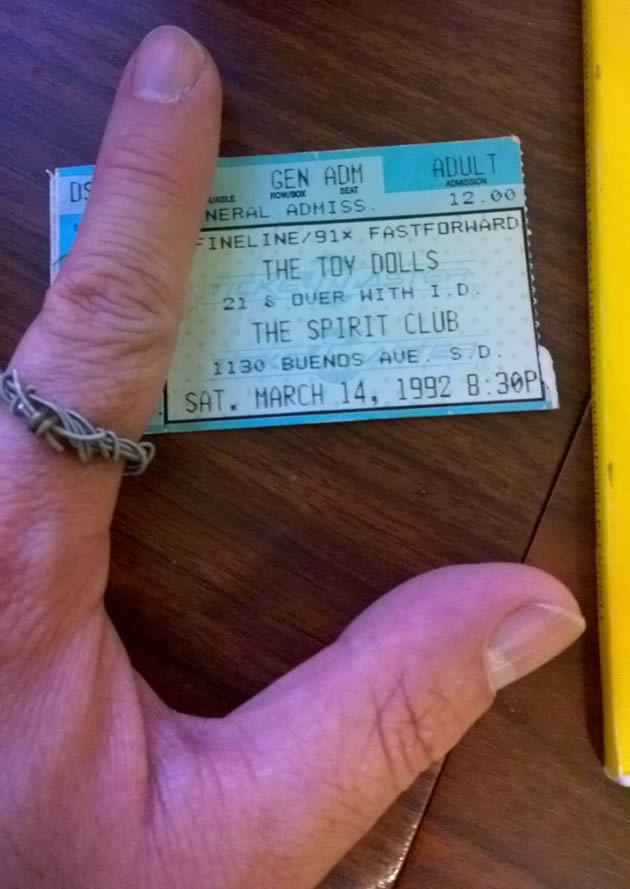 At the end of the show, I grabbed one of your guitar strings (I had to fight a girl for it … again, no regrets) and fashioned it into a ring that I wore for some time (see attached photo). Eventually, I stowed it away with various personal treasures.
Flash forward 20 years or so and my 7 year old girl has now discovered the Toy Dolls (with a little help from her old man). I searched through my artifacts and produced the fabled ring much to her delight … it is now a sacred relic! She (Madeline) loves your music and I've learned to play a couple songs for her (Ashbrooke Launderette is probably her fav).
Thanks for the years of music and memories. If you ever play Southern California again, I've promised my girl a front row seat.
Cheers, mate!
Thad
Thank you Thad! Great story!
Ashbrooke Laundertette eh!
Hopefully we will be back.
Cheers
Olga
Hi r u doing any gigs in County Durham as my 14 old daughter wants to see urs
Love Trina
Hi Trina
There are no UK gigs planned yet, but please keep checking the tour dates!
Ya never know!
Olga
Dear Olga,
You made the video lesson for the intro and the verse of ashbrooke laundrerette song. Could you make a video lesson for the rest of the song?
Thanks
Toy dolls for ever, waiting for the 40 years old tour
Yannick
Yannick Hi
I will bear this in mind for future lessons, cheers for pointing this out!
Thank you
Olga
Hi Olga!
Actually it is not a question for "Ask Olga". This is a great request you to help me become a best wife in the world :) Well, on Friday, March 13, my husband, and your big fan celebrates 37 years old birthday and I thought that if you on Toy Dolls websites or on your Facebook (this is the best) 13. March  wrote: "Happy Birthday Jarek "Belkot" Wojciechowski," it will be the best gift for him. And deserves it - because he propagates very well The Toy Dolls - our three children, may not know all your songs, but if they can sing and get angry in the car if they do not hear the Toy Dolls. So you have to sew a long and happy to play at least another 35 years!
If you accept to write these wishes, I can write to you, reminder the day before, or two, as you prefer. Just to say yes because I have no idea on another crazy gift, and every year for the last 10 years of my gifts were unique and crazy.
Sorry for my english but do not use it for a few years, we come from Polish and live in Denmark, so I use the Danish language.
And what do you say? I hope that I will not be disappointed :)
Also sending you a photo of my 37 year old punk :)
Regards and waiting for a positive response
Aleksandra
Hi Aleksandra,
Sorry that we missed you! I will say MANY HAPPY RETURNS to Jarek "Belkot" Wojciechowski now!
I hope we can also get to Denmark soon!
Cheers
Olga
Hi Olga.
I've heard a rumour that You are going to pay Poland a visit during
Cieszanów Rock Festival in August. Is it true? You can tell me secretly,
I won't tell anyone ;)
Cheers from Poland
Wojtek
Hi Wojteck
The festival we will be playing on 28th August in Poland is called Czad festiwal.
Here is the link.
Cheers
Olga
Hi Olga
Any chance of a few gigs in Ireland soon?
Paul Delaney
We wanna get to Ireland Paul! Just never happened YET! Sooooon I hope!
Olga
Hey Olga. I used to watch you back in the day. Now then. there's a bloke around here who's made a name for himself by saying he was the main man in the Toy Dolls. Wrote Nelly the Elephant etc.
He's very successful and bullshits this around all the time. Do me a favour, can you confirm that PAUL CLEIRHUGH has never been part of the Toy Dolls?
Thanks for this. Let me know.
Loz
Hi Loz
Can't say I have heard of Paul Cleirhugh! Sorry!
Cheers
Olga
Hey Olga,
Congratulations on 35 years. I started out as a fan in 88 from Detroit Michigan and now live in Sydney Australia. For my 10 years in Australia I got a "Wakey Wakey" Tattoo with the guitar in the shape of Australia…. I love it.
I would love to see you guys in Australia. How do we make that happen?
All the best and hope to see you Down under and keep on rockin…
Josh Wander
Hi Josh
I hope our management can get us there at some point! Lets see!
Olga
Any UK dates other than festies planned for later in the year?
Chris
Hi Chris, nothing planned for the UK just yet, not saying it wont happen though!
Cheers
Olga
Hello Olga, in first, excuse me for my poor English, I use Voila.fr to translate…
I'm a fan, and for still another concert,  I come to see my preferred group.
My Tee-shirt carries 4 times your signature, and I would like to add a fifth of it.
Therefore, I will be there on April 9th with the SOLOTHURN in SWITZERLAND, and I would like to see you with my son after the concert, to sign my Tee-shirt.
The last time, one was with the HELLFEST 2013, we were behind the scene with my daughter, when tommy was with its crutches.
During the concert, I will show you my Tee-shirt and, after the concert, I will ask to see you. If you can say to the bodyguards that I can pass, they will be super. I will be able to then make sign my Tee-shirt for the fifth time. And my son will be able to translate, it left in internship to England.
Thank you to answer me and soon, on April 9th.
Envoyé depuis
A: Hi Envoyé depuis
I will gladly sign your shirt in Solothurn!
Will be out near the merchandise stall after the show.
Thank you for coming!
Olga
Just read the last post on "ask Olga" and want to suggest that you add NZ to any tour down under.
I am 62 but have enjoyed all the albums and dvds, and am currently reading the book on the history of the band.
About 15 years ago I was. Dj on a local radio station and introduced Wellington city to "the Dolls" and for a while your cds could be found in all record shops. Unfortunately the owner of the frequency died and the radio station ceased to exist, but for a while ..........
I would love to see a live show. I regularly check this website to watch for news of new releases and eagerly await the acoustic album coming in May.
Cheers from somewhere near the edge of the known world.
Euan
Hi Euan
Thank you! Hi to Wellington City!
Hopefully we will get there, nothing planned yet, but our management are always working on shows.
Cheers
Olga
Haway Olga!
Just want to add my voice to Kieron's in pleading with you to get the band out to Oz - we'd love to see you here in Sydney. Many happy memories of seeing you in Carlisle in the old days at the Stars&Stripes, Front Page etc.
Cheers,
Nick
Thank you Nick,
Lets see what our management come up with!
The Stars & Stripes brings back memories!
Olga
Hello Sir ,
ok,lets get down & dirty with some biking questions......
1....What is the make & model of your bike ?
2....How far do you cycle each morning ?
3....What time do you start each morning & for how long ?
4....Where do you go cycling in London ?
5....Do you prefer road cycling or mountainbiking ?
One more thing,can you remember what the very 1st poster was advertising "THE TOY DOLLS"
Before ya go Sir,
THANKYOU.
Cheers
Olgacrackcorn
Olgacrackcron Hi!
Cant remember the first poster advertising The Toy Dolls, too long ago!
1. Me bike is a cheap Jamies commuter bike
2. I don't go so far each morning, around 6/7 km, but regularly
3. Around 6am ish
4. Regents Park outer circle.
5. Don't mind really, both hard work for me! Best is in the New Forest, great stuff.
Cheers
Olga
Have any of your song been a hit in Australia because I'm shore I've heard yul Brynner is a skin head years ago and yes we would love to see u in Australia
Kathy
Hi Kathy, no Australian hits yet! Would love to get there however!
Cheers
Olga
FEBRUARY 2015
Greetings from Australia,
Saw the tour guide for the 4 gigs planned next year and I may try to attend least the one at Punk and Disorderly.  Are there any other dates confirmed in 2015? Has there ever been talk about touring Australia? I know the Dickies are coming here in April next year.
All the best for the new year
hear from you soon
Cheers
Kieron
Greetings to you Kieron in Australia!
Yeah, there are more dates other than Punk & Disorderly!
Please check the tour dates, there are more are to come also!
Unfortunately we have never played Australia! There have been a few talks but nothing got confirmed, yet!
The Dickies rock, enjoy em'!
Cheers
Olga
Hi Olga, what's is your setup ? Guitar and Amps ?
Cheers from Brazil !
Hi to Brazil!
The amp set up is Marshall JCM 800, 100 watt & 4 x12, guitar is an old American Telecaster with a Seymour Duncan Bridge Pick Up.
Hope that helps!?
Take care
Olga
Hi Olga, Last weekend I listened to all of the Toy Dolls albums I have and I noticed that the musical style has changed alot over the years, especially your guitar playing, I would like to know 3 things, if you are able to state a reason for this, if you have ever noticed it before and your opinion on this style change. Thanks for the 35 years of brilliance
Sincerely, Scott Burton
Scott Hi
Wow, never really noticed much difference meself! Maybe coz I am playing constantly?
35 years of brilliance eh! THANK YOU!
Cheers
Olga
Dear Olga, 
First of all, happy new year to all the band !
I am a fan for more than 20 years, the first experiences were in Lisieux (Normandy) at the end of 1987 and in 1988…
Unfortunately, my wife does not like your music, and she has not enjoyed the show in Paris at the end of May !
"What can I do ??"
With my best regards,
Olivier
Hi Olivier
Happy New Year to you too.
Sounds like you have a wise wife!
I really hope you enjoyed the Paris gig! We had a great time!
Olga
Olga – I've seen some rumors swirling around the old iNtErWeBz recently that you and the lads might be performing at Punk Rock Bowling this year in Vegas.  How about it, are you coming or what?  That would make our go/no go decision easy, I can tell you that!  Saw you in San Francisco back in April, amazing…
Maybe you could sit in for a rendition of "Finos" with Tim and Lars and the boys – he seems to like that one a little…
Unfortunately we are not at PRB this year.
I am pleased you enjoyed the San Francisco show last year anyway, we did also!
Hopefully we will make it back.
Cheers
Olga
Hallo olga, I have no question! I just want to say thank you. I'm now 40 years old and that means i listen to your music since i was 14 years old. 26 years of just good music. So thanks and cherio. See you (i hope so) united in germany stuttgart. Take care. Thilo
Hey Thilo, Thank YOU!
Greetings to Stuttgart!
Cheers
Olga
Finally I will achieve a 20 year plus ambition and see your gig in Geneva in April. I have recruited a few locals to go as well. Don't suppose you make the setlist available in advance so I can get them familiar with what they will hear?
Have you played Switzerland before?
Jim
Hi Jim
Sorry, cant reveal the set list! Looking forward to Geneva though, its been a while since we were there!
Yeah, we have played Switzerland many times, always sold out gigs and rockin' people!
Sorry you didn't make any show!
Cheers
Olga
Dear Olga,
You made the video lesson for the intro and the verse.
Could you make a video lesson for the rest of the song?
i hope Toy dolls will come to Brittany for their next tour. I was in La citrouille in Saint Brieuc in 2014, it was amazing (like every toy dolls concert).
thanks for your music
Yannick from France
Hi Yannick
Not sure which song you mean but I will certainly try to make a lesson for the rest of it!
Saint Brieuc is great, thank you, we enjoyed it a lot.
Cheers
Olga
Hi Olga,
Your last concert I've seen in Munich (Theaterfabrik) is nearly 2 years ago. I've seen many Toy Dolls concerts in Munich over the years (I cannot count :D ), and I'm missing you!
Are you planning to come to Munich again this year?
Cheers,
Martin.
Martin Hi
We just recently played Munich a couple of years ago, but we may be back someday!
We do have a few festivals in Germany in 2015 however! I hope you can make it to one!
Many thanks
Olga
Hi Olga
We are in Berlin in April and noticed this festival . . . Nellie the Elephant was one of my favourite songs when I was a young teenager (late 40's now!) and I would be thrilled if this could be included in your set along with your Banana Splits theme song when you were in the Dickies.
Would love it if you could play these for a Sheffield couple to make our trip complete.
Cheers
Stu :o)
Hi Stu
Not sure of the Berlin set list just yet! Cheers for coming to the festival though!
Hope you are happy with the show! Berlin is a wicked city, enjoy!
Olga
Hi Olga!
I am listening the Toy Dolls for nearly ten years. And I just wanted to say thank you for all your work. Your songs was with me in most beautiful times in my life, as in most bad times. You helped me, and you are helping me now, with all that positive view on life. When I was younger, I learned a lot about playing guitar with your lessons, and now I am seriosly into music and preparing for jazz conservatry. So, thank you for that, too:) I dont have any questions actually. 
Best wishes:)
Filip Flego
Filip Hi
Hey thank you! A very nice message, I am so pleased to hear this! It means a lot.
Take care
Olga
JANUARY 2015
Hi Olga,
Je prefere ecrire en français car je serais plus a l'aise.
je voulais simplement te remercier.Je suis fan des Toy Dolls, de leurs morceaux et surtout de tes chorus qui m'ont inspiré tant de fois et m'inspirent encore!
Aussi surprenant que cela soit, mon jeu de guitare, de style africain, reste très inspiré par tes solos!
Merci mille fois!
T.IZUBA.
Merci!
Thank you for that, nice to know we are an ispiration!
Many thanks!
Olga
Hi Olga ...Hope all good with you health wise and the guys ,,,,,A thought came in my head while listning to one of your albums ,,,,How about a complete lyric book of words and pics linking the songs ??!?,Just a thought mate
Thank you, getting there slowly healthwise! A lyric book would be great, will look into it, hopefully it will happen.
Cheers
Olga
Hi Olga,
I met a very drunk "Kev" at a Halloween party last night near Littlehampton. All he talked about was his days with the Toy Dolls as a backing singer. He was particularly proud of his part in Nellie the Elephant in the 80's and his appearance on Top of the Pops.
Question: was he a delusional drunken urban commando doing his best to pull a bird ...or did he speak truths and there really was a Kev doing backing vocals with the Dolls during that famous hit!!
Just curious..Bruce
Hi Bruce
There were are number of people doing backing vocals on that one! So there could have been a Kev somewhere in there! Let me know his surname, will try to check for ya!
Olga
Hi Olga !
How are you?
I'm George from GREECE.
question 1. When did you come in GREECE?
question 2. I bought a cheap guitar, squier telecaster Classic Vibe Telecaster '50s in Butterscotch Blonde.
This is my first guitar and the reason is you because you are my favorite guitarist and in general the band.
My problem is that I am completely unrelated and I want to ask what to do for my first steps?
Thank you very much and hope to see you in GREECE.
George.
Hi George
I am not so bad thank you.
Unfortunately we have never played in Greece, I really hope it will happen at some point!
Good luck with the Telecaster, there are lots of guitar lessons on www.thetoydolls.com
But if you want complete beginners lessons, I am sure there are many DVDS out there, you should buy a guitar tuner also, and a tuning fork.
Let me know how you get on.
Cheers
Olga
Hi olga, how are u??
I am one of many your fans in jakarta, indonesia.. Since 1996 till now i adore you n toydolls...
Please olga, Bring your fender telecaster n sing with toy dolls here, here in Jakarta, in front of jakarta punk society..
We thanx to exploited, total riot, marky ramone and many more who came and cheer in jakarta, but we not yet say thanx to toydolls in jakarta.. Please mark jakarta punk city on your calendar olga..
All the best n cheer!!!
Regards,
Rocky
Rocky Hi
I am fine cheers!
Thank you, we really wanna get to Indonesia, we get a lot of mail from there, so hopefully we will eventually get there.
Greetings to Jakarta.
Cheers
Olga
hey guys,
like Seb in a previous post said we need you back in switzerland soon!!! We miss you bad! 
We're so much in that crazy small country to LOVE YOU guys! You won't believe it!!!
Hope to see you soon guys
Phil 
Hi Phil
Our management are working on it, fingers crossed it will happen.
Switzerland rocks!
Hoping to see you soon too.
Olga
Hi mate!!
Any London gig for 2015?? I missed the last one in november 2013 in Camdem...
Cheers!
Aritz Jauregi
Hello Aritz
Sorry you missed the London show, nothing planned for UK just yet, but who knows what will happen!
Cheers
Olga
Dear Olga,
I' am confused, 'cause I have a Big Big request, today for you and all members of Toy Dolls. My son have 4 years hold today. Born : the 11.11.2010 He is a fan of The Toy Dolls, like me! His favorite song is "Idle Gossip" (I don't know why…?) Maybe the energy in this song (one of your best, for him)
He said to me :
Dady, latter : I want to play Guitar like : Olga !
So, if it' s possible to have a message ( in private, if you want ) for my son… To Wish him a Happy 4 Years old by all the team of The Toy Dolls ? All the band and all of technicians who works with you ? You' ll give him the best present, I can' t give, to him. His name is Athanaël. I know you can do that, dear Olga, and all of yours. Why ? Because I met Marty in 1990 at Sunderland ( in The Volume Record Shop ) And I understand one thing with him. You are Humans. Thanks by advance. For Athanaël. I will edit All of your Wishes and put them under ( in ) a Framework. Thank's by advance.
Sorry for my bad English, I am French….
Cordially.
Frantz
Hi Frantz
Thank you for your message!
Unfortunately its not possible to get everyone together, as we live all over Europe!
Though I can say now "HAPPY BIRTHDAY to Athanaël ! from me, Olga.
I am pleased you like Idle Gossip Athanaël, hopefully we will see you at a live show someday!
Take care
Olga
Hi Olga
I hope everything is fine with you! As exactly today you played with the Toy Dolls here in Lucerne I thought I send you the poster of the show I made for that show! Maybe you can remember it! But if you don't then it would be time that you come back to Lucerne, smile. But seriously I would like to organize this here. As I'm turning 50 next year and still promoting Punkrock shows here for over 30 years it would be a great pleasure to do it. Then I could make a new artwork for a new showposter of the Toy Dolls. But anyway I would like to thank you for all the good times you gave me with the Toy Dolls through all the years! I wish you a fanstastic time with all the tings you want!
Many greetings from Lucerne, Switzerland
Martin Gössi
Yo Martin
Everything is fine here cheers!
Yeah, I remember the Lucerne show!
We love Switzerland!
If you would like to organize a show, you can contact our management on the front page of www.thetoydolls.com
Click on the big P (primary)
Hopefully see you soon!
Olga
Hi there, Olga!
I don't have a question to ask, I just wanted to say how much I love Toy Dolls!
It was one of the first "normal" bands that I started listening, when hitting me puberty. ;)
Also, I survived my homeworks in music high school (counterpoint:yuck!) listening to your music! Thanks for that! I remember, I had a cassette player with only one deck, and I had my cassette collection, with every Toy Dolls album! That was all a hundred years ago, and it will be forever!
My top 2 albums:
Idle Gossip
One more megabyte
I love you Toy Dolls! Never stop playing please! Come to Toronto!!!!!!!
Cheers!
Aleksandra
Thank you so much Aleksandra
Greetings to Toronto too.
Good to know we got you through your homeworks!
Take care
Olga
Hi there, Olga,
Just to say I've been a massive Toy Dolls fan since I can remember (you have my father to thank for that actually, when he was my age he used to kick nasty bastard neo-nazis in whilst playing Nellie The Elephant) and I was wondering if you'd ever consider coming to North Yorkshire? I'm actually situated in Scarborough (shitty seaside town really) but it'd be a privilage to have you here.
I can always recommend the band to local venues if you're up for it?
Many thanks & much love, from Molly.
P.s. You're awesome, and you should know that. 
Hi Molly
THANK YOU! To your father also!
Maybe we will get to Scarborough/North Yorkshire, if there is another UK tour.
Many thanks again
Olga
Hello Olga,
I'm so feverish writing you, because you're my idol for 30 years ! I saw you in concert several times, even with my daughters, it's fabulous. I'm a bass player (i love Tommy too !) and with my drummer best friend, we filed a patent on a new concept and revolutionary guitar & bass amp for which we would like you to be an ambassador ... Please tell me more about your point of view and let's take a date in France ... I love you, kiss all the band for us.
Pierre
Hello Pierre
Wow, 30 years, thank you!
Tommy will be please to hear that also! cheers
The idea sounds interesting indeed, thank you!
You need to talk with our management about it, you can click on the big 'P' Primary, on the front page of this website, this will link you to the management, where you can leave a message.
Cheers!
Olga
Hello, I am Spanish , and I do not remember what the song that starts with the wedding march . Am you can help ? thank you very much.
Enviado desde Correo
Hello Enviado!
Yes, the song is on Wakey Wakey album, its called Daveys took the plunge.
Cheers
Olga
Hi Olga!
How is it that you guys have never played in Canada yet?
Thanks!
Ed Roach
Yeah, good question Ed!
We would love to get there!
Fingers crossed.
Olga
Hi Olga,
I'm writing just to say thank you for the photo and the beers. I'm quite sure you don't remember, but we met one time so many years ago in Budapest, Hungary. Before your show in the afternoon I cought you at the riverbank of the Danube. Well, I think to miss the photo with you with Budapest in the background is one of my biggest mistake in my life :) Later, I was in a few more Toy Dolls show, but most of them were in festivals. So I didn't have a chance to make that picture.
The years passed and I moved to the UK, now I'm living in Portsmouth, and I have less chance now. It's funny, in the first time when I was in the UK (around 10 years ago) I tried to buy some Toy Dolls disc. I couldn't imagine the Toy Dolls was not as famous here than in my country. I think you know that, the Toy Dolls is one of the three most famous '70s Punk band in Hungary. So I went into that music store and asked the guy, 'Do you have any Toy Dolls?'... And the face... Hahaha... I'm sure he thought something like this 'stupid tourist try to buy some dolls in a music store... what a f.kin idiot'. So now in the UK I have less chance to make that picture (well not with Budapest in the background, but with me) because you don't have as much shows like in Central/East Europe. Anyway, I went to Birmingham last year, but after that show the security guard kicked us out soon :) So, back to the beginning, thanks the beer and the picture, well my one a bit damaged during the delivery, but at least I have one now. I know this is not my picture, but maybe later I can make that one as well. Now I'm thinking about a German or Swedish trip in next spring, maybe there. 
Till the next time: Cheers!
Yours sincerely,
David Kerekes
Hi David
I am glad you got the beers, enjoy!
Ha, yeah, thank you, we miss Hungary, Budapest is beautiful.
I hope you can get to Germany or Sweden, they both look like great gigs!
Cheers for your message
Olga

Hya Olga!
I'm Linda from Holland and I've been a fan since the first record you little rascals made ;-)
My question is about the covers you guys have done, I've been arguing with my brother (also a big fan) for years now about 
the Queen song "Bohemian Rhapsody" He says you didn't cover it Isay you did.
Can you please tell us which of us is right? Because we've been searching on the internet for several years 
but we can't find anything about it....
Much love and kisses,
Linda
Linda from Holland Hi!
Thank you!
Nah, we have never done Bohemian Rhapsody, yet! So yer brother is right! Sorry!
Take care
Olga
Hi,
I'm trying it get hold of a copy of Santa was a skinhead. Do you know where I can buy a physical copy or download a copy from?
Many thanks,
Grant
Hi Grant,
I guess you mean Yul Brynner was a Skinhead? Though Santa may well have been.
You could try Captain Oi, Yul Brynner is on the BARE FACED CHEEK album.
Good luck
Olga
Hello
Happy Chrismas
what is your best song in your opinion?
Thank you
Come to Argentina and play with Flema, another good band.
Juan López
Happy Christmas to you too Juan
Not sure which is our best song, my opinion changes from time to time, maybe Glenda & the test tube baby, or Barry the roofer, Alecs gone maybe!?
I will check out Flema.
We miss Argentina!
Hopefully back soon.
Cheers
Olga