SATURDAY 12th
Brrr, welcome to Wintertime You Lot! It's cold eh?!
Well, first up yer Ask Olga questions are here, keep sending your questions to . And, the next guitar lesson from OLGA is here.
The latest news on the writing of the next Toy Dolls album is that Olga is about to start writing song number 10! He's getting there!
We'll bring you more news on this soon!
NEW RELEASES
Westworld Recordings are releasing seven re-issues of some classic The Toy Dolls albums!
They will be available in CD Digipack versions and, wait for it, COLOURED vinyl versions! Wicked or what!
These will be released and made available next year, but you can place your pre-order now at Plastic Head.
NEW SHIRTS
The new Olga Guitar Player t-shirts are finally available from the webshop!
These are available in men's and girlie sizes, in both heather grey and white. Take a look at these beauties! I am gonna have to grab one for myself before they sell out, there are only a limited numbers of these bad boys!
The gigs are coming in thick and fast for 2017! There are more confirmed gigs waiting for announcements, and even more to come, so keep checking those tour dates!
OK, until next time
TTFN


WEDNESDAY 5th
Hey Everyone!
We hope you are enjoying the last few days of this mad hot summer! Lets get straight down to business eh?!
The latest answers to your Ask Olga questions are here, keep sending your questions to . And yer latest bass lesson from Tommy is here!
Here's a pic of Olga & his old mate Stan (The Dickies) in London a few weeks back. And cheers to Laszio for this pic of him sporting his new Toy Dolls competion prize! Suits ya Laszio!
So, Olga tells me he is putting the final touches to song number 8 for the new album, lets hope his creative juices keep on flowing! More news soon!
2016 may have been a fairly quiet one on the live gigs front, but 2017 certainly looks like it's gonna make up for it! There are more and more festivals and gigs coming in as we speak!
As for the rest of this year, Olga is spending most of his time writing, but the lads have slotted in Rotterdam on 4th November, Moscow on November 12th, and finally Tel Aviv on December 9th. The remaining tickets can be bought from the links on the tour dates, down the right hand side of this page.
Oh, and a big thank you to everyone buying tickets for the German shows in January, these are totally flying out and I think Hanover will be sold out, or close to, by the time you read this! So don't hang around!
More gig news VERY SOON!
OK, we will let Olga get on with the composing!
TTFN



THURSDAY 1st
IMPORTANT ANNOUNCEMENT ABOUT THE GERMAN SHOWS IN OCTOBER
Due to circumstances beyond our control the German October shows have been rescheduled to January 2017.
All tickets bought for the October shows will still be valid for the rescheduled January shows, or you can get a refund if you can't make the new date.
We do apologise for any inconvenience caused.
The new dates are: (same venues, different order)
January 2017
12th Nurnberg Hirsch
13th Hannover Faust
14th Essen Turock
Until next time
TTFN



MONDAY 1st
A Mini Summer Update!
Hey You Lot!
It's a hot one out there!
Unfortunately our poor Olga is stuck indoors writing the next album!
But from what he's told me it's all coming along swimmingly!
As this is just a mini update the guitar lessons will return next time, but your ASK OLGA answers are still here though. Please keep sending your questions to .
A big thank you from the lads to everyone attending the summer festivals!
Oh, and another big thank you to Peliñecos Rubio for presenting Olga with this wicked Olga Toy Doll in Barcelona.
Take a look at these bad boys!
These t-shirts are gonna be available from the webshop and the live shows over the next few weeks.
I need to get me one of these!
Don't forget, if you are in Spain on September 2nd, the lads are doing a street show near Vic! Details can be found to the right in the live dates listing, and what's more, its FREE entry!
More news coming soon!
In the meantime slap on that sun block!
Until next time
TTFN



TUESDAY 21st
Happy Summertime You Lot!
First up, your latest ASK OLGA answers are here. Please keep sending your questions to .
Tommy Goober's next bass lesson is here... Enjoy!
There were quite a few of you with the correct answers to last month's T shirt competition, so we had to chose a name at random from one of the 12 correct answers!
And the winner is...
Laszlo Torok from Hungary!
A shiny new Logo T shirt is on its way to you! Send us a pic of you wearing it!
Oh yeah, the answers!
You could have had a number of Duncan's other band names, Billy No Mates, Guns 'n' Wankers... the list goes on!
And it is actually Duncan who does all the high harmonies at the shows. Though Olga has the squeakiest vocal range, Mr Duncan can reach much higher notes!
While we are on the subject of the Amazing Mr Duncan, here's a coupla pics of the man himself earlier this month in Holland, enjoying his 10 year anniversary cake in Holland!
And there's a few pics from the Dutch dates too, Alkmaar Victorie Club.
I have been told by Olga that he is now working on song #6 of the new album! We will keep you posted on his progress!
We will also take this opportunity to say good luck to our mate Jet, the guitarist from UK Subs, who has just left the band after 11 years! A truly dedicated performer, keep yer eyes peeled for his future projects!
OK, let us know how you lot are enjoying the summer festivals and click on the links on the right for tickets for the autumn Germany / Russia shows club shows! These tickets are flying out, don't hang around!
More gigs to come!
Until next time
TTFN


THURSDAY 2nd
So, finally! The announcement of the ONLY gig in England in 2017!
North West Calling, Manchester, June 3rd 2017.
The pre sale (for 02 members) is from today (2nd June) at www.ticketweb.co.uk, and general sale at www.gigbox.co.uk from Saturday 4th June.


FRIDAY 6th
Welcome You Lot!
First off Olga, Tommy and Duncan wanna say a huge thank you to the crowds, the local crew and the promoters in Vienna, Budapest and Prague for making these three sold out shows totally unforgettable!
Heres a few pics by Radim Hromádko in Prague the other night.
There's no guitar or bass lessons this time around, but they will return very soon! In the meantime, here's yer ASK OLGA questions and answers. Please keep sending your questions to .
A MASSIVE thank you to Igor Keller for building this superb custom built Telecaster for Olga!
Unfortunately it was too late to try it through the amp in Czech Republic, so Olga is gonna get there early at the next show in Alkmaar Holland to give it a blast at sound check, he will do a report on the sound then.
Again, a big thank you to Igor, for building such an amazing quality instrument, and also for being an all round nice guy. It looks fabulous!
A DECADE OF DUNCAN!
Can you believe that next month at the 3 shows in Holland, The Amazing Mr Duncan celebrates 10 years as a Toy Doll drummer! Here's to the next 10! Congratulations Mr D!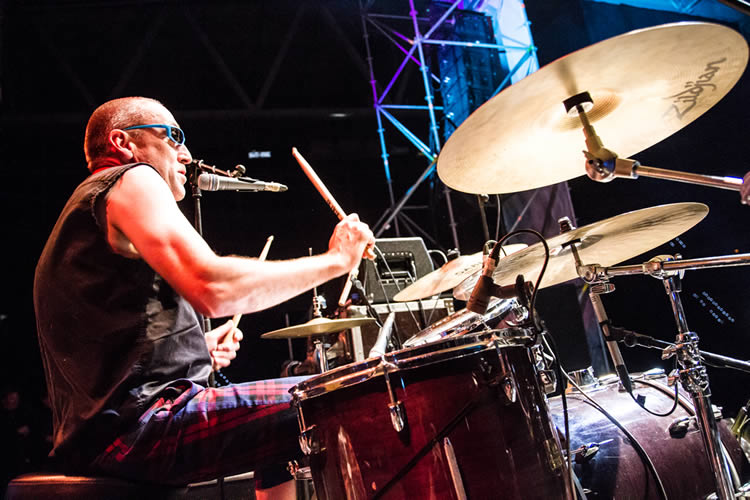 Last but not least... a competition to win one of the fab new Toy Dolls logo shirts (check em out at the webshop)...
2 little tiny questions:
1. Name one of the Amazing Mr Duncan's other bands (apart from SNUFF!)
2. Who does the higher vocal harmonies at The Toy Dolls live shows. Olga, Tommy or Duncan?
Send your answers and remember to include your name, address, contact e-mail and SIZE you would like!
OK, winner announced next time... There's more and more gigs being arranged so keep an eye on the tour dates!
Until next time
TTFN



SUNDAY 17th
Get a loada this!
The Toy Dolls will be playing one exclusive show in Scotland on 29th April 2017!
The Scotland Calling Festival, co-headlining with Edinburgh Punk veterans The Exploited.
The lads have a load of special guests too, including Angelic Upstarts & UK Subs!
Pre sale tickets will be available from this week, Wednesday 20th April 9am, then on general sale from 22nd April 9am.
www.gigbox.co.uk & www.ticketweb.co.uk
This is a rare and wonderful thing! I will see you there for sure!
TTFN



THURSDAY 24th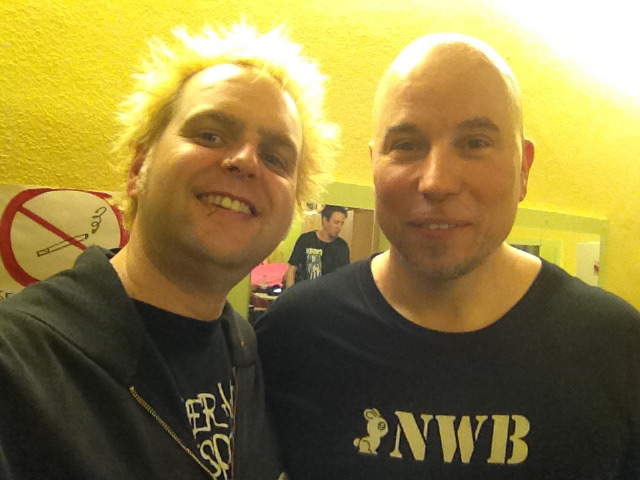 Greetings You Lot!
First off, a huge thank you to everyone for buying tickets to the upcoming club shows in April.
Budapest has sold out already, and the others are very close behind now! Enjoy... if you can get a ticket!
OK, your latest ASK OLGA answers are here. Please keep sending your questions to .
A brand new bass lesson from Tommy Goober is here.
And talking of Tommy, here's a nice pic of the man himself last week with another great bassist, Craig from 'Sick of it All'.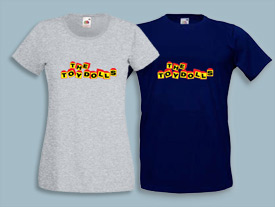 Two very nice, simple t shirt designs will be available from mid April in the web shop and at the live shows.
There will be a competition to win one o' these beauties next updates!
So, you lot in the UK may have heard that the lads are going to play two EXCLUSIVE shows in the UK in 2017!
These will be two festivals with The Toy Dolls headlining, one show in England and one show in Scotland.
These are both confirmed and full announcements and pre-sale ticket links will be made available over the next few weeks. I for one, am as excited as hell about this!
Watch this space!
There's plenty more being planned for 2016 too...
Until next time
TTFN



THURSDAY 25th
Welcome to Springtime you lot!
Straight down to business... your latest ASK OLGA answers are here. Please keep sending your questions to .
The latest guitar lesson is here….
The Toy Dolls management are hard at work organizing festivals and club shows for 2016. There's always talk of many shows throughout the world, but only some actually become a reality. Only CONFIRMED shows will be announced on here.
We can tell you that the club shows in Antwerp and Budapest are fast approaching sell out, so please don't leave it until the last minute and send letters complaining that you couldn't get tickets - which has happened on a number of occasions! The tour dates are on the right hand side, with ticket links.
Incidentally, even though the THREE day passes for Hellfest in France in June are all sold out, there are still some ONE day passes left for the day Bad Religion / The Toy Dolls / UK Subs / Discharge play. Click the Hellfest link on the tour dates.
More gig news, and an announcement of some very special shows (for 2017, can you believe) next time! And we feel another competition coming on!
Until then
TTFN



THURSDAY 14th
Happy New Year You Lot! Hope you all had a great Christmas time?
From, Olga, Tommy and Duncan, a HUGE thank you for 2015!
The lads are really lookin' forward to 2016! Lots of shows are being planned as we speak, and as you can see the latest to be added is a rare club show in Antwerp, Belgium on 2 April. This is the only Belgian show planned, so please act soon to get tickets!
Olga tells me the new album songs are coming along just fine!
Oh yeah... yer latest ASK OLGA answers are here. Please send all your future questions to .
The guitar lessons will return next time, but here's a nice surprise for ya...
"ARIGATO" was a song which was only available on the Japanese release of "The Album After The Last One". To you lot in Japan, let us know how Olga's Japanese is!? It's a great song but I can't understand a word! Click here to download.
OK, keep checking the tour dates, there's gonna be more shows added soon!
In the meantime, here's a random collection of pics from 2015.
TTFN