NOVEMBER 29th 2013
HEY YOU LOT, WELCOME TO WINTER TIME EH?!
Right, lets keep warm & get straight down to business...
Your latest guitar lesson is here, and you can find the latest ASK OLGA answers are here.
UK TOUR
I was at the Nottngham show, and I must say what a brilliant time I had, you lot too by the looks of things, and our trusty trio seemed to being have the time of their lives on stage!
Anyway, here's a UK tour report from the man himself...
...a pic of the lads at the end of the set at the last show in Nottingham, and from the Bristol show.
RANDALE RECORDS
Just to remind ya, that 'Our Last Album?', 'The Album After The Last One' and "Classic Toy Dolls" are now all available from Randale Records. Head over here to purchase.
WHAT'S NEXT?
Well, Olga is busy recording the acoustic album as we speak, more news on this soon...
FIRST SHOWS OF 2014
There will be a show in Bologna, Italy in early March, and a festival in Hungary in July. These are both confirmed but we are waiting for news of announcements, any day now!
There will be a full French tour in May too with the actual dates being announced over the coming weeks.
There are talks of many other countries, so please sit tight, we will let you know as soon as we get any news!
Keep checking the tour dates, 2014 promises to bring quite a few!
Until next time

TTFN


OCTOBER 13th 2013
WELCOME TO AUTUMN YOU LOT!
Things may be getting colder climatically, but things are heating up fast in The Toy Dolls camp I can tell you!
The UK tour is not far away now, and I for one cant wait!
Five out of the eight shows are now officially SOLD OUT, so be quick if you want to get to one, or all of the other 3 gigs in BIRMINGHAM, BRIGHTON and of course LONDON on November 8th (these are all selling at hi-speed at the moment!) www.thetoydolls.com/tickets
It looks like I am gonna be there for the final show in Nottingham so come up and say hello if you wish!
Following the UK tour the lad's management will be in talks regarding 2014, we will keep you posted! I know there are serious talks about various shows and tours but that's all I can say at the moment.
Yeah, I know, never mind the UK! The lads still have Klub Kwadrat, in Krakow Poland on 19th October, and TMN Ao Vivo, Lisbon, Portugal on 26th October, and I know our trusty trio can't wait to get back to both these cities!
Let me know what you think of the shows! I wish I could be there too!
Here's a clip our good friend Carlo filmed from the stage in Holland in August this year!
And a coupla nice snowy pics from this years summer festivals!
RANDALE RECORDS VINYL RELEASES NEWS!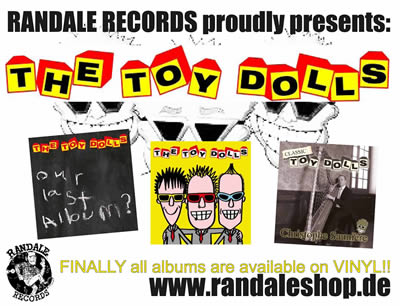 Finally! The vinyl versions of "Our Last Album?" and "Classic Toy Dolls" are to be released on October 15th! Yeah!
You can get them direct from Randale Records or through The Toy Dolls shop
Check out Randale Records Facebook here.

ACOUSTIC RECORDINGS!
So, Olga has finally started to record the acoustic album!
He tells me he has 6 songs (guitar tracks) done so far (there will be 14 in total) and he tells me he is really pleased with the recordings so far although he's had to put everything on hold because of rehearsals 'n' stuff and the forthcoming shows.
He promises to get straight back to it after the UK tour so watch this space!
JAPAN TV SHOW!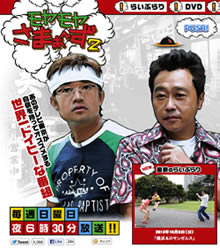 It's been a while since the lads have done shows in Japan (they will be back as soon as they can!) but in the meantime, its nice to know they are not forgotten.
Highly popular TV music/culture show モヤモヤさまぁ〜ず2 (Moya-moya Summers 2) on Sunday nights, features The Toy Dolls "Dig That Groove Baby" as the title music!
Well, enjoy what looks like to be the final shows of 2013!
Unfortunately, due to circumstances beyond my control, there's no guitar lesson this time around, but they will be returning next month. In the meantime your latest ASK OLGA questions are answered here.
See you on the UK tour!
Until next time

TTFN


SEPTEMBER 9th 2013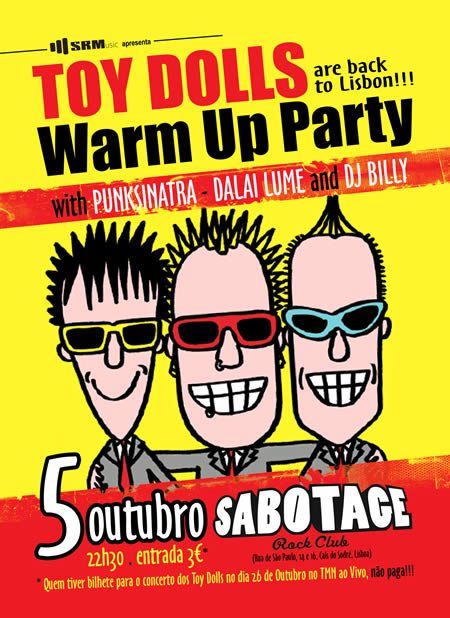 Prior to The Toy Dolls show on 26th October there's gonna be a 'warm up' party on 5th October at the Sabotage Rock Club in Lisbon featuring Portuguese bands playing The Toy Dolls songs, and a DJ playing Toy Dolls songs and videos! People with tickets for the 26th October show in Lisbon get free entry. Sounds like a rockin' night and a great practice for ya for the real thing on 26th!
SEPTEMBER 1st 2013
Greetings to you lot!
Straight down to business, this months guitar lesson is here…
And your "Ask Olga" answers are here…
Thank you to all of you for taking this site above 2 million hits, wow! YOU LOT RULE!
Last month's competition...
First off, thank you for the overwhelming amount of entries to this one!!
Here's the questions AND answers!
1. TV Smith is the tour support on the UK tour, but what is TV's first name?
Answer: Tim
2. In what year was the last time The Toy Dolls played in Bristol?
Answer: 1982
3. What make of bass amplifier does Tommy Goober use?
Answer: Ampeg
4. Which Toy Dolls song was used in Russia on TV advertising cola? (actually Crazy Grape Cola, cheers to a lot of you for pointing this out!)
Answer: Idle Gossip
5. What French mineral water used The Toy Dolls music on their TV advertising?
Answer: Badoit
There were a whole load of you with correct answers, but as usual there can only be one winner! So a name as been chosen at random from the hat...
Congratulations to JONAS WETTMARK
A glossy London Electric Ballroom poster for the 8th November show is on its way to you, along with a couple of extras I daresay!
Randale Records
Randale Records in Germany have informed us that it's full steam ahead for the vinyl releases of "Our Last Album?" and "Classic Toy Dolls". Precise release dates will be announce soon so stay tuned!
Summer
The Toy Dolls' summer festivals are coming to a close sadly. The lads have had one of the best summers of festivals EVER, despite Tommy Goober having to sit down for a few of 'em coz of his recent leg operation! He's just now starting to move around a bit and slowly beginning to do the choreography once again, the jumps will start returning over the coming weeks too! Rock on Tommy!
Here's a couple of pics from the summer:
The UK TOUR Official T shirts!
Along with the usual black face and crowd shirts there will be 2 new brilliant LIMITED design shirts only available on the UK tour! Here's a sneak preview:
These shirts will NOT be available at The Toy Dolls shop, they will only be at the UK tour live shows.
Incidentally, a massive thank you from the lads to everyone for buying tickets so far! Manchester, Sunderland, Bristol and Nottingham are now all sold out, and Glasgow has only a few tickets left! London, Brighton and Birmingham are not far behind!
www.thetoydolls.com/tickets/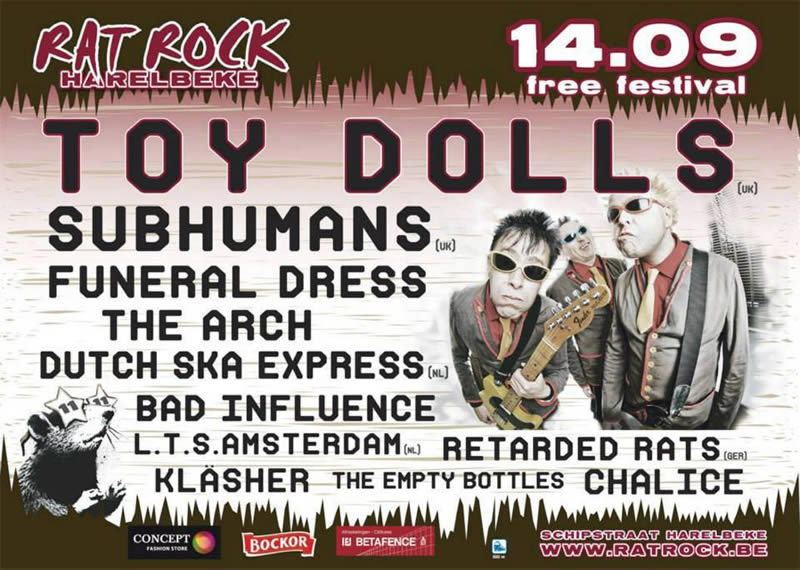 Only one more summer festival left, "Rat Rock" in Belgium on 14th September. Looks like a great one this, with Funeral Dress and the Subhumans!
Ok, more news soon!
Thanks for your on-going support!
We've got some great live video clips from the stage for you next updates!
More news soon!
TTFN


AUGUST 22nd 2013
Just time for a quickie!
The Toy Dolls have a quadruple page spread in the new edition (#14 to be precise) of Vive Le Rock magazine, available from all good newsagents imminently...
More news soon...
JULY 9th 2013
Happy Summertime You Lot!
Well, a huge thank you to everyone who came and supported the lads at Hellfest in Clisson, France and at the Die Toten Hosen show in Koln Germany.
Tommy Goober was forced to sit down at these shows what with him just getting outta hospital... Cheers loads to everyone for all your support!
Tommy Goober will still be on crutches till the end of July, but he is attending physio regularly and gradually making a grand recovery!
Heres a clip from on stage, sounds a bit rough as it's just the monitor mix! And also a secret clip in the dressing room at Hellfest, Olga testing the hire amp, with instrument technician Keith. Interesting stuff!
Decca's Book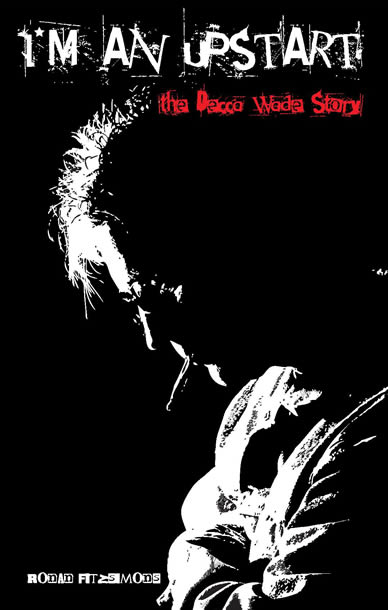 So, our good old mate and ex-Angelic Upstart has a book released, "I'm an Upstart: The Decca Wade Story" is brilliantly written by Ronan Fitzsimons, the guy who wrote "The Toy Dolls :from Fulwell to Fukouka". I guarantee you will not put this book down! Easiest way to get it is here. www.ardrapress.co.uk
Oh yeah, I almost forgot! The summer heat must be getting too much for me! Your latest "ASK OLGA" answers are here and your latest guitar lesson is here! Enjoy!
Our Last Album and Classic Toy Dolls on vinyl... News!
Unfortunately, The Toy Dolls record label in Germany had a few problems with the crazy floods a few weeks back, which means the LP release dates have been put back a short while, we will naturally keep you posted of the new release dates soon!
July is a quiet month for the lads this year, NO festivals or gigs at all, though they are gonna make up for it in August I tell ya!
Hopefully Olga will make a start recording the acoustic album we keep hearing about!
You can catch The Amazing Mr Duncan's other band 'Snuff' at the Punk Rock Holiday in Slovenia in July...
Competition Time!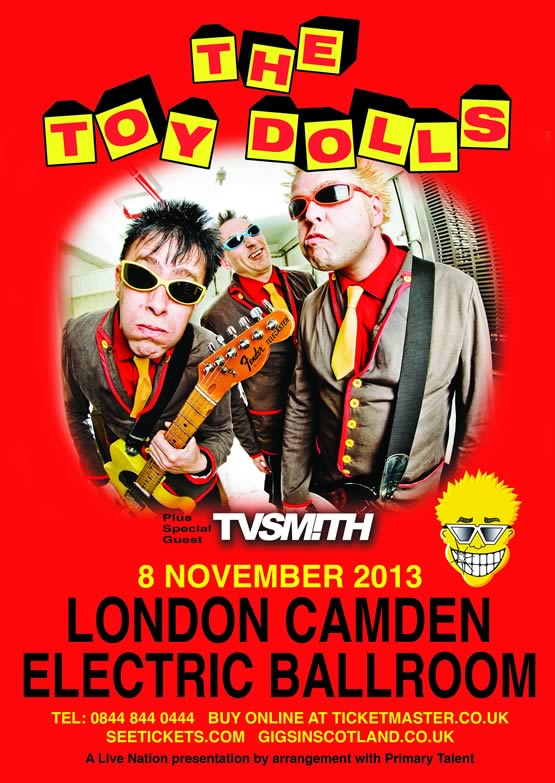 Your Chance to receive a full colour glossy promo poster of The Toy Dolls show at London Electric Ballroom 8th November. We may throw in a couple of other goodies too!
The competition will be open until the end of August so please send your answers and include your name and address! Good luck!
5 questions
1. TV Smith is the tour support on the UK tour, but what is TV's first name?
2. In what year was the last time The Toy Dolls played in Bristol?
3. What make of bass amplifier does Tommy Goober use?
4. Which Toy Dolls song was used in Russia on TV advertising Cherry Cola?
5. What French mineral water used The Toy Dolls music on their TV advertising?
The remaining tickets for the UK tour can be found here.
More news soon!
TTFN


JUNE 18th 2013
Here it is... the official UK tour promo video!
JUNE 4th 2013
The Toy Dolls are coming back to Poland, this time Krakow!
The amazing Gdynia show was sold out in March, so don't miss out on this one!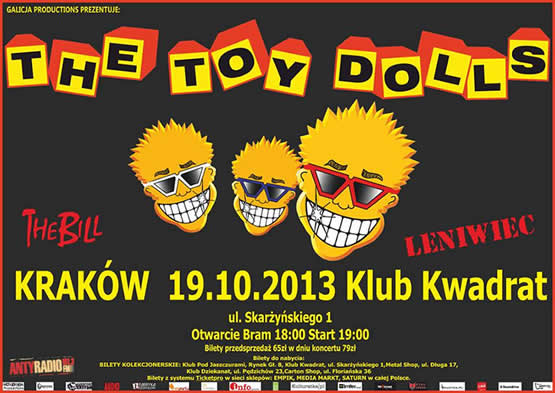 JUNE 3rd 2013
MAY 28th 2013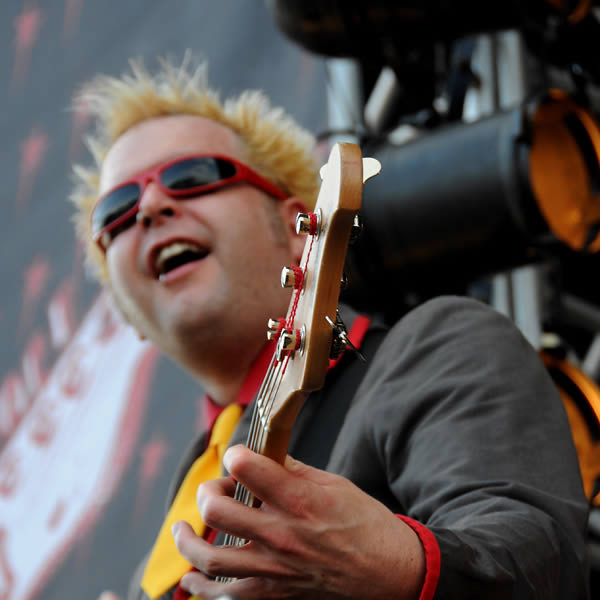 UNFORTUNATE ANNOUNCEMENT
There comes a time when things happen that we just have no control over, and this is one of those times.
Basically, in a nutshell and without going in to details, our very own Tommy Goober has had to be admitted to hospital in Germany today, for emergency surgery on his knee. This will require a week stay in hospital, a period of physiotherapy, followed by a few weeks on crutches as he can not put any weight on his knee.
Thinking long and hard about the next two shows (Hellfest, France 23rd June and Koln, Germany 29th June) it's not going to be possible for Tommy to stand and do a show until July.
Anyway, rather than cancel the two forthcoming shows, we have arranged an extra person to travel with Tommy to carry his bags and equipment and drive him to the shows, where he will perform sitting down.
We know this is not ideal, and the choreography is an integral part of The Toy Dolls show, but we feel it's better than not turning up, and its only for two shows, after this we will be rockin' as a three piece again, rather than a two and a half piece!
You can send Tommy your well-wishes . They will be forwarded onto him and appear here on the website soon.
We really hope you understand and appreciate the situation.
Thank you.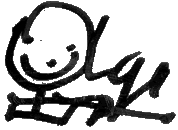 MAY 20th 2013
Well then you lot, Spring has finally sprung!
Great to see you lot supporting the lads at the festivals, the band are having a wicked time, next up is Hellfest on 23rd June.
Here's a clip from Zikenstock in France a couple of weeks back:
Oh, and here's another nice clip shot with Tommy's camera in Buenos Aires, Argentina back in 2006:
So before we get into "what's been happening" here are your Ask Olga answers, and your very latest guitar lesson…
So, ya might o' heard on The Toy Dolls official Facebook that The Royal Ballet used The Toy Dolls version of Toccata at the Royal Opera House in Covent Garden for a week at the end of April! Every night was sold out, Olga was there on the first night, and to his surprise, found his name as arranger and editor in the Royal Ballets programme! Wild or what!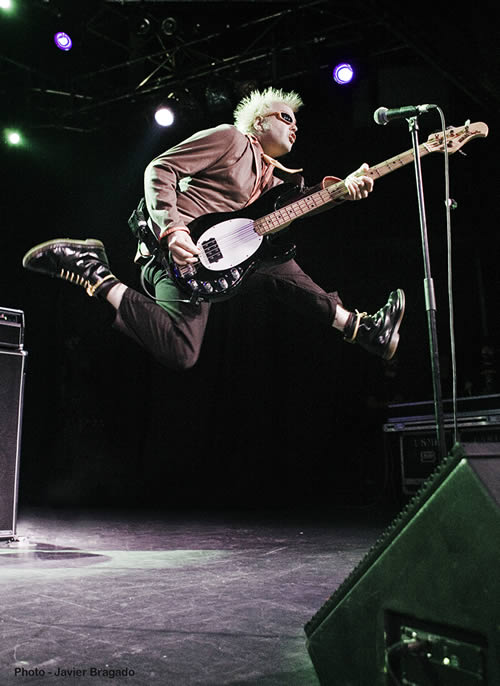 Ya also might o' heard on Facebook, that our very own Tommy Goober became the latest endorsee of Rotosound strings.
Vive Le Rock magazine have also made "Decca's Drinkin' Dilemma" their video of the month...
The UK tour tickets are selling fantastically, a massive thank you for your loyalty.
Crowdsurge, the main ticket outlet, have already sold out of tickets for Sunderland, Nottingham, Glasgow and London, and at the time of writing, they have 15 tickets left for Glasgow! A handful for Brighton and Bristol are still available, so get in quick www.thetoydolls.com/tickets.
However, there are still some tickets left for everywhere (apart from Nottingham and Sunderland) at
www.ticketmaster.co.uk
www.seetickets.com
www.gigsinscotland.com
I have been informed by the man himself, that Olga is just about to start recording the acoustic album, news on this VERY SOON!
***STOP PRESS***
Even though these are still yet to be added to the tour dates, these are the latest confirmed shows:
AUGUST 17th: CZECH REPUBLIC, FESTIVAL (Details soon)
AUGUST 30 and 31st: SPAIN ENVIVO FESTIVALS (Cities TBA)
OCTOBER 19th: POLAND, KRAKOW, (CLUB TBA)
OCTOBER 26th: PORTUGAL, LISBON, (CLUB TBA)
Full details of websites and how to get tickets will be included when these shows are added to the tour dates, VERY SOON!
DESIGN A UK T SHIRT COMPETITION
They can be very rough, basic, or finished designs. There are no rules, as many colours as you like or just black and white, but the competition does end on June 1st 2013 so get 'em in quick!

If your design is chosen to be used, you will win 2 free tickets to a gig of your choice on the UK Tour, plus pics, badges and a t shirt featuring your design!
Please send you jpeg designs to the messages section on The Toy Dolls Official Facebook, and best of luck!
So, catch the lads at the summer festivals, and don't miss out on the UK tickets, we have already had a lot of you asking for Sunderland and Nottingham tickets, of which there are none left!
More news soon!
TTFN


APRIL 15th 2013

The Toy Dolls will be special guests to Die Toten Hosen on 29th June 2013 at Germany, Köln - Rhein Energie Stadion.
Click here for tickets.
APRIL 8th 2013
More Vinyl!
Just a quickie to let you know that due to the success of the vinyl version of "The Album After The Last One" through Randale Records in Germany, they will now be releasing two further vinyl albums!
These will be released in the summer, specific date to be confirmed, but they are aiming for 29th June.
The albums will be:

These will both only be released in Germany, but we will put a link on The Toy Dolls webshop, so you can order it wherever you are. In the meantime, we will keep you posted on the exact release date!
There are still tickets left for the UK tour. T'would be wise not to miss out on this tour, I will say no more!
Good luck to the lads in Milan on 13th April, supporting Ska P, I hope some of you lot will be there to support our trusty trio!
More proper news soon!
TTFN


MARCH 22nd 2013
A new show confirmed for June in Germany...
MARCHarch 19th 2013
Welcome to Spring You Lot!
OK, straight to business, you can find your Ask Olga answers are here, and your new guitar lesson here.
So, the lads have just returned from a highly successful tour of Germany, they had a wonderful time, thank you so much for the welcome you all gave them.
Karlsruhe, Munich, Frankfurt, Hamburg and Berlin were all sold out, and Bochum was only a handful of tickets away from selling out. Thank you so much.
For those of you who missed out on the latest tour T-shirts, you can get them here.
Here's a YouTube clip and a few pics from the Munich show.
The lads performed at Klub Ucho in Gdynia last Saturday, another sell out! This was the only show planned for Poland, I hope you managed to catch em'! A wicked time was indeed had by all!
There has just been a new festival added confirmed for August 4th in France, the Xtreme Fest in Albi, alongside Suicidal Tendencies & others.
While we are on the subject of live shows, the band would like to say a huge thank you to everyone buying tickets for the UK tour. Tickets are already flying out for every gig, Nottingham, Manchester, Glasgow and Bristol are fast approaching selling out, and the Sunderland gig has already done so!
You can get your UK tickets here.
OK, enjoy the guitar lesson, and good luck getting your UK tour tickets.
Until next time, TTFN


FEBRUARY 27th 2013
New T Shirts Available
A wicked new 'crowd' design shirt will be available on the German tour from this week, and at The Toy Dolls shop.
Enjoy the Deutschland shows!
More news after the tour.
FEBRUARY 19th 2013
UK, The Actual Dates!
So, regarding the UK tour! Finally!
Pre-sale tickets will be available from Wednesday 20th February. Click the banner above for details.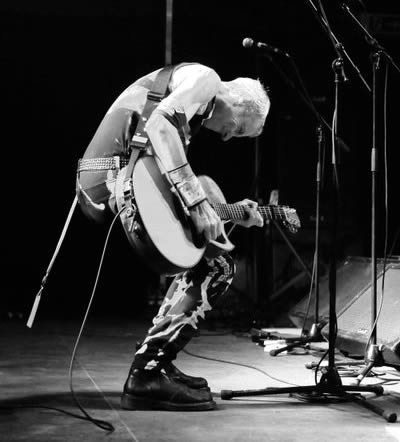 As you will notice, there's a free track with each ticket order! This will be a manic version of "Glenda And The Test Tube Baby" played by Olga on acoustic, direct from his bedroom!
We thought long and hard about the special guest for these shows, we have chosen someone who we not only really like as a person, but someone who is an absolute legend! I am so flattered that this guy wants to join us on the tour again! From The Adverts "TV SMITH".
TV was featured on Later with Jools Holland last year, and here's a documentary that was shown recently on BBC4!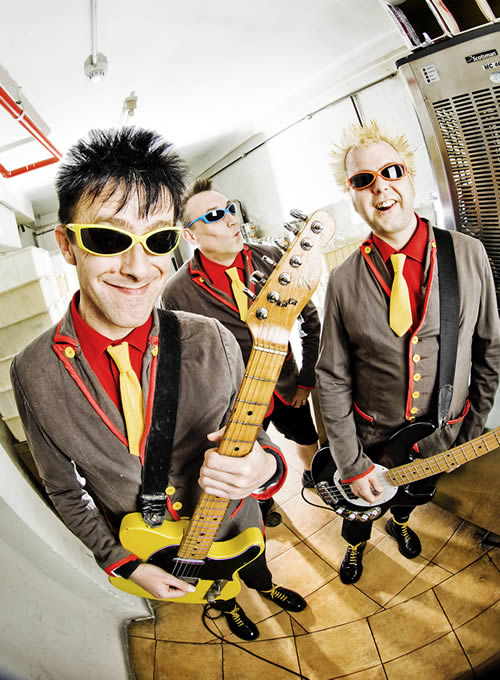 Thank you loads to TV, we are delighted and flattered he will be joining us for the tour, please get to the gigs early to catch his set, he is a brilliant poet, songwriter, and story teller! We are not worthy I can tell ya! Here's TV Smith's Facebook, please check it out.
Anyways, back to the tour! We know there's gonna be some of you disappointed that we won't get to your town, but we have tried to cover as much of the UK as we can, so its still possible for you to drive to a show even if its not in your town.
Until next time, here we go...
FEBRUARY 14th 2013
New Show - Late Update...
The Toy Dolls have just been added to the Gazte Danbada Festival in the Basque area of Spain on the 30th March. THAT'S NEXT MONTH!!
Its unlikely that the lads will be back to this area for a while so catch em' if you can!
FEBRUARY 13th 2013
Venue Change.
The March 9th show at The S036 in Berlin, Germany has sold out so the promoters have moved the gig to a larger venue, The Astra Kulturhaus.
Click here for the venue's website.
Tickets purchased for the S036 will still be valid at the Astra, and now that the show is in a larger venue, tickets are still available. So no need to panic!
UK Tour news IMMINENT!
JANUARY 31st 2013
A new date for France in June...
JANUARY 23rd 2013
Official Tour Announcement!
We just had to tell you this! It's confirmed! The lads are coming back to the UK!
There will be a string of shows between November 1st -9th 2013.
Full details will appear here over the next week or so, and Olga will also keep you posted here.
This news has made my day!
And not only that...
There's gonna be a tour of France too! This will take place towards the end of November / start of December. Full details soon!
There's still life in the old dogs yet eh!
TTFN


JANUARY 2013
Welcome To 2013 You Lot!
Now then, January is a really quiet month for agents and promoters so it looks like its gonna be the next updates before we start getting some decent news for you.
I can tell you though that we should have some long awaited UK tour news VERY soon!
For now a few shows have recently been added to the tour dates:
Apart from the tour in Germany coming soon, the incredibly long awaited gig in Poland, and the huge Vina Rock festival in Spain alongside Pennywise and Sepultura, and a one off show in Italy supporting the lads' mates, the brilliant SKA-P our trusty trio have just confirmed a French festival on 4th May.
There's no guitar lesson this month, but they will make a welcome return next updates. In the meantime here's all the new ASK OLGA answers.
Here are a couple of pics from the great gig the lads did in Vitoria, Northern Spain last month.
We mentioned before that the highly talented front man from Rancid, Tim "Timebomb" Armstong, has recorded 'She Goes To Finos". Well, it will be available on iTunes from 22nd January.
And heres a rare pic of me and the man himself (or "The Boss" as I call him!) down the pub just before Christmas! Olga's hiding his green hair from the locals!
And finally to the Christmas competition:
First up, the answers!
1. Christophe Sauniere has just released "CLASSIC TOY DOLLS", an album of Toy Dolls played Classical style! What are the titles of the two tracks that are opera versions?
Answers: FIREY JACK AND WORSE THINGS HAPPEN AT SEA
2. On the album "Anniversary Anthems", which ex-Toy Dolls member says "Got some arshole speakin' Spanish, he's havin' a laugh" on the track "I've Had Enough O' Magaluf'? Clue... he had hair when he was in the band!
Answer: BONNY "BAZ" WARNE
3. Which legendary punk rocker supported The Toy Dolls on their UK tour in 2007?
Answer: TV SMITH
4. What is the make of Tommy Goober's spinning bass guitar?
Answer: SQUIER
5. How many times have The Toy Dolls played Pukkelpop Festival in Belgium?
Answer: 2 TIMES
6. Olga actually played bass guitar for 2 other punk bands, who were they?
Answers: THE DICKIES AND THE ADICTS
7. The Amazing Mr Duncan and Olga played only one acoustic gig together, which city was in it in?
Answer: TOKYO
8. Who was the drummer on the original version of Fisticuffs In Frederick Street? (not the Bare Faced Cheek album version)
Answer: LITTLE PAUL (or Paul Smith)
9. What was the name of the band Olga played with, just before forming The Toy Dolls?
Answer: THE SHOWBIZ KIDS
10. The singer from the band in question number 9, is now the singer with a legendary R&B band, what is his first name?
Answer: ROB (The band being Dr.Feelgood)
And the winner is...
Out of all the answers that came in there were only a handful of you with 8/10 questions correct, these were put into a hat and the winner is:
YVES from France. Your prizes are on their way!
Lots more news very soon...
TTFN