THE TOY DOLLS SUPERB NEW ALBUM, 'EPISODE XIII', IS NOW AVAILABLE.

GET THE CD FROM SECRET RECORDS IN THE UK, MALDITO RECORDS IN SPAIN, AND MVD IN THE USA.

GET THE VINYL FROM RANDALE HERE.
DECEMBER 2019


The Toy Dolls continue their 40th Anniversary Tour with this new confirmed show in the Czech Republic, tickets are on sale NOW!
The last club show in Prague sold out so don't hang around for tickets, it's gonna be totally insane!
2020 12th September Czech Republic, Divadlo Archa
NOVEMBER 2019
Well, Hello You Lot!
Its been a while since a proper update! As the lads have started their 40th Anniversary tour, there hasn't been much time to get news up! But we are here now!
So, the German leg is done and dusted with most places either jam packed or sold out! And what a wicked time the lads had, DANKE!
Here are some pics from Germany. (Photos 1 to 9 by Dermangler)
OK, the latest Ask Olga video is here, keep sending your questions to , and the next album video is here.
Next up is the SWEDISH LEG of the 40th Anniversary tour and this promises to be totally wild! It's gonna be a hell of a party! If there are any remaining tickets left by the time you read this, you can get em' on the tour dates list.
Following Sweden will be the FRENCH LEG of the 40th Anniversary tour, this also is gonna be one crazy tour, you lot really are in for a treat.
OK, especially for you lot who can't attend any of the 40th Anniversary Shows, we have a competition for ya to win some of the goodies only available on the tour.
THE PRIZE:
The Toy Dolls Tote Bag + The Toy Dolls building bricks pin + The Toy Dolls Face pin + The Toy Dolls stickers.
QUESTIONS:
1. From The Toy Dolls Episode XIII album, who wrote El Cumbanchero?
2. What was the name of the first ever venue The Toy Dolls played in France?
3. Who is the oldest member of The Toy Dolls?
Please send your answers , with your full name and address, we will send the prize anywhere in the world, winner announced in the next updates.
More countries are still being added to the 40th Anniversary tour, this could stretch on for some time!
Oh, before we go, a quick one to say thank you so much to everyone buying tickets for the UK Shows. South Shields and Manchester sold out crazily quick!
There are some tickets left for the big London show at the Kentish Town Forum on April 18th 2020. This one is gonna be mental, featuring our mates The Angelic Upstarts as special guests too! Get yer tickets here.
Enjoy the shows you lot, I envy ya!
TTFN


We are delighted to announce that the next confirmed country on the 40th Anniversary tour is... PORTUGAL.
Both these venues sold out last time the lads played em' so be quick to get yer tickets!
Really can't wait to see you lot again, Porto and Lisbon ROCK!
Tickets available from Wednesday (6th November).
More countries being added soon!
OCTOBER 2019
The official 40th Anniversary Tour promo video!
Lots more dates to come, all ticket links in the tour date listings.
Not many left for Germany now though!
Please note that the remaining few tickets for the German leg of the 40th Anniversary Tour can now be found at this NEW link here.
SEPTEMBER 2019
Hey You Lot!
It's here! The announcement of the UK 40th Anniversary shows! And, Olga is heading back to his birthplace of South Shields!
2020
16th APRIL UK SOUTH SHIELDS, HEDWORTH HALL
Tickets on sale at 10am on 20th September.
17th APRIL UK MANCHESTER, CLUB ACADEMY
Tickets on sale at 10am on 20th September.
18th APRIL UK LONDON, THE FORUM
Pre sales (London only) 18th September 10 am.
General release at 10am on 20th September.
Special guests in South Shields will be CRASHED OUT.
Special guests in Manchester will be VOMIT.
And, because Mensi and his band were the first to take The Toy Dolls on a national tour 4 decades ago, the extra special guests in London will be THE ANGELIC UPSTARTS.
You really need to get yer skates on to get tickets for these shows!
We are proud to announce the next confirmed leg of the 40th Anniversary Tour will be in THE NETHERLANDS!
Tickets will be available to purchase at 10am CET tomorrow, Friday 13th September.
February 7th - Holland Groningen De Oosterpoort
February 8th - Holland Nijmegen Doornroosje
February 9th - Holland Tilburg 013
Hey You Lot!
So the time is almost upon us! The release of The Toy Dolls amazing new album 'EPISODE XIII' is the 13th September!
Pre order details for the album are in the 'SHOP'.
You'll also see some super cool new 40th Anniversary shirts, pins, and tote bags (which look amazing!).
The new stuff will only be available at the 40th Anniversary shows.
This is amazing, the new promo video for "RICHARD CLAYDERMAN'S A CREEP' taken from the new album EPISODE XIII.
Oh, I almost forgot in all the excitement here's yer latest album interview video.
The lads are busy at rehearsals as we speak, so yer 'ASK OLGA' video answers will return soon!
OK, there are now a limited amount of tickets left for the German leg of the 40th Anniversary tour. Please don't leave it too late to get your tickets like some of you did last time!
Other countries are to be announced this month! WATCH THIS SPACE!
Life begins at 40! Ha!
Until next time...
TTFN


AUGUST 2019
Maldito Records of Spain start their PRE SALE of the new album, EPISODE XIII, today!
Maldito are also offering various lovely packages with the new album - tshirts, hoodies and keyrings.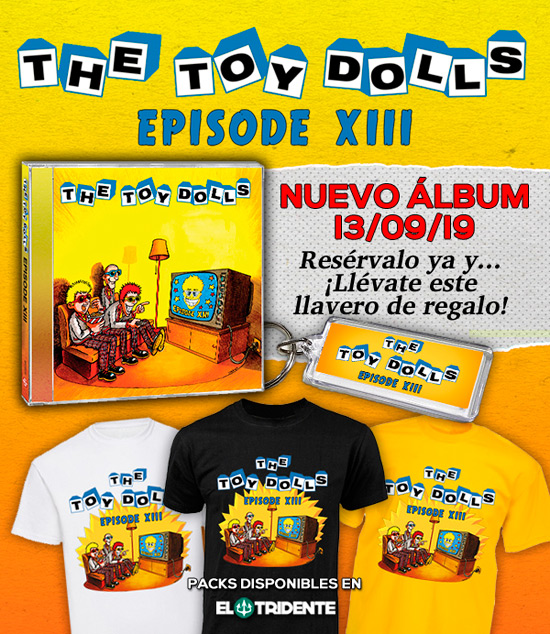 These items will not be available to buy individually. They are limited edition, available only as a package with the new album.
Check out the Maldito Newsletter too.
Until next time...
TTFN


JULY 2019
THE TOY DOLLS SUPERB NEW ALBUM, 'EPISODE XIII', IS NOW AVAILABLE FOR PRE-ORDER.

GET THE CD FROM SECRET RECORDS HERE.

GET THE VINYL FROM RANDALE HERE.
Happy Summertime You Lot!
And good luck to the lads, sweating away at the summer festivals!
OK, straight down to business, finally your latest 'ASK OLGA' video answers are here. Please keep sending your questions to .
And, the latest ALBUM VIDEO INTERVIEW is here.
Whilst we are on the subject of albums, the new one, "EPISODE XIII", is now due for release on 13th September.
We will have pre-order details for you soon, and the promo video too!
The album will be released in:
UK by Secret Records
Germany by Randale Records
Spain, Portugal and Andorra by Maldito Records.
The version by Randale Records will be on vinyl! Lovely!
More news on other territories soon.
There will also be a special tour edition CD featuring 2 live tracks, only available at the 40th Anniversary live shows.
Regarding the 40th Anniversary Live shows, we are still waiting for more countries to be added, so please sit tight!
Thanks loads to everyone buying tickets for Germany, Sweden, France, Spain & Poland, tickets are really flying out!
Oh, thank you to Steve Harrison for this rare pic, taken about 30+ years ago, the lads and producers at the recording of the Ready Brek TV advert!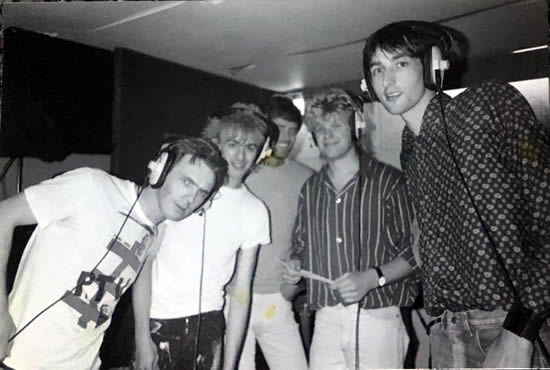 OK, we will have a competition for ya next time! A special prize for 2 guest list tickets at one of the 40th Anniversary shows!
In the meantime, enjoy seeing the lads at the summer festivals, I really wish I could get to one!!
Until next time...
TTFN


JUNE 2019
A little album teaser...
The 40th Anniversary Shows - The Spanish and Polish Legs!
Hey You Lot!
The tickets for these new shows are now on sale today - 12th June. The ticket links can be found in the Live listings to the right. These will sell fast, so get 'em while you can!



16th January Madrid Sala But

17th January Bilbao Sala Santana

18th January Barcelona Razzmatazz





31st Jan Wrocklaw Stary Klasztor

1st February Warsaw Klub Proxima
More countries coming soon!
TTFN


MAY 2019
The 40th Anniversary Shows
The German Leg!

Here you go you lot! Its October, so get yer tickets quick! Tickets on sale Wednesday 29th May.

München Backstage 6th October 2019

Nünberg Hirsch 7th October 2019

Stuttgart Longhorn 8th October 2019

Wiesbaden Schlachthof 9th October 2019

Saarbrücken Grage 11th October 2019

Köln Stollwerck 12th October 2019

Berlin Astra 13th October 2019

Hamburg Markthalle 14th October 2019
More countries to follow soon!
TTFN


APRIL 2019
40th Anniversary Club Shows Update!
So here we have confirmation of the first 40th Anniversary club shows, and the first two countries are FRANCE and SWEDEN.
On the Anniversary club shows you will be able to hear a number of songs from the new album "EPISODE XIII" amongst some other great stuff!
We are awaiting confirmation of club shows in other countries of course, but these are just the first confirmed countries, and please note that the club shows in other countries may start before these ones! We will have more news soon!
40th Anniversary show tickets will go on sale this Friday 26th April at 10 am (CET).
Just click on the gigs on the tour dates down the right hand side of this page for tickets, or below.
14 NOV SWEDEN, STOCKHOLM - Kraken
15 NOV SWEDEN, LINKÖPING - The Crypt
16 NOV SWEDEN, MALMÖ - Plan B
29 NOV FRANCE, PARIS - Elysée Montmartre
30 NOV FRANCE, ANGOULÊME - La Nef
01 DEC FRANCE, CLERMONT-FERRAND - La Coopérative de Mai
03 DEC FRANCE, MARSEILLE - Espace Julien
04 DEC FRANCE, GRENOBLE - La Belle Électrique
06 DEC FRANCE, BIARRITZ - Atabal
07 DEC FRANCE, NÎMES - Paloma
08 DEC FRANCE, TOULOUSE - Le Bikini
11 DEC FRANCE, STRASBOURG – La Laiterie
12 DEC FRANCE, LILLE - L'Aéronef
13 DEC FRANCE, ROUEN - Le 106
14 DEC FRANCE, SAINT-MALO - La Nouvelle Vague

Until next time...
TTFN


Sunday 14th
Happy April to You Lot!
You know the rules, straight down to business!
Your latest Ask Olga video answers are here, keep sending your questions to (but please try to refrain from asking "when are you gonna play in my town", all confirmed shows will be announced on the tour dates of this website).
Your latest video album interview is here. Enjoy!
The stickers competition!
Well, due to the overwhelming amount of entries for this one, we have chosen 14 winners at random from all the 100s of correct answers. The winners will start receiving your prizes over the next few days, if not already!
The answers are:
1. Episode XIII will be the The Toy Dolls 13th studio album
2. The London studio where the lads have been recording is Unit 2 Studios.
3. Richard Clayderman's A Creep!
And the winners are...
Miguel Peral Amado
Ant Vines
Bruno PETITFOUR
Alexx Schroll
Mark Sawyer
Freek Spaepen
Sarah Robson
Alessandro Marin
Mario Smolibocki
Louise Morrison
Jonas Wettmark
Vincent Cobb
Martina Seric
Javier Pages
Well done You Lucky Lot!
Moving on... as I am sure you lot are aware, the lads have been in the recording studio for the past 2 months recording the new album "EPISODE XIII". And now it's all done! Finally!
The album will be centered around a TV show (hence the title "EPISODE XIII") with the tracks "Previously" and "Until Next Time" taking their inspiration from TV cop show types. There's even a news flash before "The Laptop Lifter"! There will be a video of one of the songs over the coming months, so watch this space!
There will be CD and vinyl versions, but yes, we know, we can hear you, "When is the release date"?! The CD will be released in the UK on September 6th 2019 on Secret Records, and the vinyl will be released by Randale Records around the same time. Releases by labels in various other countries will follow soon after. We'll keep you posted on this plus all of the pre-order details.
Meantime take a look at this wicked sleeve artwork.
So, apart from a string of festivals throughout the summer, The Toy Dolls 40th Anniversary club shows will start in early October to coincide with the release of the new album.
The 40th Anniversary shows will feature a selection of songs from the new album, plus all the old favourites!
The actual shows will be announced later this month. The club shows will continue well in to 2020, so there are plenty of countries to be added yet, but very roughly its looking like this...
October 2019 - German Tour
November 2019 - Sweden Tour
November / December 2019 - France Tour
January 2020 - Spain Tour
Management are busy working on other countries throughout the world as we speak, including the UK!
We will be back next month with more news on the 40th anniversary club shows and the new album video.
In the meantime, keep checking The Toy Dolls FACEBOOK as there's gonna be little snippets of the new album over the coming weeks!
Until next time...
TTFN


MARCH 2019
Saturday 2nd
Happy Spring Time You Lot!
Once again, this is just a mini update as the lads are hard at work in the studio recording The Toy Dolls new album "EPISODE XIII.
Full monthly updates with the album interviews and Ask Olga answers will return next time.
In the meantime, this is just a quickie to let you know everything is on schedule with the recording, and release date is still set for October - if not earlier.
Oh, and the songs are sounding fabulous by the way!
Anyways, here's a quick competition to win 4 shiny new brilliant Toy Dolls stickers, and these are not available on the webshop!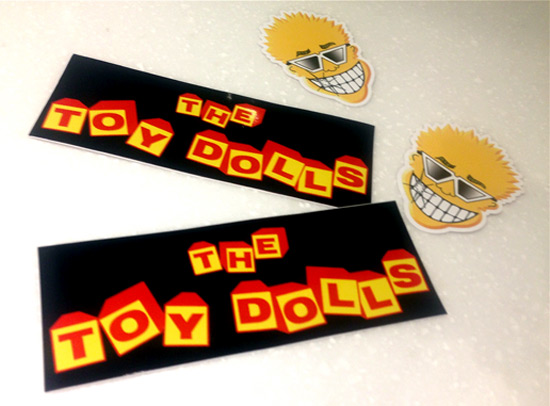 Send your answers (with your name and address) .
3 questions:
1. EPISODE XIII will be The Toy dolls 11th, 12th or 13th studio album?
2. Which London studios have the lads been recording Episode XIII at?
3. Which well known French pianist is described as a CREEP on the new album?
The Toy Dolls Shop has now been restocked with the ever popular black 'FACE' T-shirts, in addition to the new, and gorgeous, deep red 'FACE' shirt.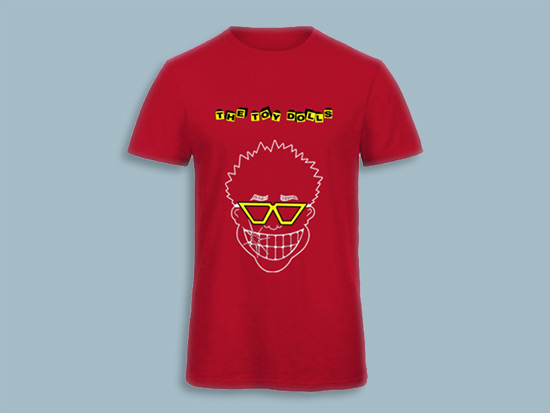 New designs will be added over the next few months.
OK, let's let the lads get this album finished!
More news coming soon! AND LIVE GIG NEWS!
Until next time...
TTFN


JANUARY 2019
Monday 21st
Welcome to 2019 You Lot!
Just a short update this time as the lads are really busy preparing for the recording of the new album!
So, due to the heavy workload involved with getting the new album together, your Ask Olga questions / answers will appear in the next updates. In the meantime, however, you can still keep sending yer questions to .
Wakey Wakey! The latest album video interview is here!
As for the new album, this is due for release roughly at the beginning of October. As this is the thirteenth studio album, it will be titled, rather appropriately, EPISODE XIII!
The track listing is:
PREVIOUSLY
ARTHUR CLARK'S A DARK HORSE
BENNY THE BOXER
SHE'S A WORKY TICKET
THE LAPTOP LIFTER
WAFFLE WOMAN
CHRISTINE'S CLOTHES
PIGGIN' SICK O' MYKONOS
EL CUMBANCHERO
SENIOR BENIDORM
RICHARD CLAYDERMAN'S A CREEP
UNTIL NEXT TIME
Yes, She's A Worky Ticket has been put on by popular demand, and it will be a brand new recording.
So far I have only heard the demo of 'El Cumbanchero' and I am lost for words! Other than WOW of course!
The release will coincide with the Toy Dolls' 40th Anniversary, with club shows starting in Germany, France etc... in October through to 2020. UK dates are being planned too.
OK, let's wish the lads good luck in the studio! It's gonna take about two months from the end of January to complete, but we will keep you posted on the progress!
Oh, by the way... there will be new shirts added to the webshop very soon! We are aware everything is just about sold out! Watch this space!
Meantime here's another great review from the lad's tour of South America a few months back, this time from Argentina, and a few nice pics from Rosario.
Year 39, and the story continues!!
Until next time...
TTFN