DECEMBER 2021
Merry Christmas You Lot, see you in 2022?!
Have a good one and stay safe, from Olga, Duncan, Tommy & all The Toy Dolls team.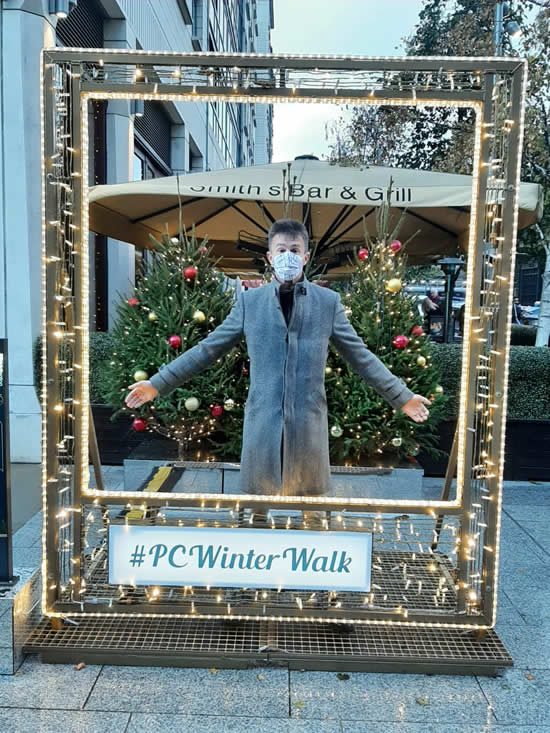 NOVEMBER 2021
OLGA TO SIGN AND PERSONALISE ALL NEW THE TOY DOLLS SONG BOOK ORDERS!
This wasn't logistically possible before but, after an overwhelming amount of requests for Olga to sign the new song book, a whole batch have now been sent to him to sign and add your name! (Of course, you can still order without Olga's scribble if you'd prefer!)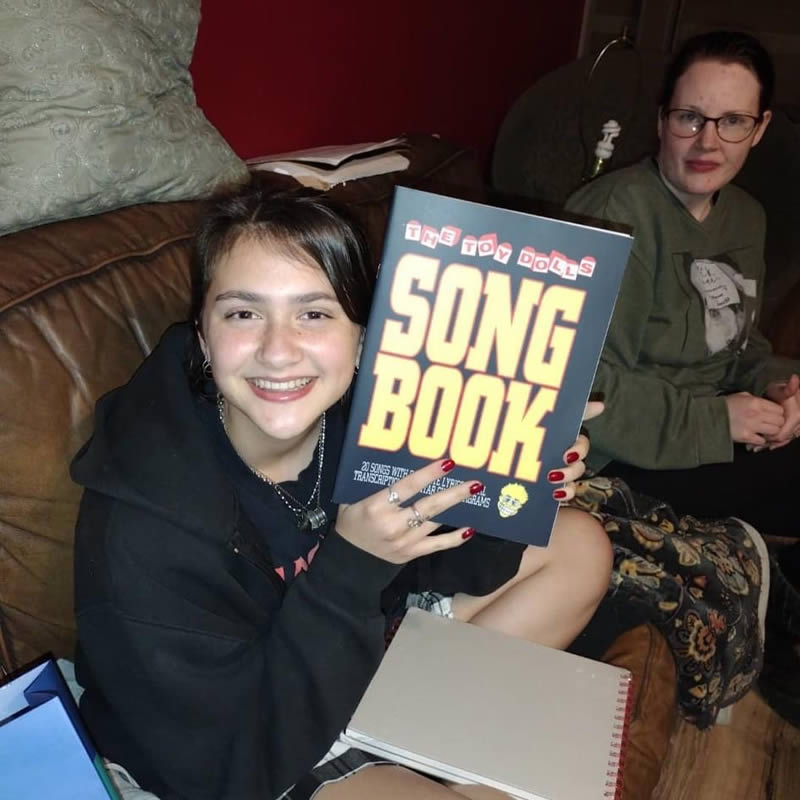 When ordering, just click one of the new 'SIGNED & PERSONALISED BY OLGA' Paypal links and let us know (in the PayPal comments / instructions) which name you would like the book personalised to.
There will, of course, be no extra charge for this, it's just something we feel we needed to do due to the crazy amount of requests!
Cheers to Chanel McCoy in Texas for showing off her shiny new song book!
Get your signed and personalised copy here.
TTFN


OCTOBER 2021
Hello again You Lot!
No messing here, lets get straight down to it! Your latest ASK OLGA video answers are here, keep sending your questions to !
There were loads of answers for the recent competition but only a few correct ones, so we chose a winner at random.
And the winner of the 5 CD box set is... Adrian Heslop.
Congratulations! Your album will be sent this week. Enjoy, it's a corker!
Oh yes, the answer! The original colour of Olga's Telecaster was SUNBURST!
OK, the long awaited Toy Dolls Song Book!!!
I gotta say, these look totally fabulous! The books include the whole score (thanks to the amazing Christophe for all his time spent writing up all the music!) to each song, the guitar chords and, of course, the lyrics!
It was difficult to decide which songs to include, but if these sell well then we will do a further edition! Lets see!
The books will cost €25 for European orders, and €30 for the rest of the world (USA, Japan, Australia etc.), and will be available in the Toy Dolls webshop from 27th October 7pm CET.
We only have a limited amount, so best get yer orders in ASAP!
The songs included are:
Dougy Giro
Stay Mellow
Alec's Gone
Dig That Groove baby
Harry's Hands
She Goes To Finos
Yul Brynner Was A Skinhead
Barry The Roofer
Down At The Old 29
The Lambrusco Kid
Benny The Boxer
Glenda & The Test Tube Baby
Fisticuffs In Frederick Street
Idle Gossip
Back In '79
Charlie's Watching
Harry Cross
My Wife's A Psychopath
Cloughy Is A Bootboy
Spiders In The Dressing Room
And so to live dates! You may have noticed the very first live date since the start of the pandemic will be Holland Rotterdam Scumbash on 5th February 2022! Finally the lads get back to live shows! Keep checking the tour dates for more shows being added!
OK, good luck getting your song books, get em ordered ASAP! Enjoy!
PS More news on the Jazz Album next time!
TTFN


AUGUST 2021
Hello again You Lot!
You know the rules, so lets get straight down to business... Your latest ASK OLGA video answers are here, keep sending your questions to !
Thank you to everyone who took part in the guitar course competition. There can only be one winner, so out of all the correct answers we have chosen one at random...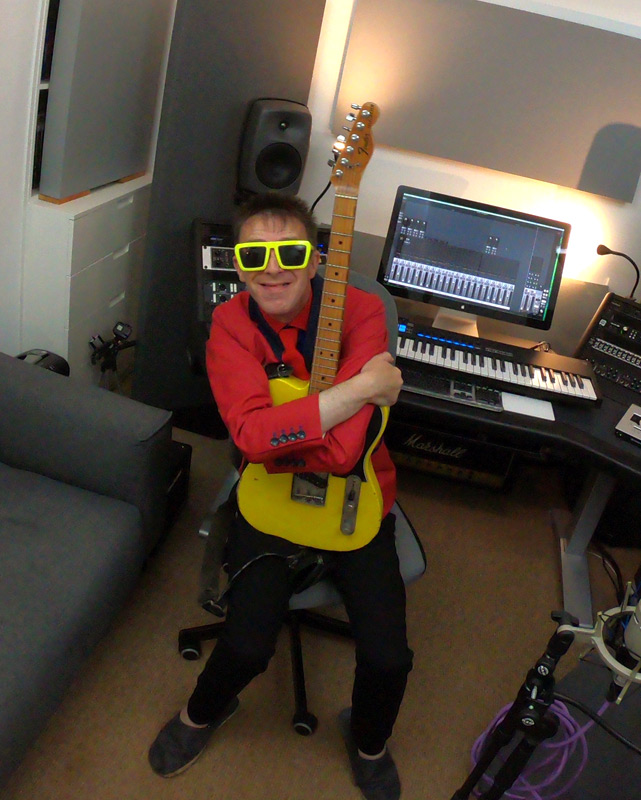 Alexandre Semik CONGRATULATIONS!
You will receive your guitar course soon, keep checking your email!
The correct answers are:
1 - 1979 (The year The Toy Dolls began)
2 - Marshall JCM 800 (The make & model of Olga's amp)
3 - USA (The country in which Olga's Telecaster was made)
4 - The Dickies & The Adicts (2 bands that Olga played bass with)
OK, whilst we are talking about the guitar course, we have decided to do a special 48hr sale where EACH individual lesson can be purchased separately.
These are absolute beginners lessons, so even if you have NEVER played before these lessons are tailored towards you!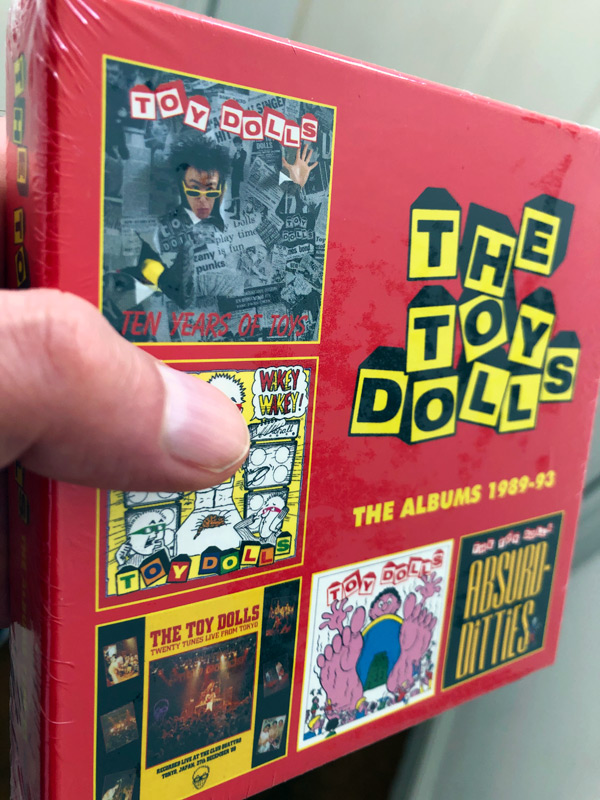 We would, of course, advise you just to sign up for the whole 10 lesson course and follow each lesson in succession (and do all the necessary practicing) as this works out a lot cheaper and you'd also get a personalized, signed certificate of participation too, but many of you have asked for the courses to be available individually, so here we have it! Each course is around 40/45 mins in length and the details of each lesson can be found here.
So, the 48hr sale will start at 8.00pm (CET) on the 31st August, and end at 8.00pm (CET) on the 2nd September.
Meantime we have yet another competition for ya! Enter to win a copy of the brand new 5 CD album box set by Cherry Red.
Here's the question...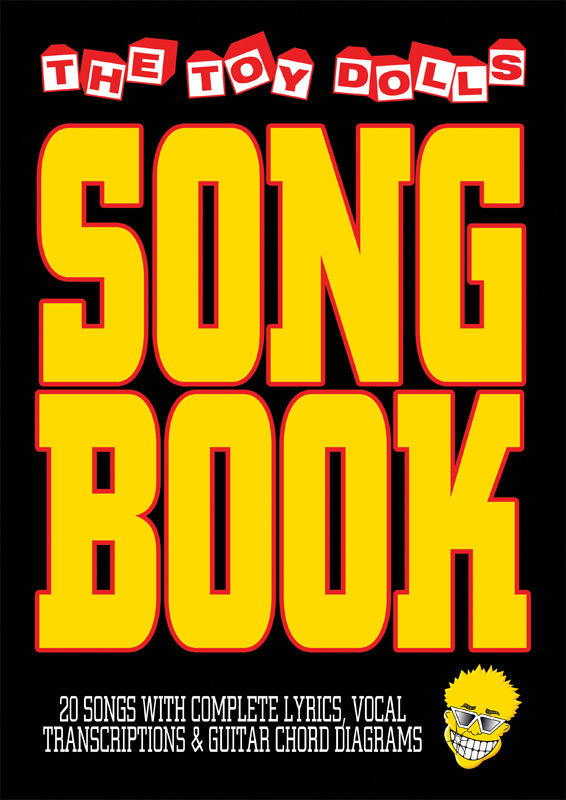 What was the original colour of Olga's Telecaster!? (This is not an easy question!)
Send your answers with your name and full address.
More news on the new Toy Dolls JAZZ ALBUM next time and, finally, details of The Toy Dolls first ever song book!
Please stay safe You Lot. As you know we are still in the middle of this dreaded pandemic, but we will get through this.
Take care
TTFN


JULY 2021
Happy Summertime You Lot! MINI UPDATE!
Your Ask Olga video answers will return on the next updates, please continue to send your ASK OLGA questions to !
OK, lets get down to this mini business!
As you are all well aware we are, unfortunately, still in the middle of the Covid pandemic, and due to this fact there have been postponements to various shows. PLEASE check the tour dates for all the latest information. Tickets bought for the original dates will still be valid for the new dates.
Just because one particular country may have lifted the restrictions regarding live shows doesn't necessarily mean it's possible for the band to appear! Olga, Tommy, Duncan and the crew are based all over Europe, with each country having it's own restrictions and vaccine roll out plans.
Its been a bit of a nightmare I can tell ya! Hopefully these problems will start to be ironed out over the coming months.
Of course the guys are more eager than ever to get back on stage and to see you lot!
In the meantime... Captain Oi are releasing this rather lovely box set on 20th August which you can pre order here.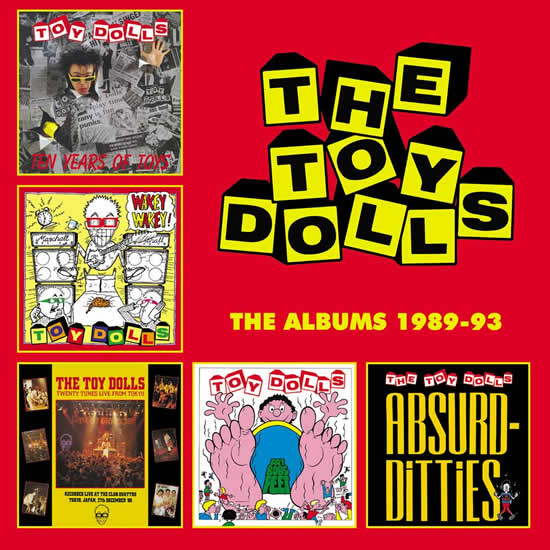 Olga was up in York (North UK) recently filming an interview for a new North East Punk documentary which promises to be very interesting. Crowdfunding for the documentary can be found here.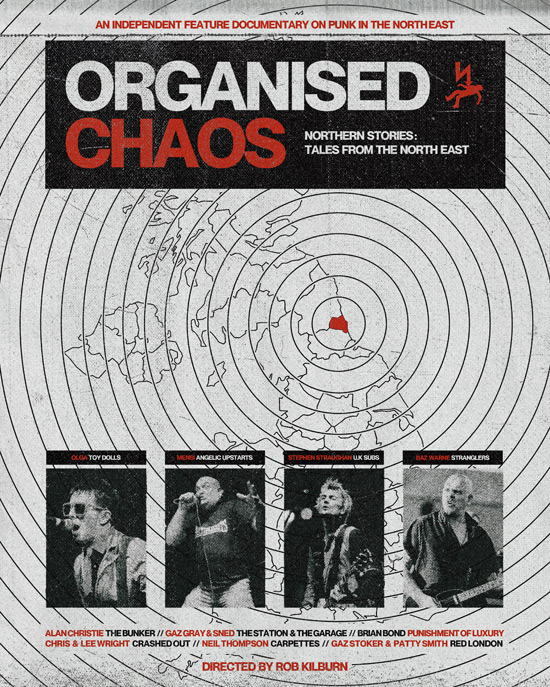 OK, as we said earlier, this is just a mini update mainly to ask you to keep checking the tour dates for any postponements! Before we go, however, we have a competition for ya. And this is a special one...
COMPETITON - Win the full 'GUITAR TIME WITH OLGA" absolute beginners course!!
This will be the whole 10 video lessons! INCLUDING a personalized certificate of participation in the name of your choice signed by Olga.
Send your answers with your e-mail address and the name you would like on the certificate.
The questions are:
1. In what year did The Toy Dolls begin?
2. What make and model of amplifier does Olga use?
3. In which country was Olga's yellow Telecaster made?
4. Olga played bass guitar in 2 bands in 2001-2002, and 2003. Name those bands.
There can only be ONE winner and that winner will be announced next updates. It doesn't matter where you are based in the world, you might as well enter!
More news on other stuff next time too!
KEEP CHECKING THOSE TOUR DATES!
And stay safe
TTFN


MAY 2021
Well, hello there You Lot!
Long time no speak! So lets get straight down to business, you know the rules, yer latest ASK OLGA video answers are here! Keep sending your questions to !
OK, first and foremost, LIVE SHOWS... or the lack of 'em! This year is gonna be a bumpy ride, that's if anything actually does take place! The band and crew are based all over Europe, all with different vaccine roll outs and restrictions, PLUS the fact that the gigs and festival promoters have to sit tight and wait to hear what their country's government says (amongst other Covid related travel issues too) means that all we can say is keep checking the tour dates on the website. As SOON as we can announce anything we WILL! We can tell you that the two Swedish shows this month have now been postponed until 2022. Please take a look at the tour dates for info.
Moving on...
Olga is still hard at work writing another Toy Dolls album! I believe he is on song 4 now, more news soon.
In the meantime... remember Christophe Saunière, the multi talented musician who made the rather wonderful CLASSIC TOY DOLLS album?
Well, Christophe has cleverly put together a JAZZ ensemble and recorded another full album of different Toy Dolls favourites in a jazz style. This promises to be outstanding! The album has now been recorded with all the musicians in Paris, and is being mixed and mastered as we speak. The album "THE TOY DOLLS... JAZZED UP" will be released later in the summer, we will keep you updated on the actual release date.

Hey! We have so more news too!
There have been loads of you, over the years, asking for a Toy Dolls song book. Well, its on its way... watch this space! More news next time.
GUITAR COURSE SALE!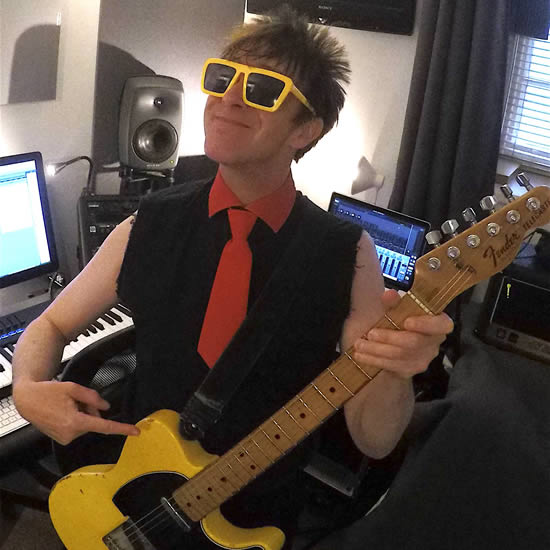 Olga has asked me to thank everyone for purchasing the 'Guitar Time With Olga' course. He says "Keep Practicing"!
Anyway, we are gonna have another 48hr sale of the course HERE on the 21st MAY 7pm CET until 23 MAY 7pm CET. For 48 hours only, the 10 lesson course will be reduced from €150 to just €100 and, as well as your signed certificate of participation, will also include a pair of The Toy Dolls Face Masks!
Lovely stuff.
OK then, more news on the songbook and the JAZZED UP album next time.
Keep checking those tour dates.
And most of all STAY SAFE.
TTFN


APRIL 2021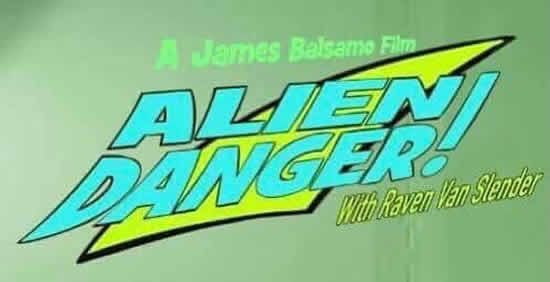 Olga has written and recorded this wicked theme tune for James Balsamo's new film,
ALIEN DANGER! WITH RAVEN VAN SLENDER!
Be sure to check out this great video for it!
NEW T-SHIRTS ON SALE NOW! CLICK HERE.
MARCH 2021
UK SHOWS POSTPONEMENT
Hi You Lot!
As we said in an earlier Facebook post, postponements will be made for good of everyone.
As things stand, even with the prime minister announcing the end of UK lockdown, the band and crew are based all over Europe, all with their own vaccination roll out plans and travel/quarantine restrictions.
We can't afford to risk having to change the September UK shows at the last minute, so we have decided to play it EXTRA safe and postpone the shows exactly ONE year later.
There are also many of you traveling in from all corners of the world. We just can't risk it in this volatile climate.
Also remember, these words come from the mouth of Boris Johnson! And we are already hearing that even if restrictions are lifted there are talks of social distancing and mask wearing etc with a greatly reduced seated audience!! We are not going for that, a gigs a gig, with a mosh pit, beers, singing and all the rest of it!
Anyways, South Shields is sold out already, Edinburgh and London almost too, how could we play to a reduced audience?! More news on the Manchester show below!!
BUT, the main thing, in a nutshell, is we live all over Europe with all kindsa restrictions and we are in the midst of a pandemic! That's it!
Now the good news:
All tickets remain valid for the rescheduled dates - South Shields has sold out and limited tickets remain for London and Edinburgh. Unfortunately Angelic Upstarts are unavailable for the rescheduled Forum date but we are pleased to announce UK Subs will now be our very special guests for the evening. Our sold out Manchester Club Academy show has now upgraded to Academy 2 so additional tickets available now.
Click here for tickets!
We know this is all a nightmare, and highly disappointing, This has not been an easy decision to make, believe me! WE WANNA GET GIGGING.
As for the other shows planned for 2021, please just keep checking the tour dates, you all know the present situation. We will keep you posted as soon as we have news.
Stay safe
The Toy Dolls Team
FEBRUARY 2021
Here's a little Valentines gift for you lot!

Buzzcocks 'Ever Fallen In Love' lovingly performed by Jonny "2 Bags" Wickersham (Social Distortion), Doug Carrion (Field Day, Dag Nasty, Descendents), Darrin Pfeiffer (Punk Rock Karaoke / Goldfinger), Mikey Hawdon (Fairmounts), and our very own Olga on lead vocals!
Enjoy!
JANUARY 2021
Hello You Lot!
Well, what a freaky time we live in eh? We hope you are all safe and well.
First off, regarding live shows in 2021... You all know the situation, we have to be honest and realistic, anything could happen, apart from all the Covid vaccination and travel restrictions, we now have the crazy Brexit problems too (the band and crew live in 5 different countries throughout Europe) so PLEASE keep checking this website and Facebook for any updates. This year is gonna be a bumpy ride.
OK, enough of this somberness!
Finally, yer latest ASK OLGA video answers are here! Keep sending your questions to !
Olga is busy writing The Toy Dolls next album and has 3 song demos ready, we will keep you posted on this, and news of another special album to come later in the year! My lips are sealed for now!
Pierced Ears?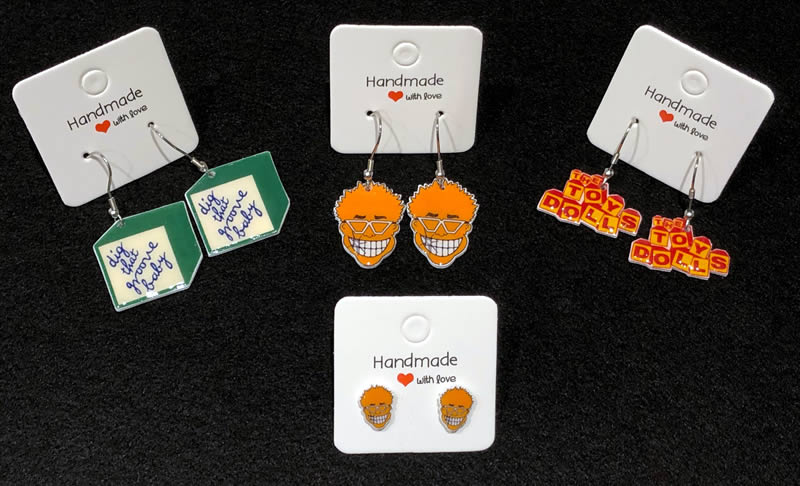 Here's something different for ya, especially for you lot with pierced ears! Actually this could be a really nice Valentines gift idea...
There's gonna be a 72 hour sale of The Toy Dolls HAND MADE earrings! These will be made to order, with them being hand made each pair will be unique and slightly different. They're produced from resin/plastic and surgical steel, and will be light-weight. I have seen these for real and they are VERY smart I must say!
Because the earrings will be made to order, you need to get yer orders in as soon as the sale begins as it can take up to 2 weeks to produce each pair. Four styles (as pictured) will be available, they can be sent world wide and will be only €25 per pair (all postage and packaging is including in the price)!
Here's the approximate dimensions:
1. Face Design 2.6xm x 2cm
2. Dig that Groove Design 2.5cm x 2.5 cm
3. Building Bricks Design 2.1ccm x 1.2cm
4. Face Stud 1.1cm x 0.9cm
The sale will be HERE for 72 hours only, starting on 21st January at 10:00 AM (CET).
OK, keep checking here and Facebook for gig news and STAY SAFE.
Until next time...
TTFN


48 HOUR JANUARY GUITAR COURSE SALE!
Happy New Year You Lot!
It seems like a whole load of you have been getting guitars recently, either for Christmas or maybe because ya fancied learning an instrument due to lockdown?
Anyway, due to this, and all the nice private messages sent to Olga at The Toy Dolls Facebook page regarding enjoying the 'Guitar Time With Olga' course, we have decided to do a January 48hr sale for ya!
The price will be reduced to €120 for all 10 guitar lessons, and will also include a pair of The Toy Dolls facemasks which will be sent with your certificate of participation when you sign up!
The course will be available here at 10am CET this Tuesday morning (12th January) and end at 10am CET on Thursday (14th January), after which the course will revert to the normal price (and without the free face masks!).
This course is available anywhere in the world, it's probably the ideal time to start learning!
STAY SAFE YOU LOT!