MONDAY 18th
Christmas Mini Update!
Seasons Greetings You Lot!
Just a brief update to say thank you to everyone for your continued loyalty throughout 2017.
Its been a great year thanks to You Lot, and the lads have had some cracking club shows and fantastic festivals!
Here's a pic of our never aging Olga with Matty from Skarhead in St Brieuc, France a few weeks back.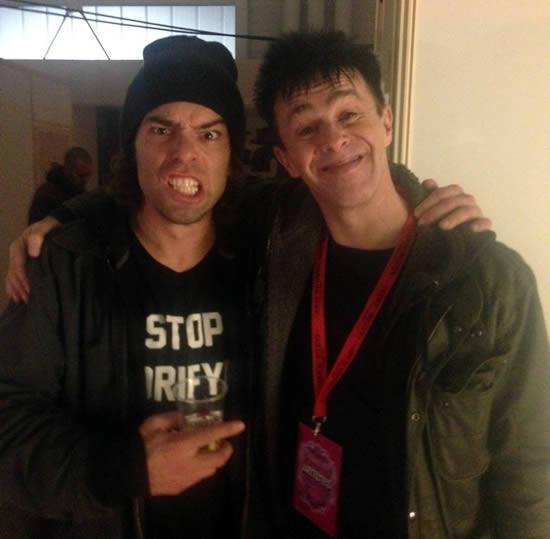 Don't miss Olga's Christmas Day speech on Facebook at 3pm (UK time) on Christmas Day!
Your last Ask Olga answers of 2017 are here. Keep sending your questions to .
And the final guitar lesson of 2017 is here.
LIVE TOUR NEWS!
The band's agency have just confirmed a special 2018 tour of an area where the band have not toured for a number of years, including some neighbouring countries where the band have never been!
The official announcement will be here in February.
This is gonna please a hell of a lot of ya I'm sure! There is always mountains of mail from this area!
OK, we have a few months off live shows now, so let's let Olga get on with this overdue new album writing eh?!
In the meantime, all of us here at the Toy Dolls website wish you a very merry Christmas and here's to 2018!
TTFN



FRIDAY 3rd
Hey You Lot!
Winter time is with us, but the lads still have a few hot shows left this year!
The French festival on 17th November looks like a big party!
And the mini tour in December in Pamplona, Valladolid & Vitoria promises to be a wild one, with the amazing 'CRIM' as special guests.
Before we move on, your latest Ask Olga answers are here. Keep sending your questions to .
And Olga's latest guitar lesson is here.
Olga has almost finished song demo 3 for the new album, so things are moving forward! Albeit not fast enough for us impatient lot! We will keep you posted.
As you can imagine, since the passing of Dave, the bands manager, things have been a bit unsettled to say the least, but the bands agency are now working on 2018 shows. Hopefully we should start to see live gigs being confirmed and announced soon.
Promoters looking to book the band need to click the link at the top of the tour dates on the right hand side of this page.
We are planning to replace the guitar lessons in 2018 with interviews with Olga, where he will be talking about the recording of each of the 12 studio albums. So if you have anything in particular you wanna know about any album, please send your requests . We intend to start recording these interviews over the next few weeks, so you need to get yer skates on!
Ok, we will leave Olga to get on with the new album! More news soon.
Meantime, thank you to www.darkentries.be for these great pics from Belgium last month, looks like it was a trifle warm!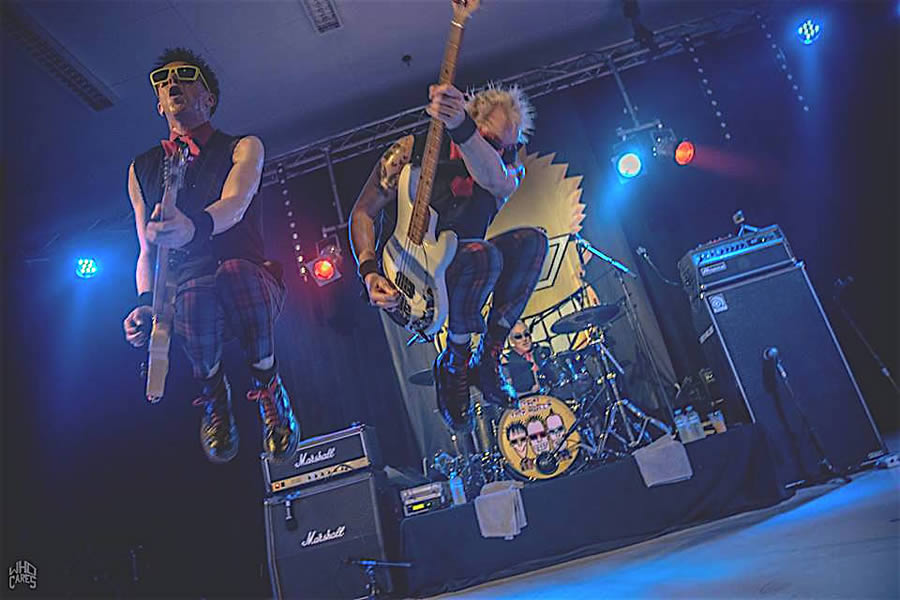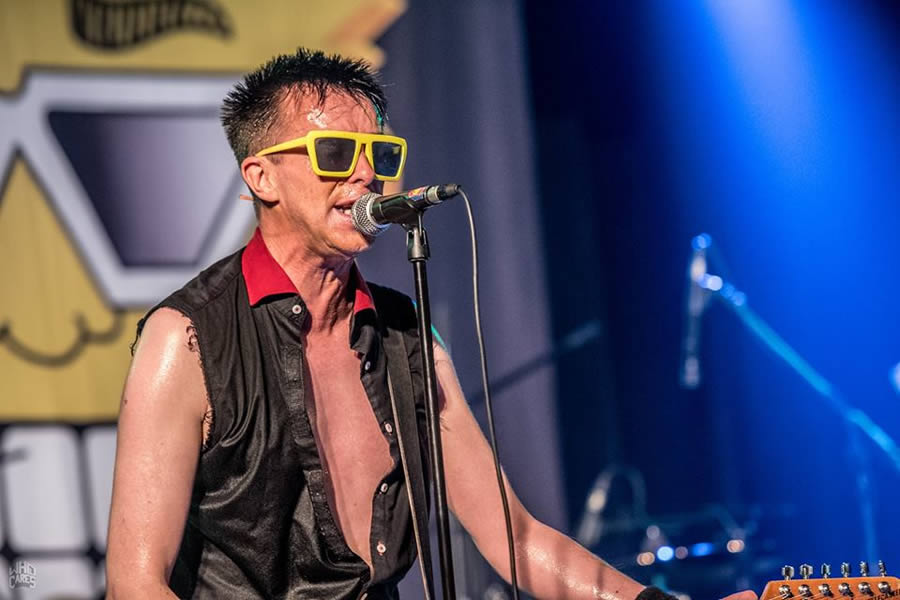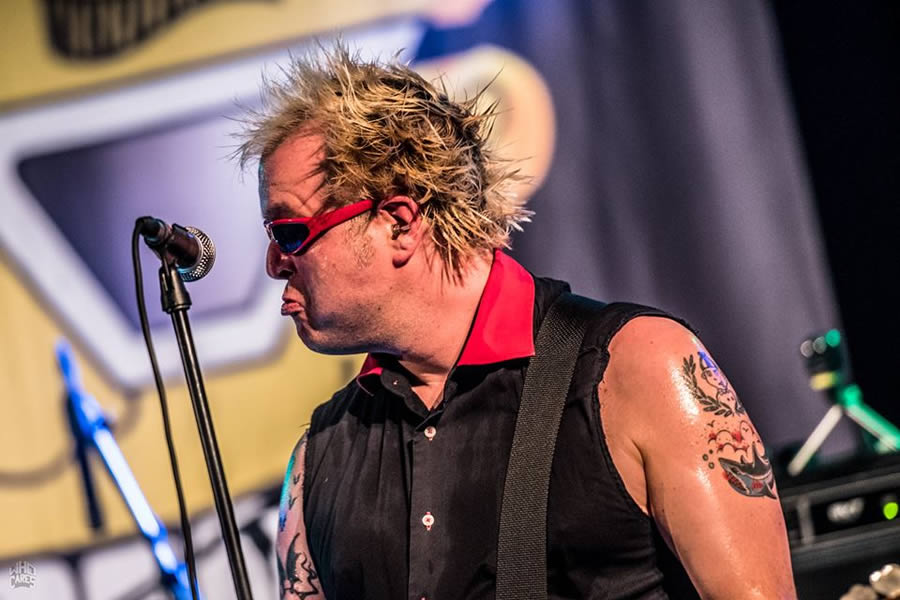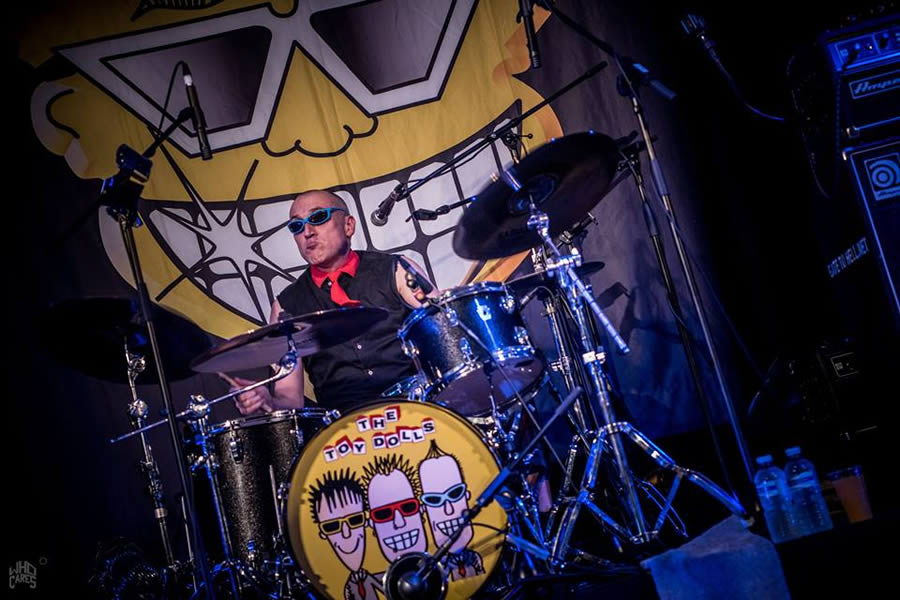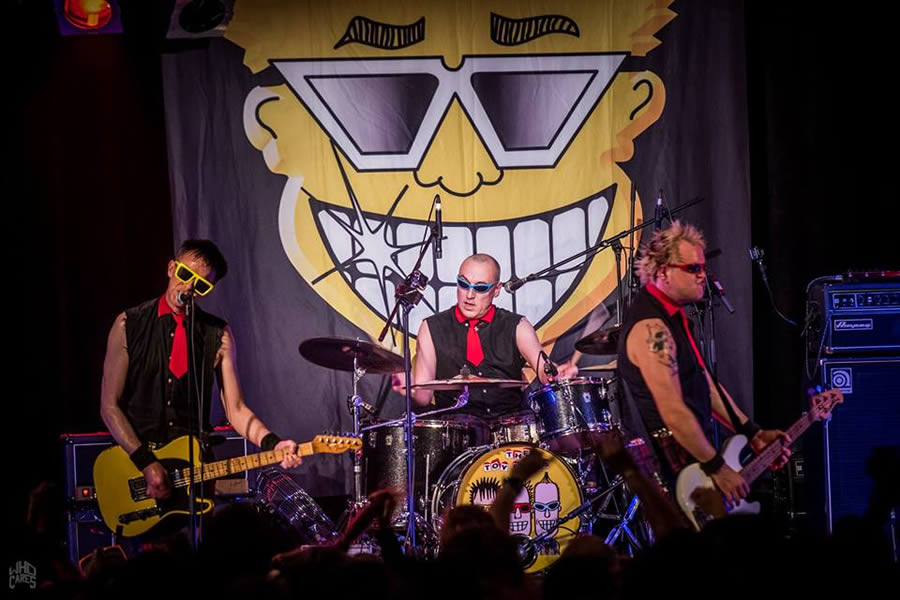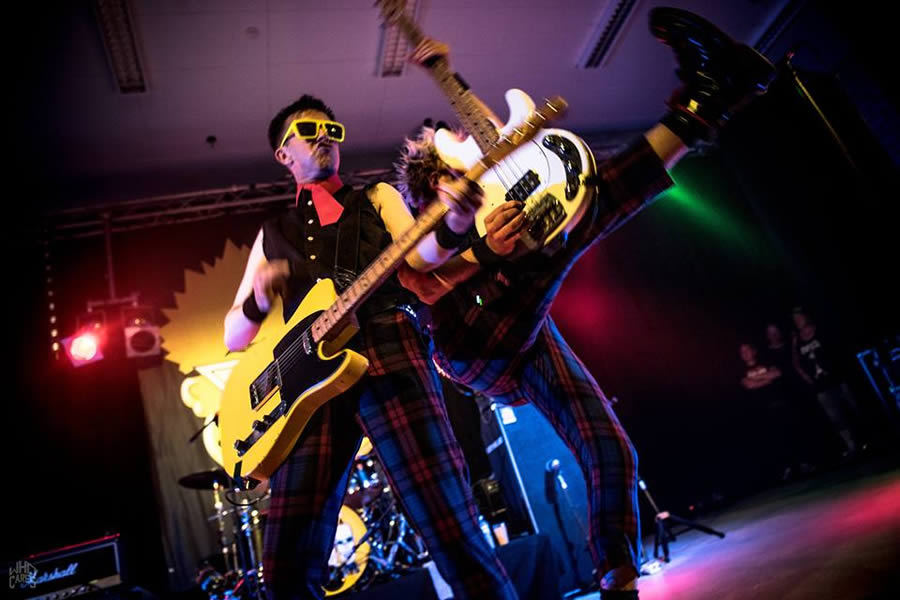 Until next time

TTFN



FRIDAY 22nd
Hey You Lot.
So, here we have the first updates since the devastating news of the death of the band's manager, Dave Chumbley.
Dave would have insisted we carry on as normal, so he we go...
First up, your latest ASK OLGA answers are here. Keep sending your questions to .
And your latest guitar lesson with Olga is here.
Competition Winner...
Thank you so much for the mountains of entries to the competition from last month.
Although there has still hasn't been a final decision made on the titles of the intro and outro, we have chosen a winner at random.
And the winner is... Ola Solving from Sweden, your back stage pass is on its way, enjoy!
Olga's Acoustic Guitar Auction!
So, Olga has bought a new acoustic guitar recently, and will be auctioning off his beloved Tanglewood electro acoustic to go towards new stage stuff for 2018!
The guitar was played on Absurd Ditties, Anniversary Anthems, On Stage in Stuttgart, and Olgacoustic albums, as well as being played live on various tours from 1997.
There are a number of videos out there featuring the acoustic too! Including this one.
The guitar will come with a velvet lined hard case, and a letter of authenticity signed by Olga.
Despite being over 20 years old, it's still in excellent condition. So even if you weren't a fan of the man himself (which is crazy, who isn't a fan of the man himself eh?!) it's still a great guitar to have! I'd be bidding for sure, but I'm not allowed to!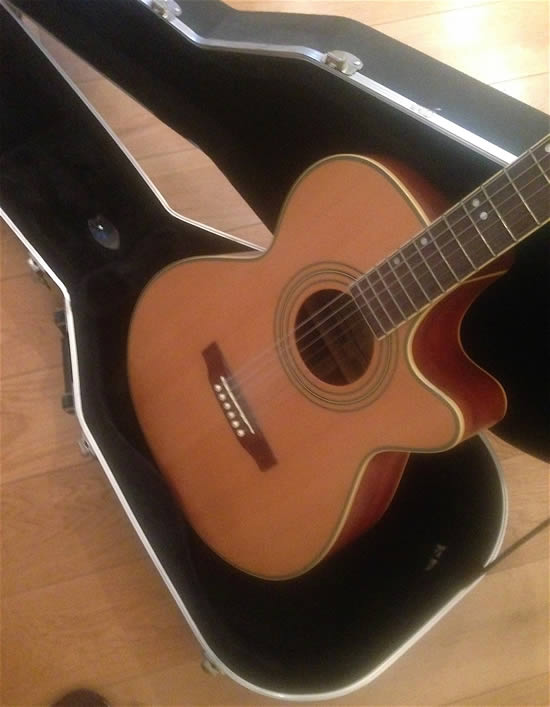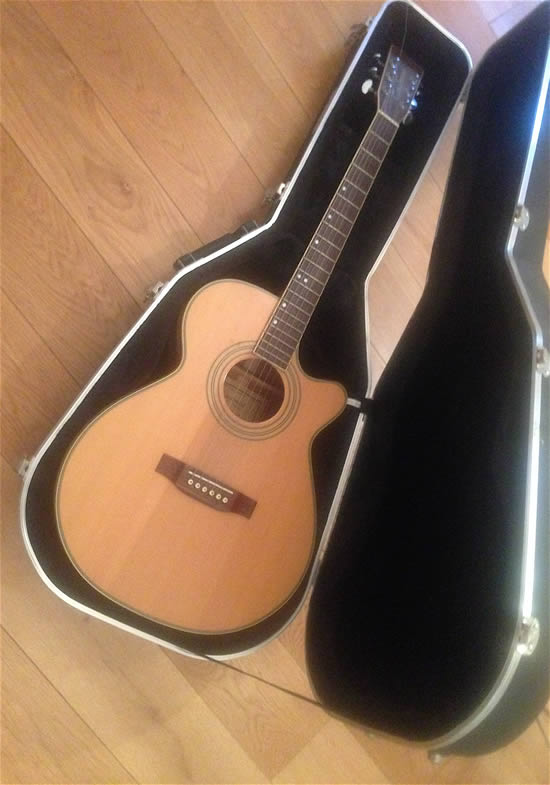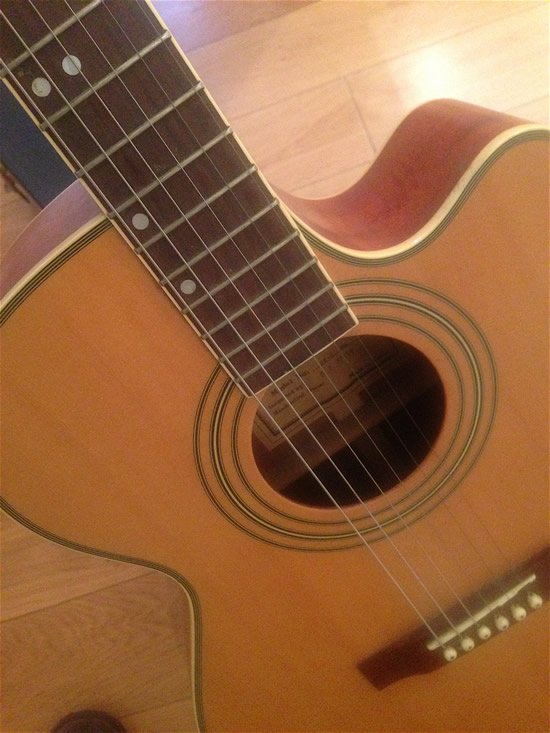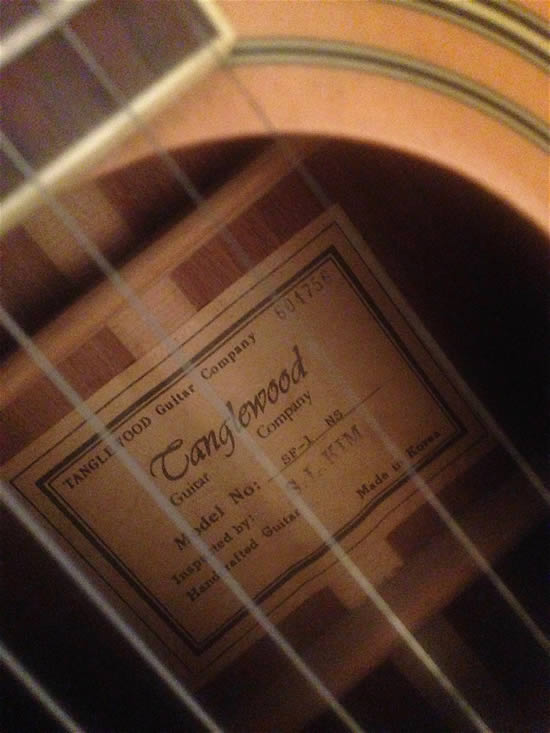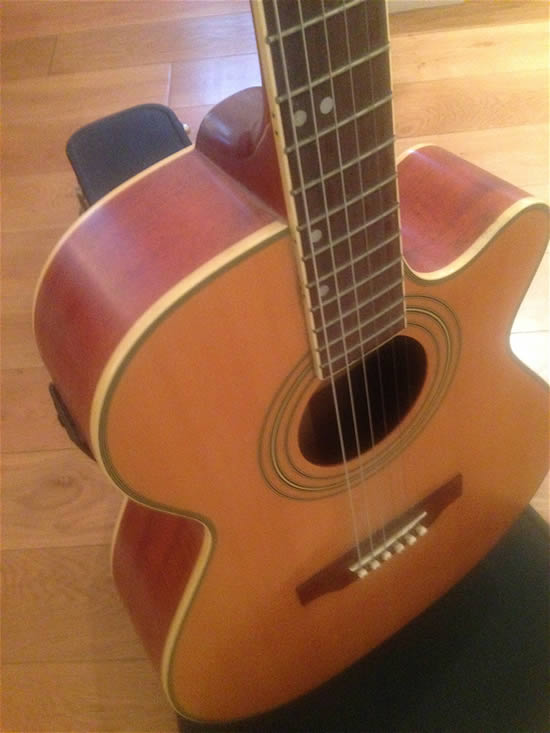 A full announcement will be made on the band's Facebook page, but the expected start time of the auction will be Wednesday 27th September 9pm (UK time).
Keep enjoying the live shows. Olga is hard at work on writing the new album, so it's still full steam ahead here!
Until next time

TTFN



WEDNESDAY 23rd
Dave Chumbley. The Toy Dolls agent & manager. Rest In Peace.
Primary Talent's Dave Chumbley Passes.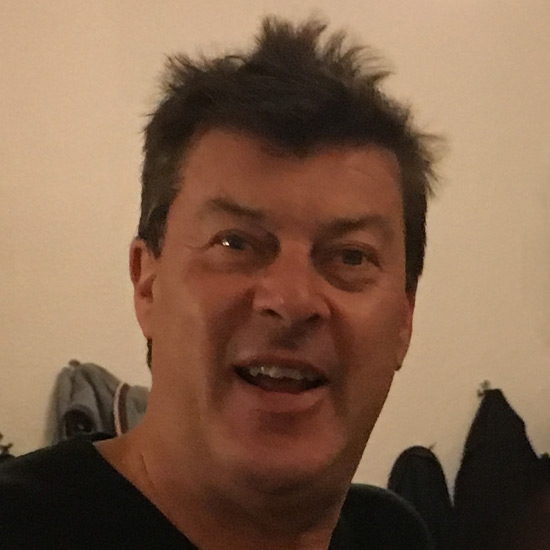 FRIDAY 4th
Just a quickie to let you know that Olga is hard at work writing and making demos for the new album. We can tell you that the album's title will be ...(drum roll)... "EPISODE 13".
Yeah, it's the 13th studio album, can ya believe it!
Right, before we move on, here is the latest guitar lesson from the man himself.
As this is just a brief update, yer Ask Olga answers will appear again next updates, keep sending yer questions to .
It's early days, so these are subject to change, but I have managed to prize some song titles from Olga!
Arthur Clarke
Brian's Brain
Dougys Home Again
Waffle Woman
Christine's Clothes
Benny The Boxer
Then In Benidorm
Laptop Lifter
I Hate Jeremy
+ more...
Meantime, here's a competition for ya. Send your answers , include your name, postal, and email addresses.
The prize is Olga's very own back stage pass from the Zelt Music Festival from back in July.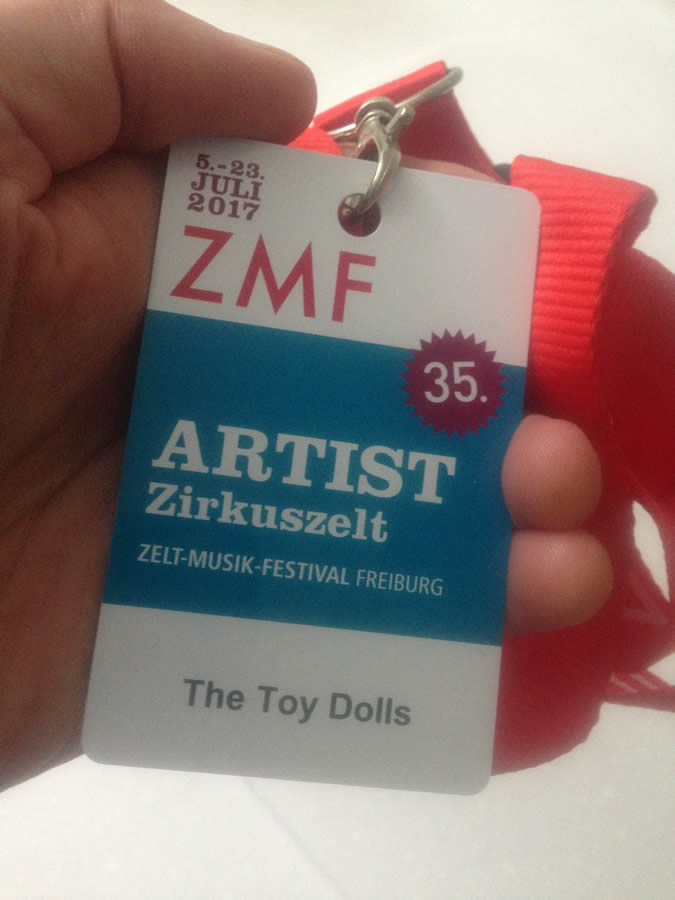 The winner will be announced next updates.
ONE QUESTION.
The title of the next album will be "EPISODE 13". What can we call the intro and outro tunes? Any ideas?
The best idea wins the backstage pass, and, if good enough, will get used as the song titles!
Good Luck
TTFN



FRIDAY 23rd
Welcome to Summertime You Lot!
You may have noticed that we have now added a German translation version of the updates for ya! These translations are not just computer generated translations, the updates have actually been translated by native speakers!
First off, a huge thank you, from Olga, Tommy & Duncan, for attending the festivals and gigs. There have been some hot ones recently, but all highly enjoyable!
Here's a coupla pics for you, with Abrasive Wheels at North West Calling, and with Peter from The Test Tube Babies in the studio a few weeks back.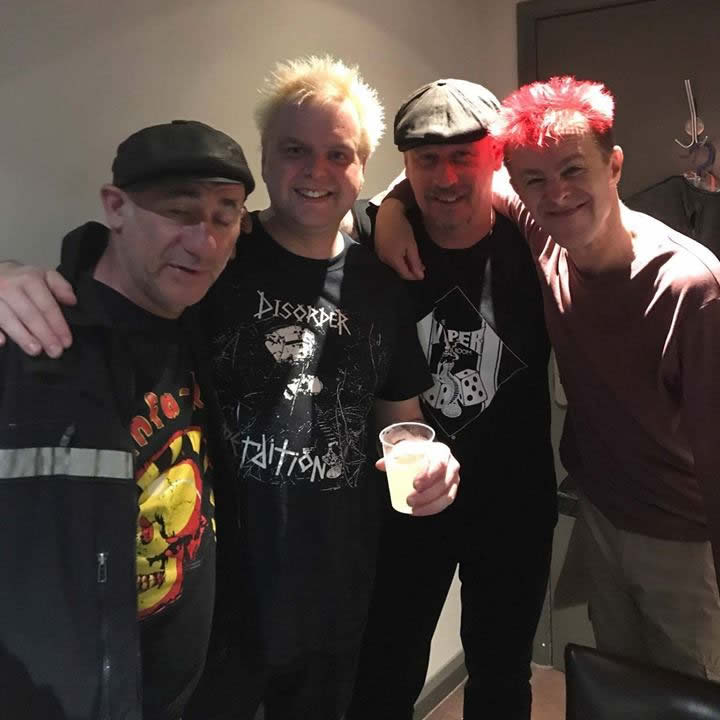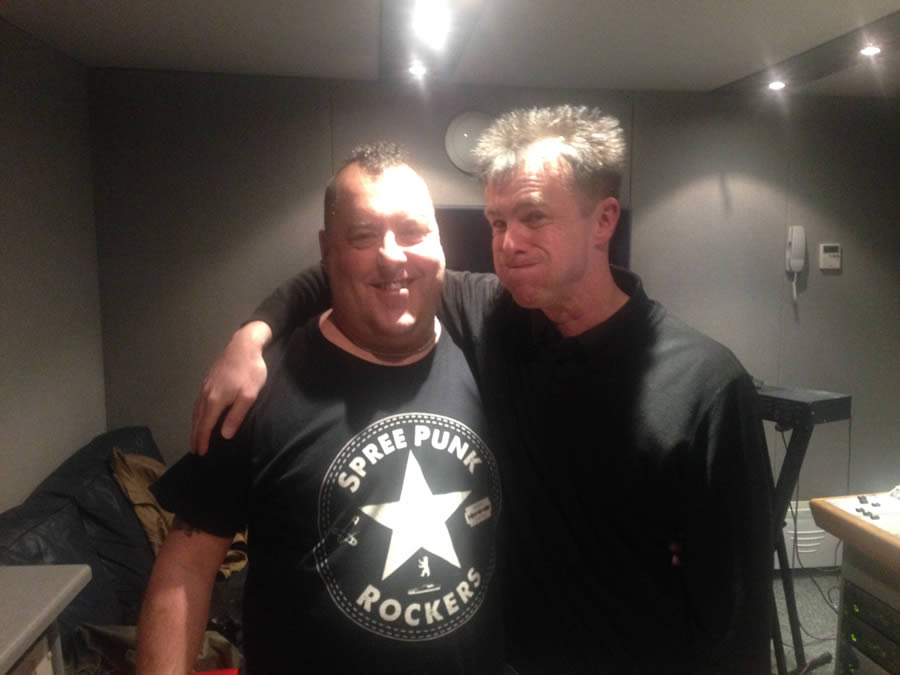 Talking of North West Calling, Olga and his mate Jet (ex UK Subs) went to visit Wattie, from The Exploited, when he was having treatment for his heart condition at a London hospital a couple of weeks back.
The lads were gutted that The Exploited couldn't join them at both North West and Scotland Calling,, but we all wish Wattie the speediest recovery and hope to share a stage with him as soon as possible.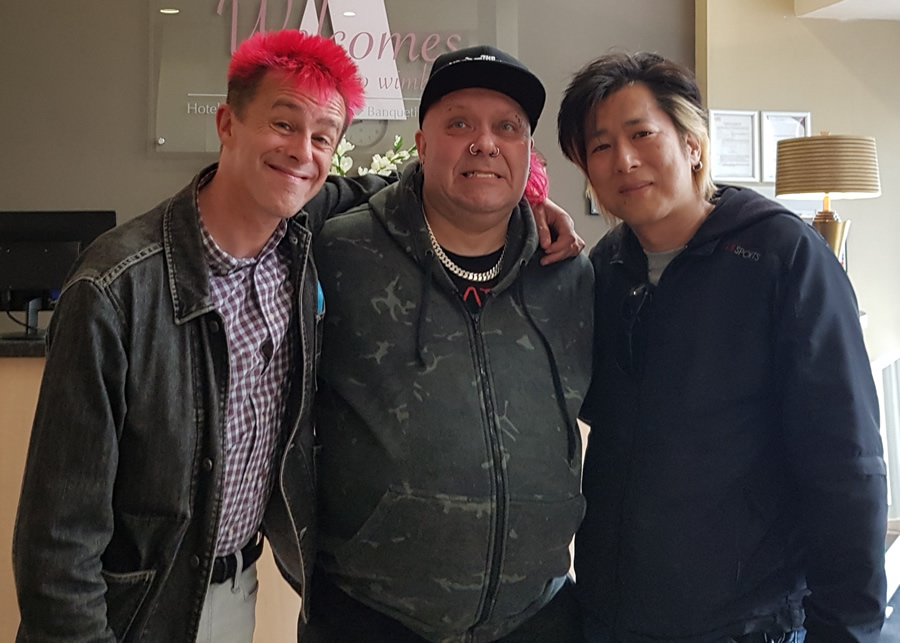 So, yer latest ASK OLGA answers are here. Keep sending your questions to .
And, here's a different kinda video for ya, Tommy Goober taking about his favourite bass players!
The lads have a few weeks off live shows now, next up will be Mallorca & Roll festival on July 15, so this should give Olga a bit time to complete some more new album demos! MORE NEWS ON THIS SOON!
OK, we will finish by saying cheers for your ongoing support, almost 38 years now! Nice to see some new younger faces in the audience too!
Heres one of em'!
Thank you to Anton from Colorado Springs for his pic!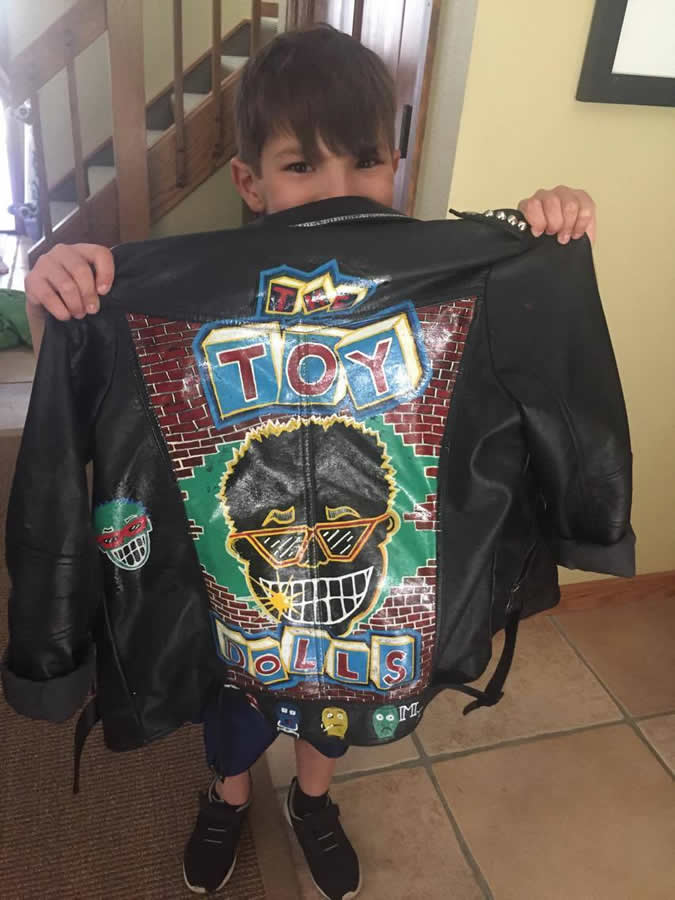 Until next time
TTFN



SUNDAY 14th
Hello You Lot!
Well, the live shows are well underway now! Hope you lot are enjoying them? By the looks of the You Tube videos and reports, you certainly are!
OK, first up, your ASK OLGA answers are here. Keep sending your questions to .
And the latest guitar lesson from the man himself is here.
Keep checking those tour dates, I know a few shows have been added since the last website updates! Some great shows and festivals in there!
Because of the heavy workload with live shows, Olga hasn't been able to get much more of the new album stuff done! He tells me he is back to work on it now though, news soon!
I'm itchin' to know the song titles and more details!
Hey, if you are around in Holland and Germany on June 22nd, 23rd and 24th our very own Tommy Goober will be playing bass guitar for Me First & The Gimme Gimmes at a few festival shows!
22-06-17 Brussels Ancienne Club
23-06-17 Germany Southside Festival
24-06-17 Holland Jera on Air Festival
Check here for more details.
OK, we will leave ya with some pics from the past week or so...
Olga & Mensi (Angelic Upstarts) in the Scotland Calling dressing room.
The morning after Scotland Calling, in Edinburgh airport for the flight to Spain.
Olga, Koen (merchandiser), Duncan, and Keith (backline tech) outside in Wroclaw for a 9 am soundcheck (pic by Tommy Goober).
On stage in Poland (pics by Andrzej Olechnowski).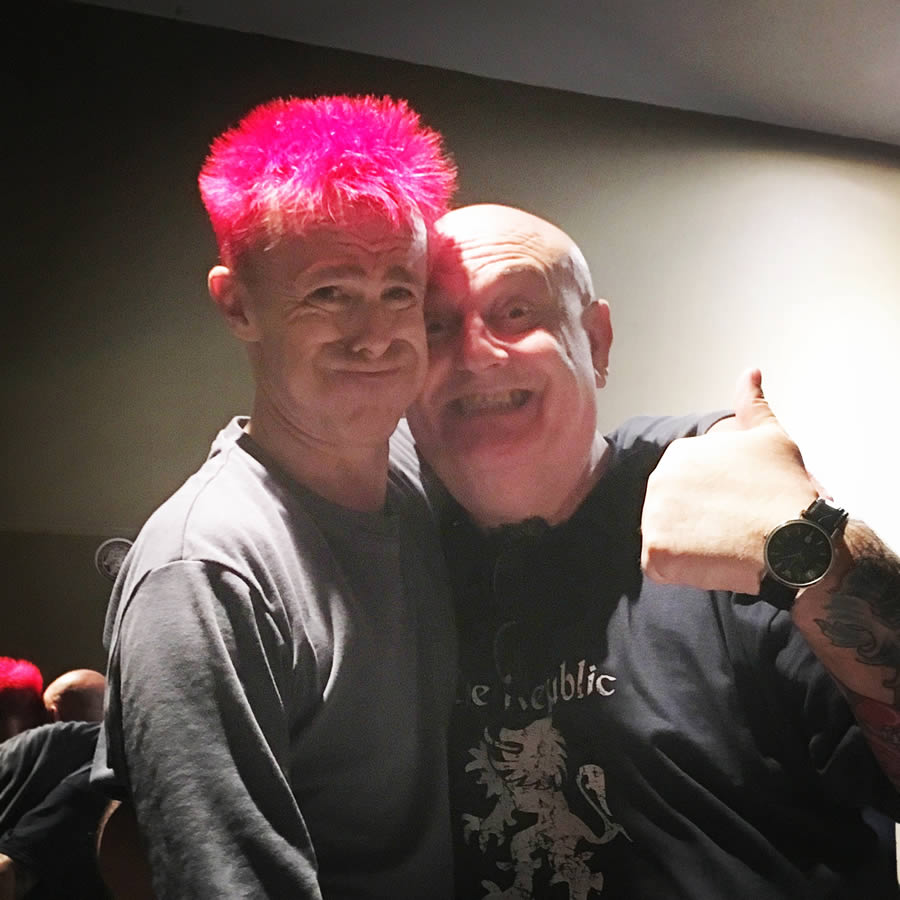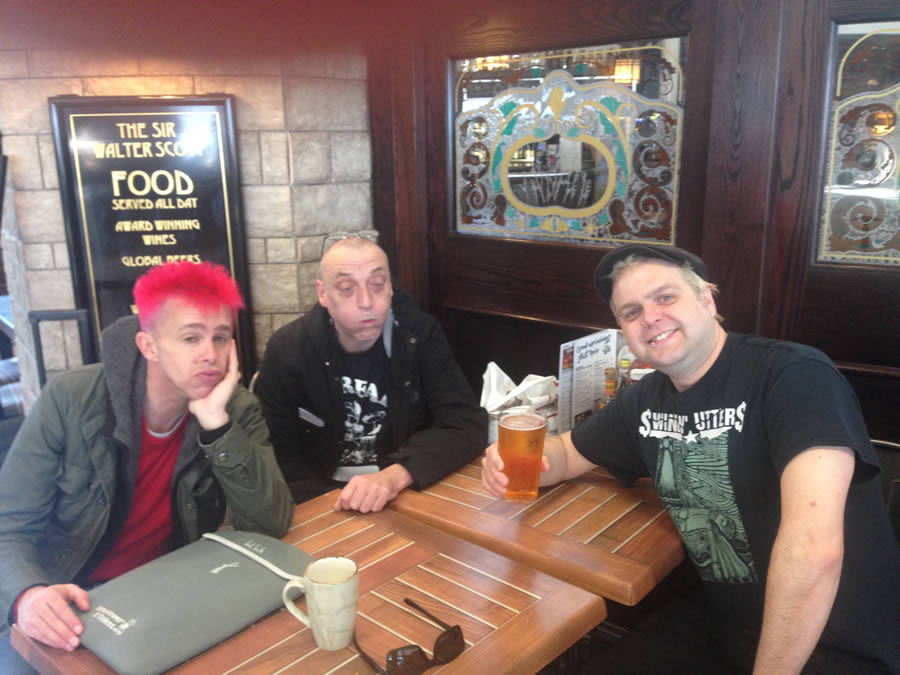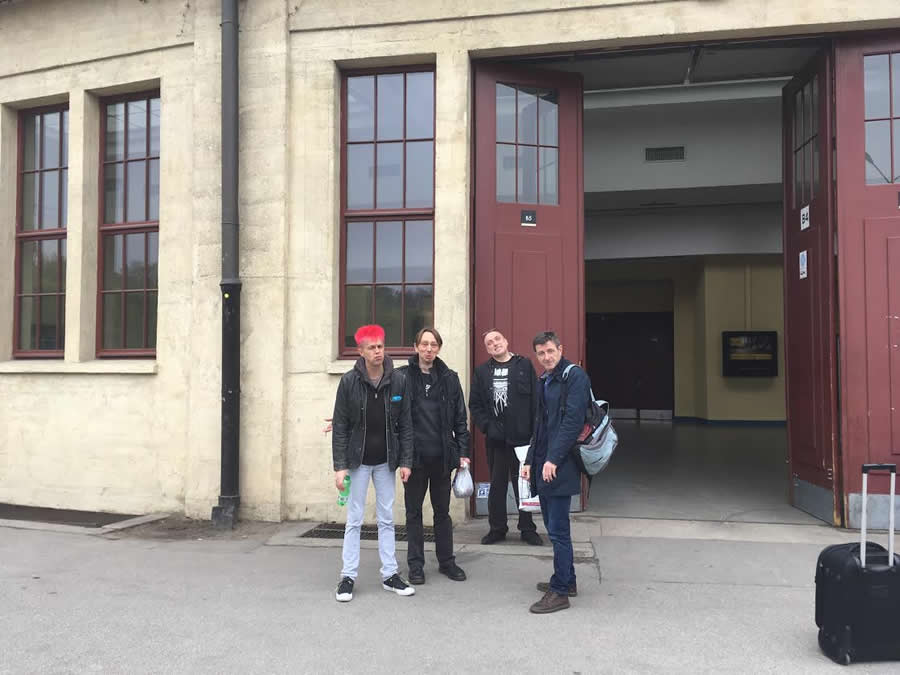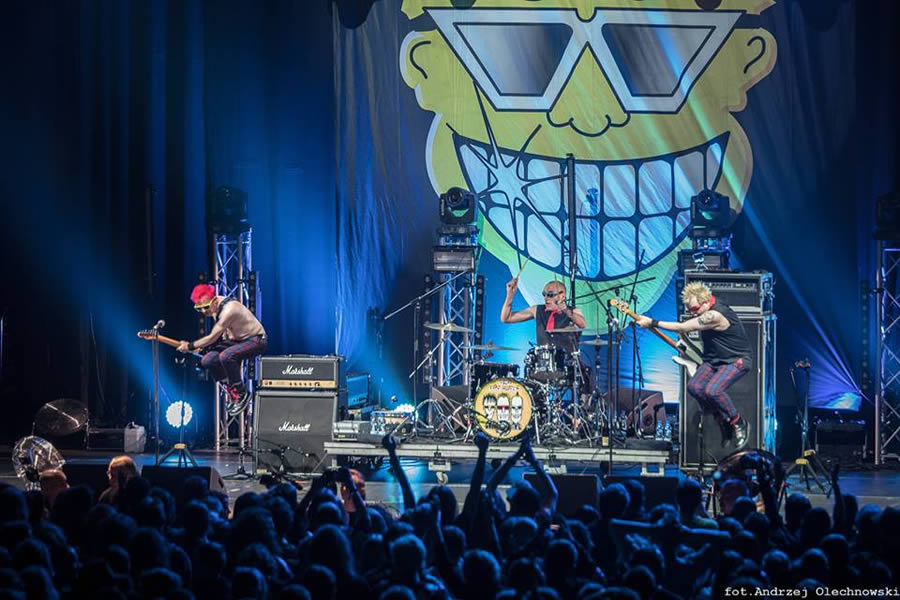 OK, enjoy yerselves at the shows!
More news soon!
Until next time
TTFN



WEDNESDAY 26th
Just a quickie...
Two new colour 'Olga Guitar Player' shirts have just been added to the webshop, along with the fab new black 'Face'shirts!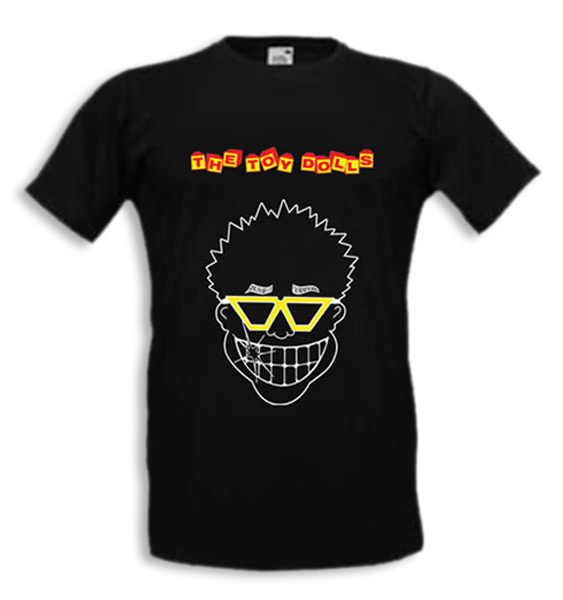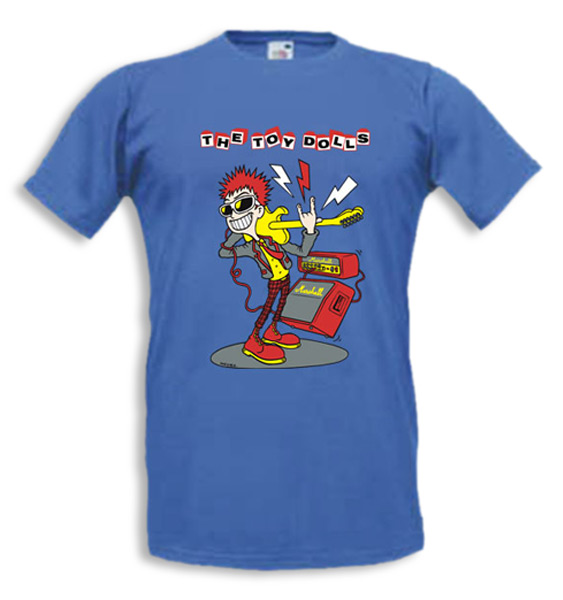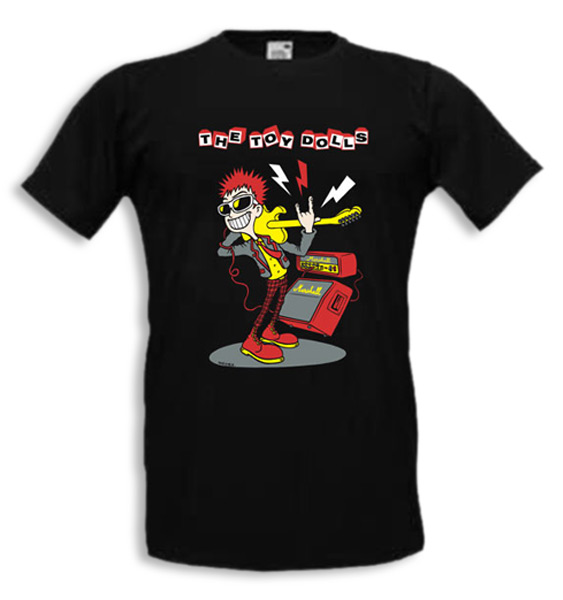 ENJOY!
Until next time
TTFN



WEDNESDAY 22nd
Hoping you lot are full o' joys o' Spring?!
Let's get straight down to business... The answers to your ASK OLGA questions are here. Keep sending your questions to .
The latest bass lesson with your host, Tommy Goober, is here.
Olga tells me he has actually finished writing the new Toy Dolls album and is now busily making demos. This could well result in a song or two being scrapped or radically changed along the way but I will keep you posted! Its definitely progressing anyway!
Lots of live shows in for this year, as you can see on the Live Dates section, and there are more coming!!
OK, loads of you have been asking for BLACK t-shirts! We took note of what you wanted, simple, black, with the Face Logo and building bricks, we have added a splash o' colour too!
So here it is!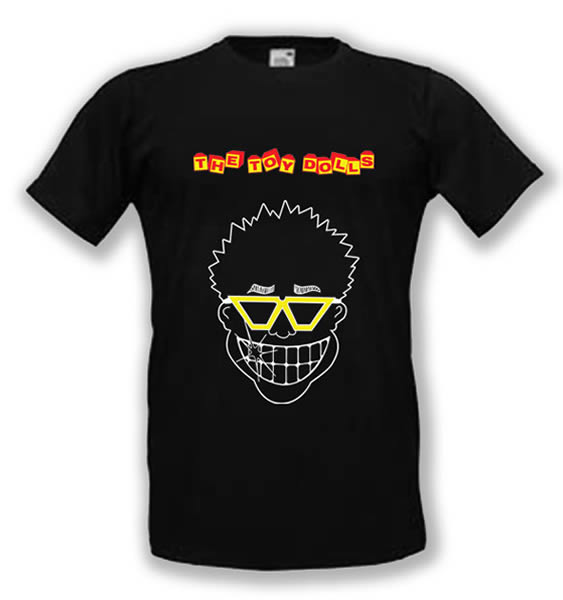 These will be available at the next live dates AND will be added to the online web shop very soon too. Very Smart indeed!
OK, more news next time. Keep checking those tour dates!!
Until next time
TTFN



THURSDAY 16th
Hey You Lot.
First off, a huge thank you from the lads for the 3 sold out shows in Germany last month, highly enjoyable from all accounts!
So, Olga has answered yer ASK OLGA questions here, keep sending your questions to
And here is the latest guitar lesson from Olga.
Few pics for ya! Tommy & The Test Tube Babies a few weeks back in Germany.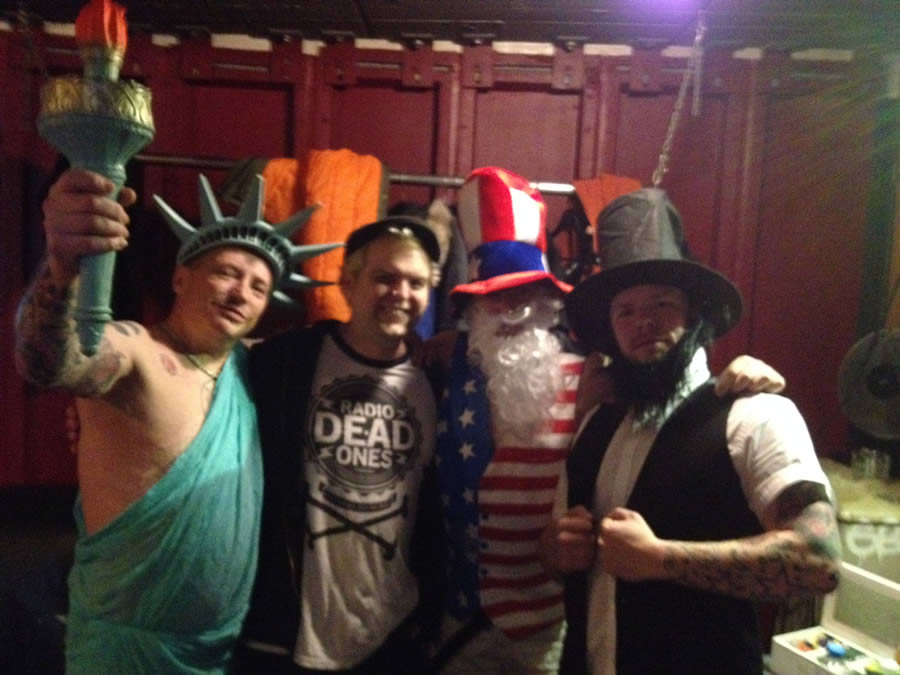 And here's an extra special one, Olga, after the show in Essen, with Michael (centre, the lads German promoter) and to the left, Dave, The Toy Dolls manager for over 30 years! Wow!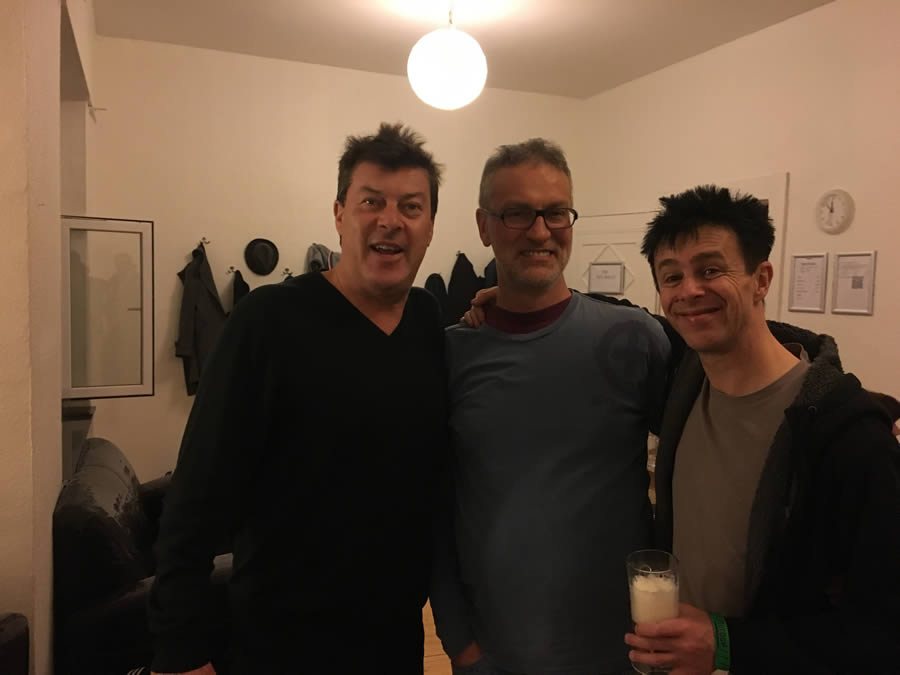 As you can see, the gigs are coming in thick & fast! Please keep checking the tour dates down the right hand side of this page.
The Dutch tour starts on February 15th! The Arnhem show has already sold out and the others are catching up really quick, so don't miss out on those tickets!
Hey, thanks loads to guitar builder Mario Albert for presenting Olga with this fabulous Telecaster in Nurnberg last month. Olga didn't get a chance to try it through the amp yet, but he will do in Holland at some point, he tells me it feels great to play, we will keep ya posted about the sound!
Here are a couple pics of Olga, Mario & the Telecaster!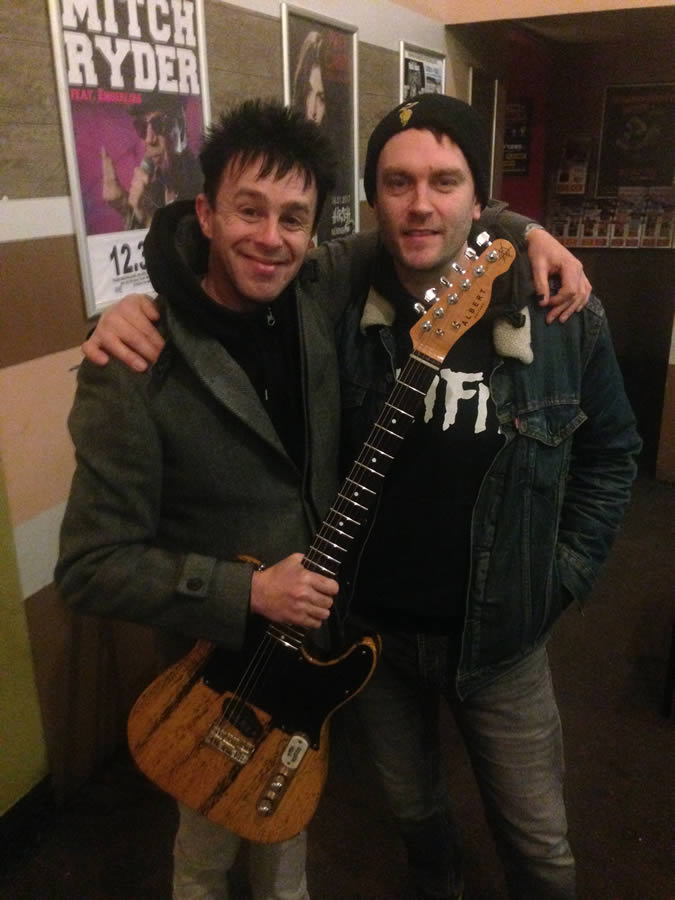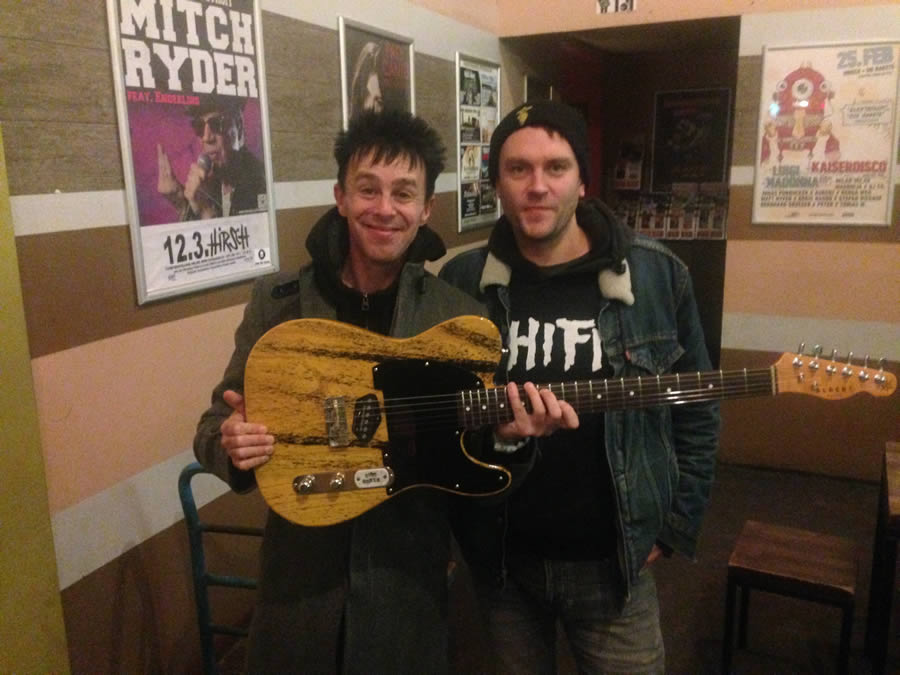 See more pics of Olga's Telecaster at Mario's link here.
Ok, more news next time!
Enjoy those Holland dates!
Until next time
TTFN



SATURDAY 7th
Happy New Year!
2017!!! Bet you never thought we would still be around eh?!
Straight down to business, check out Tommy Goober's latest bass lesson here, and yer Ask Olga questions are here, keep sending your questions to .
So, as you can see, 2017 is shaping up nicely on the live gigs front and there are many more shows to come! So keep checking those tour dates!
Things are well on schedule for The Toy Dolls new studio album later in the year. As soon as we get some recording news from Olga we will let you know. Sit tight, I know I am getting impatient myself!
Just short updates this time around, more news to come soon!
Here's a rare pic of the band and crew all together from a few weeks back.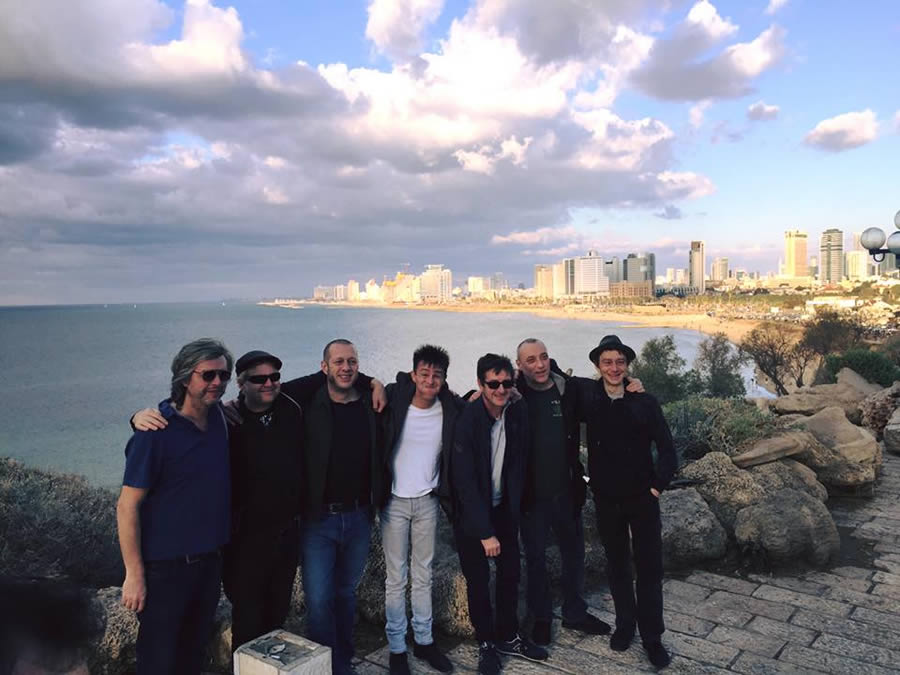 From left to right:
Simon - Sound Engineer
Tommy Goober - Bass
Patrick - Lights & Props
Olga - Guitar
Keith - Backline
The Amazing Mr Duncan - Drums
Koen - Merchandise
OK, until next time
TTFN