OCTOBER 2023
Happy autumn You Lot!
A huge thank you from the lads, the crew and all The Toy Dolls team for a totally amazing year!
So now Olga is back to writing the next album at his studio in London, we'll keep you posted on his progress. Various shows and festivals are now being arranged for 2024, and we will keep you posted on those as well!
In the meantime, many of you have asked for a new live DVD, and also if we filmed any of the 40th anniversary shows. The answers are yes, and yes!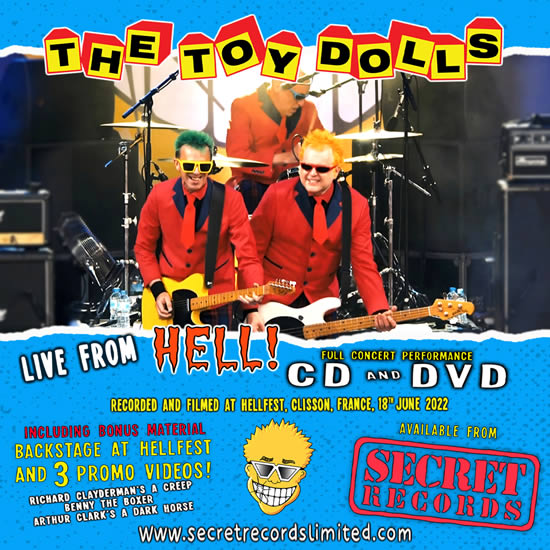 Secret Records are releasing The Toy Dolls live from Hell, recorded live at Hellfest France 18th June 2022.
The CD/DVD (Live From Hell – SECDP304) will be released on the 24th November, but is available for pre-order NOW!
Secret Records have created a special discount code for the release, with 10% off when you buy through them. The discount code at checkout is HELL.
Oh yes! As well as the live DVD, Secret have repressed "Another Bleedin' Best Of" on yellow vinyl! Available from Secret Records on 27th October.
I have watched the Live From Hell video five times already! Totally outstanding! Totally brilliant!
In fact, I'm gonna go and watch it again now!
Enjoy You Lot
Until next time...
TTFN


SEPTEMBER 2023
Get a load o' this!!
Olga, The Toy Dolls (lead vocals)
Bryan, Bouncing Souls (bass)
Pete, Bouncing Souls (guitar)
Michael, Joan Jett & The Blackhearts (drums)
Well, what a summer this has been! To keep things simple, to say a big thank you to everyone who attended the summer festivals, and a thank you to all the promoters and local crews, we have here a collection of ace photos taken at the various festivals.
Next up is SOUTH AMERICA! This tour is one NOT to miss.
ENJOY!
Until next time...
TTFN


JULY 2023
The remaining tickets for the lads' 40th Anniversary shows in South America are available, but be quick! Tour date details are on the right hand side of this page, ENJOY!
JUNE 2023
Well hello you lot! Long time no speak!
Apologies for the radio silence, but we've been waiting until we have the new webshop ready for ya! And here it is!
There's some really lovely new goodies for ya in there, including beanies and hoodies (FINALLY!!!) and baby shirts too! Anyways, take a look for yourself and ENJOY!
Remember, all the items can be sent worldwide. The postage costs vary from country to country so please make sure you choose the correct postage option at the top of the page. Not doing so will delay your order.
Here's the answers to the competition we featured in the previous updates
1. Made in the USA
2. Black Telecaster
3. Idle Gossip album
4. Key of A
5. Marshall JCM800 (2203)
6. Maple fretboard
7. Born in South Shields
8. Strings are changed every show
9. Seymour Duncan is the bridge pickup
10. Olga lives in London
There were so many entries for this one, but only a few of you with all the 10 correct answers. So, from those of you who were correct, we put the names in a hat and chose one winner at random.
And the winner is...
Joanna Moyes, from Suffolk in the UK. It's not usual for someone from the UK to win something on this site!
Joanna, your Guitar Course will be sent over the next few days by email (please keep checking your spam folder too, just in case!), and your certificate will be posted at the same time. Enjoy and Good Luck!
Hey, remember the collaboration songs and videos that Olga and Tommy made during lockdown with Mikey & His Uke?
Well, Olga has teamed up with another three BIG names to record yet another vid... Watch this space for full details very soon! This one is a corker!!
As we speak Olga is working on the demo for song #7 from the next album. Apparently his studio flooded a while back and that's put him behind by a few weeks, but everything has dried out now and he is back on schedule! We will keep you posted on the progress! Come on Olga man!!
As you have probably seen, the lads will be on tour in South America in September. Its highly likely that this will be the last time, so be quick if you don't wanna miss out. Ticket links are on the tour dates to the right of this page, quite a lot of you left it till the last minute last time the guys were there, and of course you were too late! If you do get a ticket, then ENJOY, its gonna be a total blast!
Also, check out all the festivals our trusty trio are doing, its gonna be one great summer!
Ok, enjoy shopping on the new webshop, I have already made my shopping list, I hope theres something left for you lot!!
Until next time...
TTFN


MARCH 2023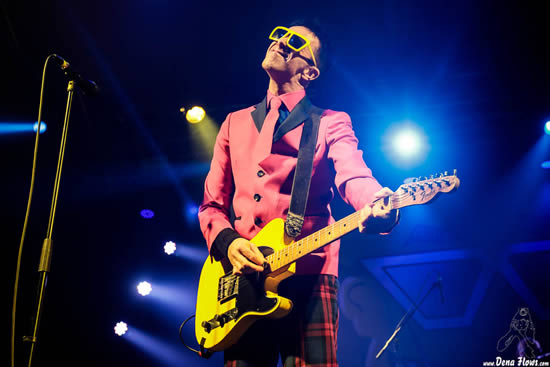 COMPETITION TIME!
Hey You Lot!
Whilst Olga is busy song writing, and we wait for the festivals & gigs to begin, we thought we would have a competition for ya! This is a great one, the prize being the fab FULL ABSOLUTE BEGINNER'S GUITAR COURSE (including a personalised, signed certificate) by our very own guitar genius, Olga!
That's all 10 lessons (worth €150!)
Of course, with this being such a special competition, we can't make it too easy for ya (like we usually do!).
Send your answers and include the email address to where you would like the lessons sending to. Include your postal address to where you would like the certificate sending, and remember to tell us the name you would like on the certificate!
OK, ten, not so easy, questions:
1. In which country was Olga's Yellow Telecaster made?
2. What colour is Olga's spinning Telecaster?
3. The Toy Dolls Face logo has evolved and been updated throughout the years, but on which Toy Dolls album did the Face logo make its very first appearance?
4. In what musical key is 'Ive Got Asthma'? A, B, C, D, E F or H?
5. What make and model of amplifier does Olga use?
6. What kind of fretboard is Olga's yellow Telecaster, maple or rosewood?
7. In which town was Olga born? Newcastle, South Shields, or Sunderland?
8. How often does Olga have his guitar strings changed for live shows? Every week, every month, or every show?
9. Olga uses a Seymour Duncan pickup on his yellow Telecaster. Is this the bridge pickup, or the neck pickup?
10. Where does Olga live now? Tokyo, Sunderland, or London?
OK, get your answers sent in quickly and we will announce the winner in the next updates in a few weeks from now. We should have news on the new webshop and Spotify too!
GOOD LUCK!
Until next time...
TTFN


JANUARY 2023
Hey You Lot!
Only a mini update this time around.
Just letting you know that we are still busy working on a completely new webshop with lots a nice new goodies. More news soon.
And, ya might o' noticed that The Toy Dolls Spotify page is now verified! We are hard at work trying to add all the albums and concerts. In the meantime you can join in and click FOLLOW.

Olga is back to writing the next album, more news on this soon.
The lads are mostly doing festivals this year, keep an eye on the tour dates. 43 years can you believe!?
OK, more news when we get it.
Meantime, enjoy those live shows now that they can actually happen!
Until next time...
TTFN


NOVEMBER 2022
Hello You Lot! Well, what a year eh?!!
Finally back to live shows, and what amazing shows they have been too! The whole of the UK Tour SOLD OUT! And the whole of the Eastern Europe Tour SOLD OUT!
Here are some recent pics...
| | |
| --- | --- |
| | |
| Budapest by Barba Negra | Budapest by Barba Negra |
| | |
| Prague Czech Republic by Vojta Florian, musicserver.cz | Prague Czech Republic by Vojta Florian, musicserver.cz |
| | |
| Guitar signing in Vienna | Guitar signing in Vienna for Karl |
| | |
| Vienna by Patrick | Vienna by Patrick |

A big thank you to everyone from Olga, Tommy, Duncan, and everyone in the Toy Dolls crew for making this "come back from Covid year" so special!
OK, so Olga is now back to work writing the next Toy Dolls album, and that's the end of live shows for this year. But do not fret! There are plenty of confirmed shows to announce for 2023. Stay tuned!
The webshop is gonna be completely overhauled in the Spring of 2023 with lots of nice new goodies. New t-shirt designs, hats, hoodies (which you lot have been requesting for years!) and lots of other lovely stuff!
In the meantime we'll be having a special CHRISTMAS SALE FOR 48 HOURS ONLY from 6pm (UK time) on 25th November, until 6pm (UK time) on 27th November.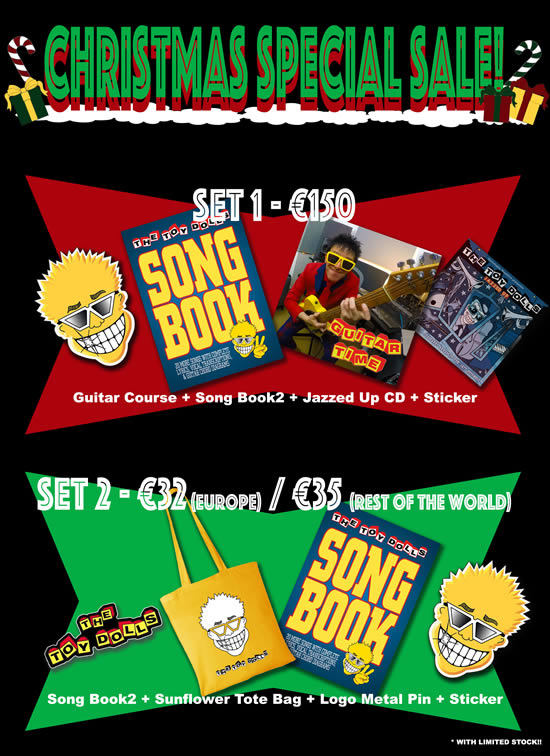 There will be two packages available, and once the deal is over, the deal is over!
Christmas Package 1 - Only €150!
The Absolute Beginners Guitar Course
+
The new Toy Dolls Jazzed Up album
+
Songbook #2
+
The Toy Dolls Face Sticker
Christmas Package 2 - Only €32!
(Rest of the world Only €35)
Songbook no #2
+
Sunflower Tote Bag
+
The Toy Dolls Metal Pin Badge
+
The Toy Dolls Face Sticker
Two lovely Christmas sets for ya! This has to be a 48 hr sale as we can only afford to release a limited amount at this price due to the crazy high postal and packaging costs we now have!
Alright, that's ya lot for now. Make a note of 25th November for the 48 hour Christmas sale, keep yer eyes peeled on the tour dates for the forthcoming shows, and thank you for 2022. Man, its good to be back!
Until next time...
TTFN


SEPTEMBER 2022
Oi Oi You Lot!
Let's get straight down to business. Thank you so much for the overwhelming amount of entries to the latest competition.
The correct answers are...
1. Henry Cooper.
2. The Dickies.
3. Montebello Rock Festival
4. 63.
5. Dig That Groove Baby.
...and the winner (chosen at random) is
Karsten Gruhl from Dortmund, Germany.
Not many got Olga's age correct! Well done Karsten, your stickers will be sent out asap over the next week.
Well then, the UK tour was a total sell out! This is rare! Usually one or two will sell out, but having a whole tour sell out is totally amazing! Thanks to you loyal lot of course!
Just before the UK dates, the lads played to packed houses in Germany and the great Posada Rock Festival in Romania.
Here are some pics from the past manic few weeks!
Going to soundcheck in Romania!

A wicked night in Edinburgh.
Olga and Tommy with Jon (promoter) and our lovely mate Wattie (The Exploited).

With The Exploited lads in Romania.

The lads' tour van.

On stage in Essen Germany.

Roll up, roll up! Our merchandise stall!

In Sunderland, approaching the South Shields venue.

...another Sunderland shot.

London Forum by Rato Rato Rato.

London Forum by Rockaway Photography.
There's a live review of the South Shields show here.
Right then... regarding the webshop.
We are gonna re-open on October 22nd with the guitar lessons, for those of you who couldn't attend the recent UK shows, we have a limited number of the lovely sunflower 40th anniversary shirts and tote bags available, and there will be a limited stock of the classic black face shirts too.
And... THE TOY DOLLS SONG BOOK #2 will finally be up for grabs! (There will be a limited number of songbooks available on the 22nd so don't miss out like so many of you did with the first song book).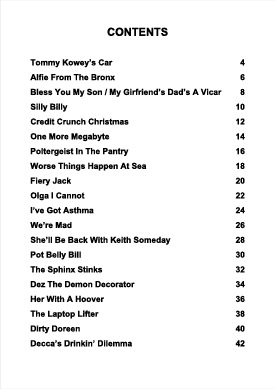 We'll be adding new t-shirts over the coming months, so keep 'em peeled.
So, there's a few weeks break now before the guys head off for more 40th Anniversary shows in November. Budapest, Vienna and Prague to be specific! Ticket links are on the right in the tour dates. These are flying out, and Budapest is already SOLD OUT, so ya need to be quick!
Cheers to everyone coming to the live shows, its what its all about!
Until next time...
TTFN


JULY 2022
Happy Summertime gigs You Lot!
A big thank you from Olga, Tommy, Duncan and The Toy Dolls crew for the great 'welcome back to live shows' reception!
Here are a few pics from the shows so far this year.
As for your Ask Olga questions and answers, we have decided to discontinue this for now as Olga does a regular live Q & A session on Facebook where you can get instant replies!
Hey, in between the clubs gigs and festivals, keep yer eyes open for Tommy's gigs with EVIL CONDUCT, Duncan's gigs with SNUFF, and Olga tells me he will be resuming bass duties with MONKEY MIND very soon. I know they still have a load of rehearsals to do before gigs can be planned, fingers crossed for news ASAP.
Olga tells me not to worry though, he is still busy writing the next TOY DOLLS album too!
Oh, by the way... we will have news about Song Book #2 next time. It's looking grand and just about ready to be published!
Cheers to everyone for buying tickets for the club shows, these are flying out! Don't miss out, remaining tickets are available from the tour dates list on the right hand side of this page.
Thank you also for everyone purchasing the new Toy Dolls Jazzed Up album by our mate Christophe. The CD is available here at Secret Records and the double vinyl is available here at Randale Records.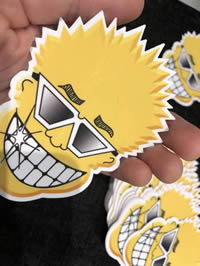 OK, we thought it was about time for another competition, its been a while since the last one! The prize is a pack of 10 lovely TOY DOLLS FACE LOGO stickers! We will send anywhere in the world, you have nothing to lose, so you might as well enter!
Questions:
1. Who did Benny the boxer claim to have beaten?
2. Apart from Monkey Mind & The Adicts, which other band did Olga play bass for?
3. The Toy Dolls have only played Canada once, what was the name of the festival?
4. How old will Olga be this coming September 21st? (don't believe everything you read on Wikipedia!)
5. 2023 will be the 40th Anniversary of which Toy Dolls album?
Send your answers with your name and full address. If there's more than one person with 5 correct answers, we will put the names in a hat and choose one at random.
OK, the winner will be announced next updates, and we will have details of the release date for Song Book #2 which will be available in The Toy Dolls webshop.
In the meantime, keep enjoying the gigs! The lads are having a blast, and its an absolute pleasure to be finally writing about live shows on here!
Until next time
TTFN...


JUNE 2022
THIS IS JUST TOO GOOD TO MISS!
The Toy Dolls live stream from Hellfest France, 18th JUNE 2022.
ENJOY!
Until next time
TTFN...


MAY 2022
Well You Lot...
...that time is almost upon us! The return of LIVE GIGS! Which is what it's all about, right!?
Due to the pandemic the lads have been outta business for over 2 years! Crazy eh? So, on behalf of Olga, Tommy, Duncan, myself and The Toy Dolls crew, we wanna say a HUGE THANK YOU for hanging around. Your loyalty and support has been unbelievable. CHEERS!
In case you didn't know, Duncan has been playing shows with his band SNUFF, Tommy also plays with EVIL CONDUCT, and Olga has been in intense rehearsals with MONKEY MIND so the guys haven't exactly been sitting around! But now, finally, The Toy Dolls hit the road on May 13th in Holland! (Check the tour dates on the right hand side of this page for all the latest shows and tickets)
The lads will be heading off to Holland on the 12th May for rehearsals the day before the first show Forgive them if they seem a trifle rusty, its been a while!
Now that Covid restrictions have been relaxed the tickets are flying out, so please don't hang around if ya wanna go - quite a few of the shows are now approaching sell out! THANK YOU AGAIN.
Cheers loads to you lot who have bought The Toy Dolls Jazzed Up album by Christophe Saunière, it is indeed a masterpiece. Links to buy the CD and vinyl are below in the March updates.
And talking of Christophe... he is flat out arranging all the manuscript / notation stuff for the SONG BOOK 2. Sorry its taking a bit longer than anticipated, but Christophe has also been out on the road himself performing! Anyways, we will have news very soon.
Finally we see the return of The Toy Dolls face logo stickers! These will only be available to purchase at the live shows, and there are a limited amount also!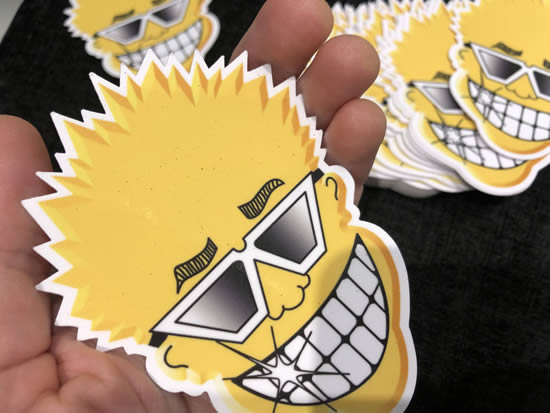 Oh, a belated ASK OLGA video answers is here, keep sending your questions to .
Olga has had a bit of a break from writing the next album (boo!!) but he has reassured me that he is back at it now. C'mon Olga man!!
OK, let's wish the lads good luck for the start of the live shows again, I can't imagine how it must feel for them after 27 months!
Get your tickets ASAP!! I know I have mine, actually I have had them for over two years! Ha!
Until next time
TTFN...


MARCH 2022
NOW AVAILABLE!
THE TOY DOLLS "JAZZED UP" by Christophe Sauniere
Buy the CD here.
Buy the vinyl here.
"This is totally and utterly wonderful stuff" - Olga, The Toy Dolls.
TTFN


FEBRUARY 2022
Well Hello You Lot!
As you can probably see, the lad's first show in two years didn't happen due to the pandemic.
The gig was to be at Rotterdam Scumbash 5th February, but new Dutch restrictions won't allow standing shows.
This seems to be never ending, lets hope things become easier once the shows in May are planned to start again.
Moving on...
Following the HUGE success of the The Toy Dolls Songbook, we're delighted to announce that we'll be releasing Songbook 2 very soon! The featured songs in this volume will be:-
Tommy Koweys Car
Alfie From The Bronx
Bless You My Son / My Girlfriend's Dad's A Vicar
Silly Billy
Credit Crunch Christmas
One More Megabyte
Poltergeist In The Pantry
Worse Things Happen At Sea
Fiery Jack
Olga I Cannot
We're Mad
She'll Be Back With Keith, Someday
Pot Belly Bill
The Sphinx Stinks
Dez The Demon Decorator
Her With A Hoover
The Laptop Lifter
Dirty Doreen
Decca's Drinkin' Dilemma
I've Got Asthma
We will keep you posted on all the details over the next few weeks. Keep your eyes peeled.
THE TOY DOLLS 'JAZZED UP'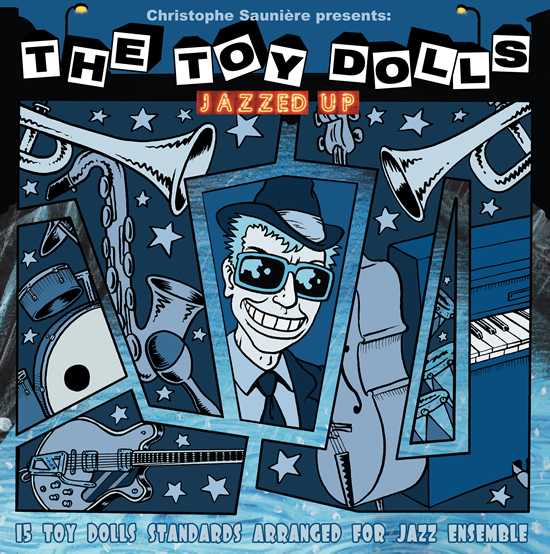 Remember the amazing 'Classic Toy Dolls' album by Christophe Saunerie?
Well he has put together a rather delightful new album of The Toy Dolls songs arranged for a jazz ensemble.
"Jazzy Toy Dolls?" I hear you say! Trust me, it's brilliant! REALLY!
This is due for release on 25th March on Secret Records. PRE ORDER HERE NOW!
Free shipping and 10% off on sign up to the Secret Records newsletter, and all orders via Secret Records website will receive a wicked free Toy Dolls Jazzed Up album sleeve artwork sticker! (Limited availability)
(The Vinyl version will be available from Randale Records. Precise vinyl release date to follow.)
Olga is still hard at work writing another album, and he tells me there will be another acoustic album too! Can't wait!!
In the meantime, everyone keep their fingers crossed for the shows happening without any restrictions!!
So, get yer pre orders in for the Jazzed Up album and we will let you know when Songbook 2 is available. I'll be first in line for both of these gems!!
TTFN


JANUARY 2022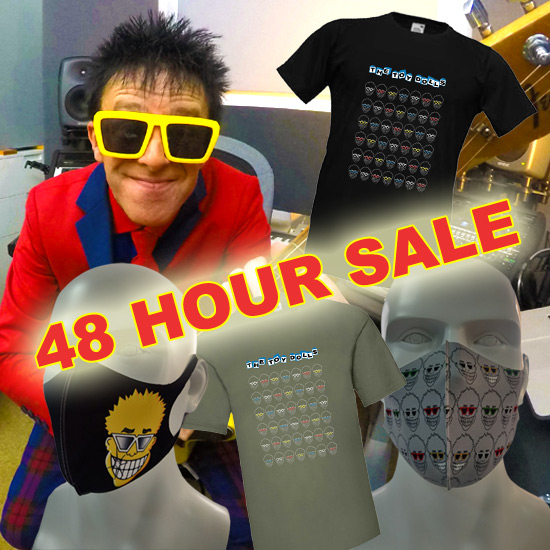 Sick of all these Covid related gig cancellations? Yeah, us too!
Well here's a 48 HOUR BIG JANUARY SALE for ya!
Items on sale will include Toy Dolls facemasks, the Many Faces t-shirts and Olga's absolute beginners guitar course.
The sale will be here from 8pm CET on Friday January 14th, and will end at 8pm CET on Sunday January 16th.
This is 48 hours only, so be quick and don't miss out like so many of you did with the song book sale!
TTFN